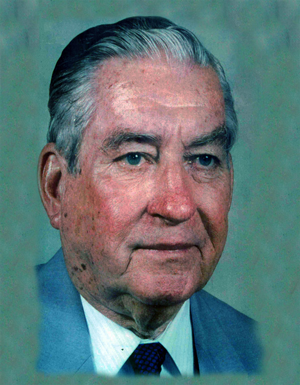 AIDNEY, CYRIL DONALD (DON) DFC, OBE, CF.
(December 08, 1923 — July 08, 2007)
Director / Managing Director / Chairman –
Williams & Gosling Limited
Senior Resident Partner, Wilberfoss & Aidney (then Arthur Young), Chartered Accountants
Company Director
Member, Fiji Legislative Council
Senator, The Fijian Senate (1992-1999).
By David Aidney.



Cyril Donald Aidney was born in Tonga in 1923. He lived in Fiji since the mid 1930's, except for a break of five years or so with the Royal Air Force in the Second World War when he was awarded the Distinguished Flying Cross and was mentioned in Dispatches.
During WWII Don  was a Flight Lieutenant attached to RAF Coastal Command flying in Sunderland and Catalina "flying boat" aircraft and took part in the "Greatest air/U-Boat battle of WWII" in which three U-Boats were sunk in the Bay of Biscay off the west coast of France on 30 July, 1943. The event was captured by the artist Robert Taylor in his painting, "Caught On The Surface". Images from this period are below. In addition, Don wrote an account of the event for "Aviation Art". For a larger view of the image, simply click on the image.
Don completed his accounting studies after the War and was admitted to the New Zealand Society of Accountants in 1948 and was granted Fellowship Status in that body in 1978.
He was involved with his family company of Williams & Gosling Ltd – Fiji's largest, most respected and dynamic Freight Forwarding & Logistics providers – for many years, a role that he happily handed over to the younger generation. The current Managing Director is Don's son, David Aidney.
In public life Don was widely involved with a number of bodies and organisations and at various times headed the Suva Chamber of Commerce, the Fiji Employers Consultative Association and Federation, the Housing Authority, Air Pacific, The Coconut Board, The Finance Committee of the U.S.P, two Financial Review Committees, the Fiji Institute of Accountants and the Fiji Australia Business Council. In between he was a Government Nominated member of the Legislative Council before Independence and was awarded the O.B.E. in 1969. He was appointed a Senator in 1992 and served until 1999.
Don was appointed Companion of the Order of Fiji in 2003 for eminent achievement and merit of the highest degree and service to Fiji and to humanity at large.
Don served as Honorary Consul to Japan in Fiji from 1975 – 1979 and was Commodore of the Royal Suva Yacht Club from 1964 – 1967.
Don ran his own Accounting Practice for several years and then joined up with the New Zealand firm of Wilberfoss to become Resident Partner for several years of a joint practice in Fiji, which later became Arthur Young.
Don married Nancy Winifred Aidney nee Honan of New Zealand in 1949 (Deceased 2000). They had four children – Christine and Mary Ann now live in Australia, Tony in New Zealand and David in Fiji, and a spreading list of grandchildren.
He joined his family company of Williams & Gosling Limited in 1947 and was appointed Director in 1949. He served the company as Managing Director and Chairman.
WILLIAMS & GOSLING LTD
Williams & Gosling Ltd was incorporated as a limited liability company in October 1936. It celebrated its 75th Anniversary in 2011. In fact, the company is a little older – as W&G was first founded as a partnership by Captain Williams and Captain Gosling on 1st November, 1921 in the business of Stevedores, Licensed Pilots and General Agents.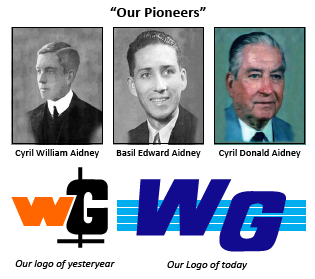 Their early work involved piloting international vessels through Fiji Waters, which was then expanded by the Aidney family "Pioneers" into Stevedoring, Haulage, Ships Agency, Customs Brokerage and later into Airfreight, Household Removals and Express Freight.
The Company has grown into one of Fiji's largest, most respected and dynamic Freight Forwarding & Logistics providers.
Supported by a team of over 300 dedicated staff operating from Branches in Suva, Nadi, Lautoka, Ba and Savusavu, W&G's ongoing investment in technology ensures they remain innovative and at the top end of their industry.
A strong network of international agents and an affiliation to a number of reputable Agencies – enables Williams & Gosling to provide their clients with a full array of services ranging from door to door or simply port to port.
W&G has played a major part in making Fiji "The Hub of the Pacific" with regular services now being offered to many Pacific Island neighbours.
We seek to be among the leaders in the Service industry in Fiji and to be Fiji's Premier Freight Forwarding Company & Logistic's provider.
CYRIL DONALD AIDNEY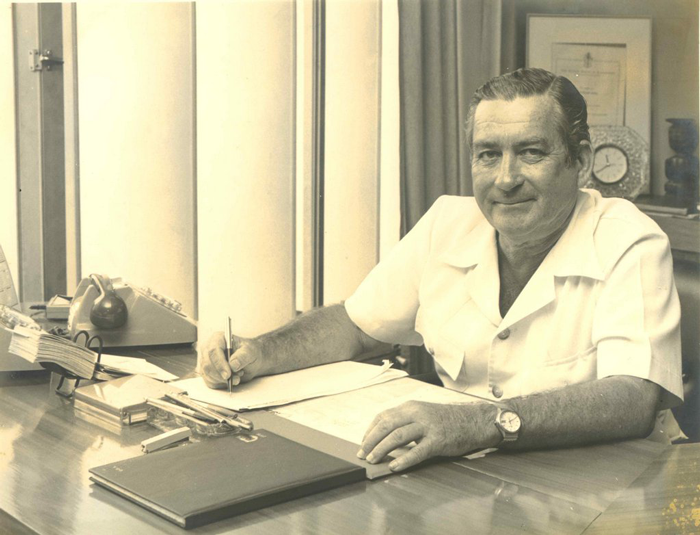 Born 8th December 1923 at Nuku'alofa, Tonga. Father Cyril William Aidney of Stoke-on-Trent, England. Mother Helen Smith Aidney (nee Hedley) of Opotiki, New Zealand.
Family moved to Fiji in 1934.
Educated Suva Grammar School 1934 – 1936
Auckland Boys Grammar School 1937 – 1939
Joined Bank of New Zealand, Suva 1940
Served with Royal Air Force 1941 – 1947 in Southern Rhodesia, South Africa, England, India, Ceylon, Malaysia and Dutch East Indies. Rank Flight Lieutenant.
Decoration and Awards:
Distinguished Flying Cross – 1943
Mentioned in Despatches – 1945
Order of the British Empire (Civil) – 1969
Companion of the Order of Fiji – 2003
Completed studies and qualified as Public Accountant with New Zealand Society of Accountants 1948. Granted Fellowship status 1978, (FCA).
Member Fiji Institute of Accountants (C.A.).
Public Service:
Vice President of Returned Soldiers & Sailors Association 1955 – 1976
Chairman, Suva Grammar School Board of Governors 1960 – 1963
Member Forestry Board 1960 – 1968
Member Fiji Development Fund Board 1960 – 1973
President, Suva Chamber of Commerce 1961 – 1965
Government Nominated Member of Legislative Council 1963 – 1966
Commodore Royal Suva Yacht Club 1964 – 1967
Chairman Housing Authority 1967 – 1971
President Fiji Employers Consultative Association 1970 – 1975
Chairman Coconut Board 1971 – 1974
Chairman of Finance Committee University of the South Pacific 1971 – 1981
Member, Prime Minister's Hurricane Relief Committee 1973 – 1982
Chairman, Sea Disaster Fund 1974 – 1988
President Fiji Institute of Accountants 1976 – 1978
Chairman, Air Pacific Ltd 1976 – 1980
Chairman, Financial Review Committee of Government of Fiji 1978 – 1979 and 1988
Government of Fiji designated Member on Panel of  Conciliators of the International Centre for Settlement of Investment Disputes 1980 – 2005
Member, Financial Review Committee 1985
Honorary Consul for Japan in Fiji 1975 – 1979
Independent Accountant, Fiji Sugar Industry, Board and Tribunal 1984 – 1993
Accountant to the Coconut Board, Fiji 1987 – 2000
President, Fiji-Australia Business Council 1990 – 1992
Appointed to the Senate of Fiji 1992 – 1999
Chairman, Fiji Committee of Pacific Basin Economic Council 1994 – 1996
Chairman, Committee of Inquiry into the Rabi Island Council affairs 1993 – 1994
Member, Inquiry into affairs of the National Bank of Fiji 1995
Board Member, Fiji National Provident Fund 1997 – 2005
President, Royal Commonwealth Society, Fiji 1999 – 2002
Business Activities
Director, Williams & Gosling Limited – Ships Agents, Customs Forwarding and Air Freight Agents, Road Transport Operators.
Senior Resident Partner, Wilberfoss & Aidney then Arthur Young, Chartered Accountants 1974 – 1987.
Director, Fiji Development Company Limited, Home Finance Company Limited – 2005, Director, Central Manufacturing Company Limited later British American Tobacco Fiji Ltd – 2005.



Entry By: David Aidney, Managing Director, Williams & Gosling Ltd, Suva, Fiji.