WISDOM, JOHN BALDOCK ARTHUR
(October 8, 1920 – December 7, 2010)
Born Suva, Fiji – 8 October 1920
Educated at Suva Boys Grammar and New Plymouth Boys High
First job PWD Suva at 18 years
World War 2 1939 – Joined Territorials with Fiji Naval Volunteer Force
1943-Graduated from Flinders Naval Depot as Sub Lieutenant
Married Marie Richardson in Christchurch and returned to Suva as a married man and returned to PWD
1948 Accounts Clerk for National Airways Corporation
1950-NAC became TEAL
1951-General Manager of TEAL
Member of the Suva City Council
Chairman Board of Governors of Suva Grammar Schools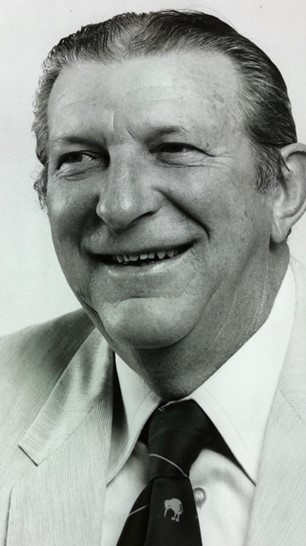 Foundation Member of Royal Suva Yacht Club
President of the Defence Club, Suva
Suva Rotarian
1966-moved to Auckland Head office as Manager Pacific and North American Services
1968-Manager for Eastern Region with responsibility for UK and Europe in addition to Pacific and UK Region
1970-appointed Director of Commercial Services
1977-Headed negotiations team for Merger between Air New Zealand and NAC
General Manager of Airline Services for the newly merged company
1978-Appointed Deputy Chief Executive, Air New Zealand
1981-Chief Executive Officer, Air New Zealand
1982- Retired from Air New Zealand
By Sandra Wisdom Hayward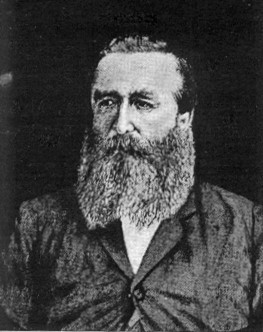 James Butler Swann (b. 1834-Carlton Le Moorland, Lincolnshire, England) and his wife Margaret White (b. 1835 Stamford, Lincolnshire, England), departed UK in search of better times in the Colonies of the British Empire.  Arriving in Lyttelton, New Zealand in 1862, on "Queen of the Mersey," they settled in Kaiapoi with Arthur, William and Mary.  He was listed as a "Farm Assist" which was the frequent mis-recording of 'Pharmacist'!  James immediately set himself up as a chemist and cordial manufacturer having brought what he required to begin his business with him on the 12,000 mile journey. 
The family stayed in the area for five years and two more sons were born during  this time -Frederick (1864) and Herbert Charles (1867).
News of opportunity in the colonies enticed James and his family of five to depart New Zealand on the 'William and Mary' arriving in Levuka, Fiji on July 4th 1867.  On the mainland James became a cotton planter at Naikorokoro on the banks of the Rewa River.  This too was not the success James wanted for his family so in 1870 he purchased Dr Riley's Chemist business in Levuka where the family remained for the next 24 years, once again expanding the family with two more children – Margaret Teresa (1872) and Agnes Eleanor (1873).  James died in Levuka in 1901 aged 67 years
Source:  Article-Pharmacy and Migration: James Butler Swann (1834-1901) and his three sons in New Zealand, Fiji and Samoa 1862-1936 -Stuart Anderson.
Arthur, William and Frederick, following their education, each trained as Chemists.  William John (b.1859) travelled the Pacific as a ship's Apothecary on the 'Mohican' and soon acquired extensive knowledge of tropical diseases.  He established himself as a Chemist in Apia, Samoa.  In 1891 he married Pele Maiava.  They were parents to three Swann girls Maggie, Aggie, and Mary, who were known as the Swann Bouquet!
(Ref: Aggie Grey of Samoa by Nelson Eustis.)
Frederick (b.1864 Kaiapoi, NZ) the 3rd son of James also trained as a Chemist and worked alongside his father.  James had started a cotton plantation at Naikorokoro on the Rewa River.  As a child Frederick was visiting there when heavy rain caused a great flood. Fortunately, his father's small cutter "Margaret" had arrived from Levuka and the Captain was able to lash it to large orange trees and all were saved!  Frederick went on to further his education in Levuka and Sydney and returned to Levuka to work for W. Kopsen & Co, then became pharmaceutical dispenser for Levuka Hospital for 5 years.  He and his father started an aerated water plant which Frederick continued to run for 37 years.  He married Mary Agnes, 3rd daughter of Sir Charles St Julian (first Chief Justice Fiji) in 1886. (Ref: The Cyclopedia of Fiji- p267.)
Arthur James Swann (b.1857), the eldest son of James Butler Swann, was educated in Levuka and New Zealand.  He became a Chemist in Suva when the family interests expanded to establish a Chemist shop there.  A.J Swann and Co. Ltd. was founded in 1893.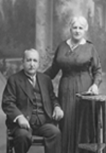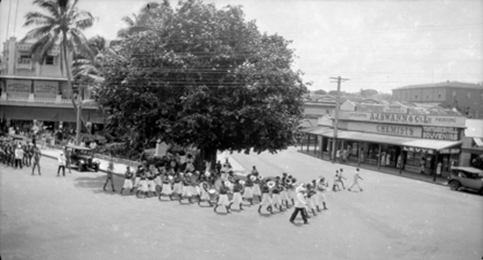 John Baldock Arthur Wisdom's story begins…
Arthur and his first wife Margaret Mary Reeve had a son Edward Arthur Swann and when Margaret passed away Arthur married Frances Augusta Evelyn Cutbush (nee Watson b.1852-1940) pictured.  Twin daughters were born in Navua in 1891 – May Evelyn and Myrtle Evelyn.  Myrtle was to marry George Bernard Crabbe and May was to marry an Australian businessman, Harry Steel Wisdom and this is where John Baldock Arthur Wisdom's story begins…
As no road existed between Navua and Suva in 1920 May Wisdom (nee Swann) travelled by launch to Suva where John Baldock Arthur Wisdom was born on the 8th October 1920. He was named after his paternal Grandparents – John Baldock and Arthur after his maternal Grandfather. He was the second child in the family, having an older sister Joan Coral.
John's first memory of his early years was being taken by his mother to school.  This was a mixed group of children all aged 5, with the classroom on the verandah of the Girls Grammar School. 
Eventually the class was moved to a relatively new building adjacent to the playing field.  By now the family lived in a home with a large block of land in Domain Road.  This block of land was home to John's horse Rajah which John, complete with cowboy suit, would canter up and down part of Domain Road and play polo on the beach at Suva Point at low tide.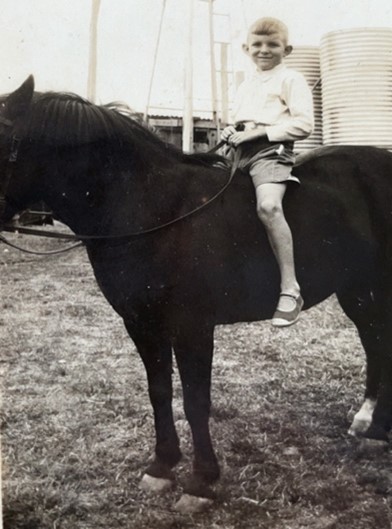 He also kept pigeons and the care and well-being for these was his responsibility from a young age. Tales of 'acquiring' pigeons a bit later in his childhood can be read in great and humorous detail in 'Being Born in Fiji – A childhood version' by Charles Stinson. Included in his writings are many stories of the 'gangs' – the local boys they associated with, which are wonderfully written and often recalled to us by our father John. Some 'gang' members were Alan Kirkham, Bill Garnett, and Charles Stinson.
By John's own admission, he supposes he was at this stage part of a 'privileged' family. Harry, his dad, was the manager of a local firm of wholesale, retail, engineering and manufacturing business called Millers. He had a company car, a Nash, and John was picked up from school each day to lunch with the family. His father would always have a snooze post lunch and John was always anxious that he would be late back to school so would sit close beside him as he rested willing him to wake up. 
John recalled that when he was 8 years old and Harry was Defence Club President, John was privileged to meet Kingsford Smith and shake his hand on that memorable day when he landed in Albert Park. John's love for the sea began when his father's company launch would take clients to the Bay of Islands and up the Veisari River and John was allowed, in calm water, to wind up the engines and steer the launch.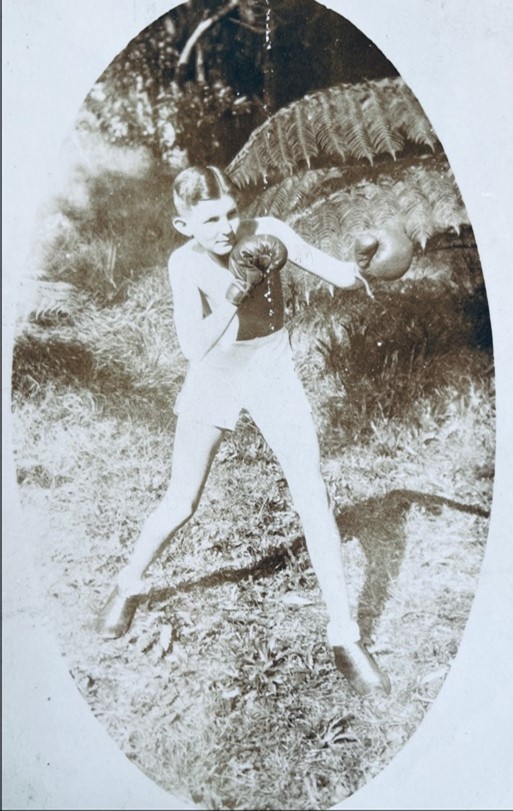 After attending Suva Boys Grammar School John at 12, was sent to board at New Plymouth Boys High in New Zealand.
He was fully involved in all sporting opportunities and was Intermediate Boxing champion. When, aged 14, John's dad Harry passed away suddenly, John returned to Suva and completed his education at Suva Boys Grammar.
On leaving school he joined the Public Works Department in Suva and in his late teens left to join the territorials in Fiji Naval Volunteer Force at the outbreak of World War 2. Many of his Boys Grammar mates also joined up and were together throughout wartime. The HMS 'Viti' sailed countless thousands of miles in the Pacific as a supply ship and searching for mines and submarines "without ever firing a shot in anger".
John was a member of the colour guard which raised the Union Jack on Tarawa soon after its recapture by American forces and was there during repeated enemy attacks on shipping and fuel depots.
In 1943, after serving as a leading seaman John attended a course at Flinders Naval Depot Melbourne, graduating in 1944 as Sub Lieutenant. On VJ day he led the Victory Parade through the streets of Suva. He continued to serve at sea until demobilisation. John was navigation officer aboard the HMS Viti when in 1946 she was running a merchant service between Fiji and New Zealand. It was on one of these calls back to Lyttelton that he married his wartime sweetheart Marie, in Christchurch. One of the 'perks' of his job was to take his wife back to Fiji on the Viti. John continued his association with the Fiji Navy and joined the FRNVR division in Suva in 1955.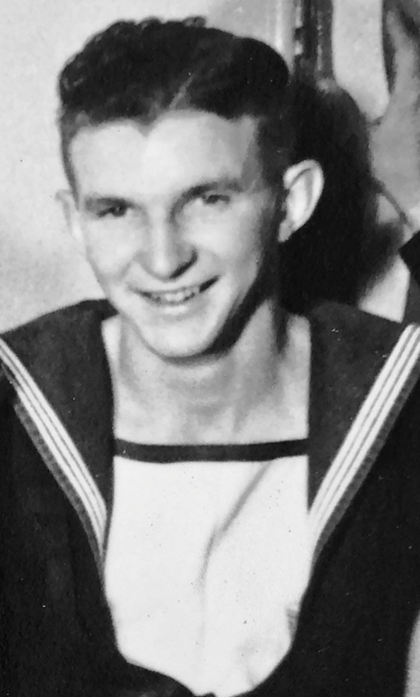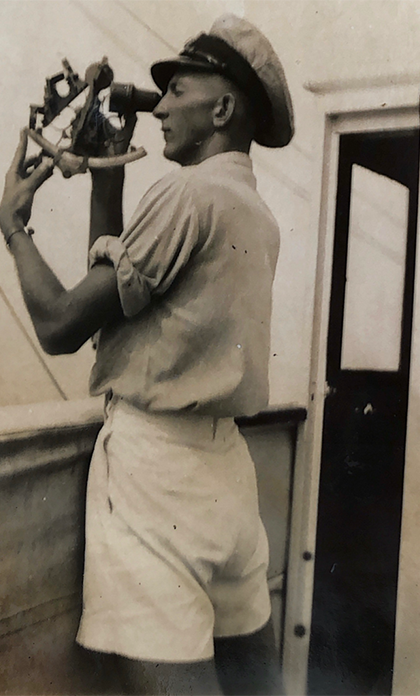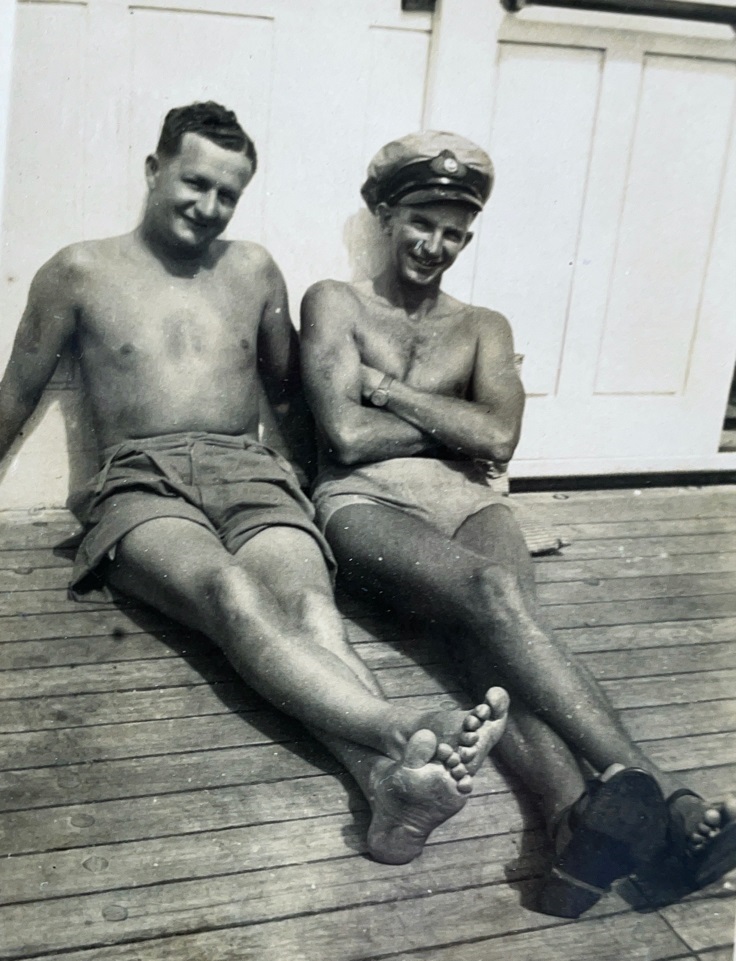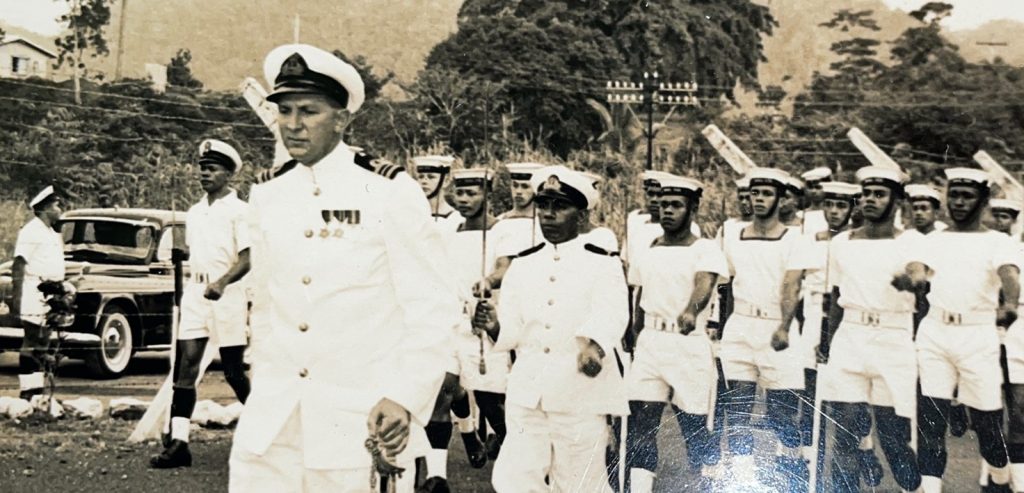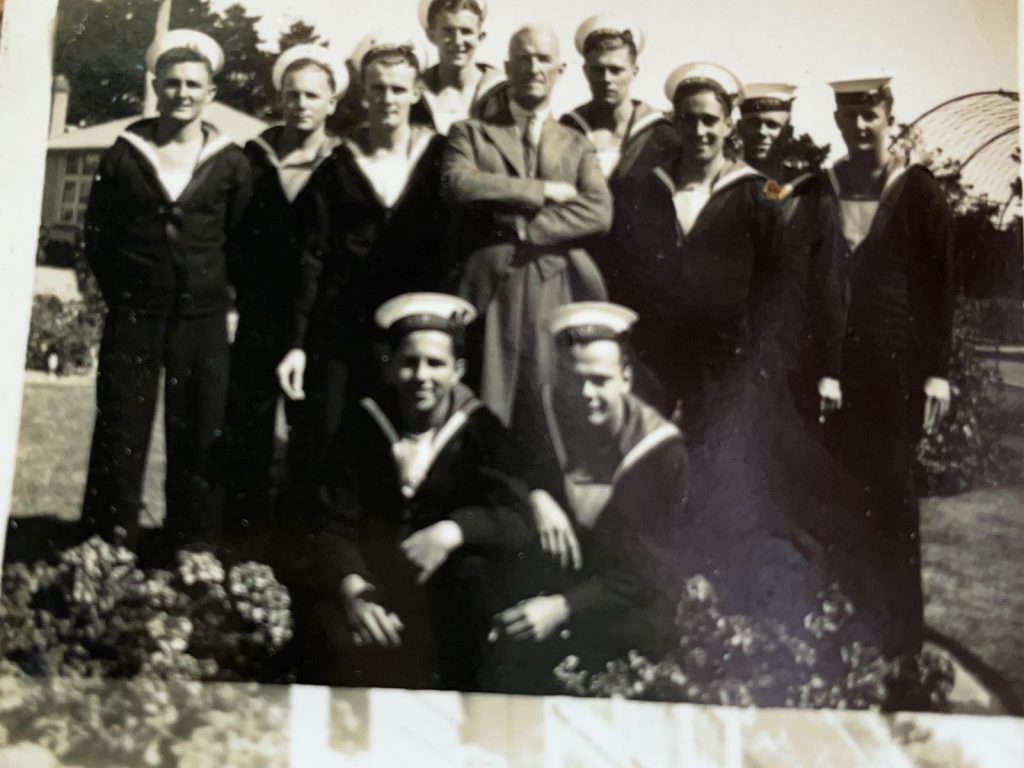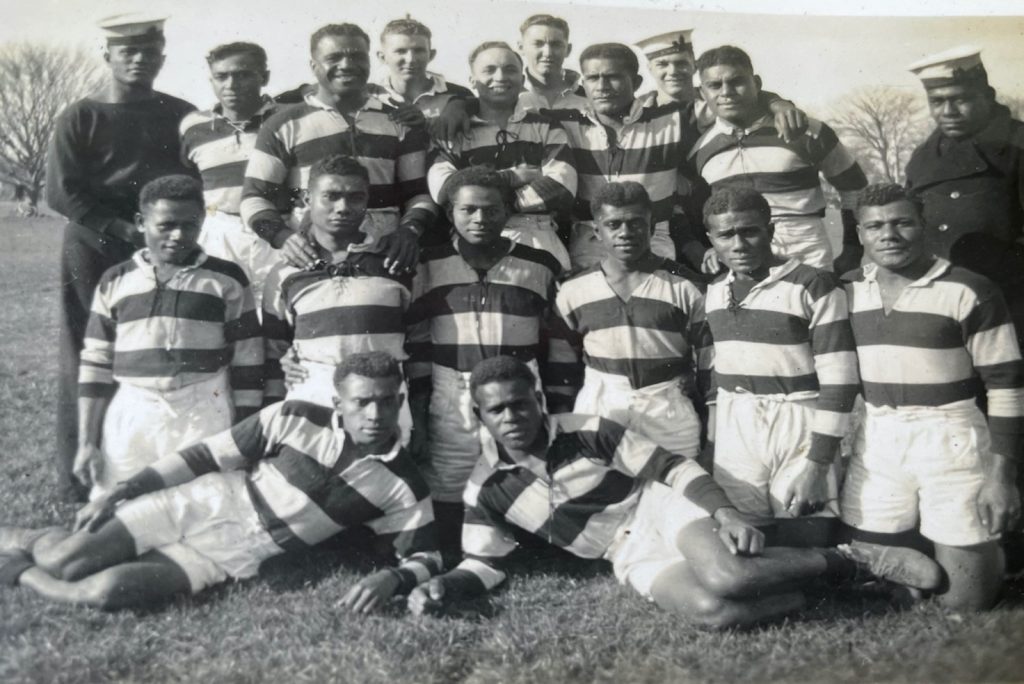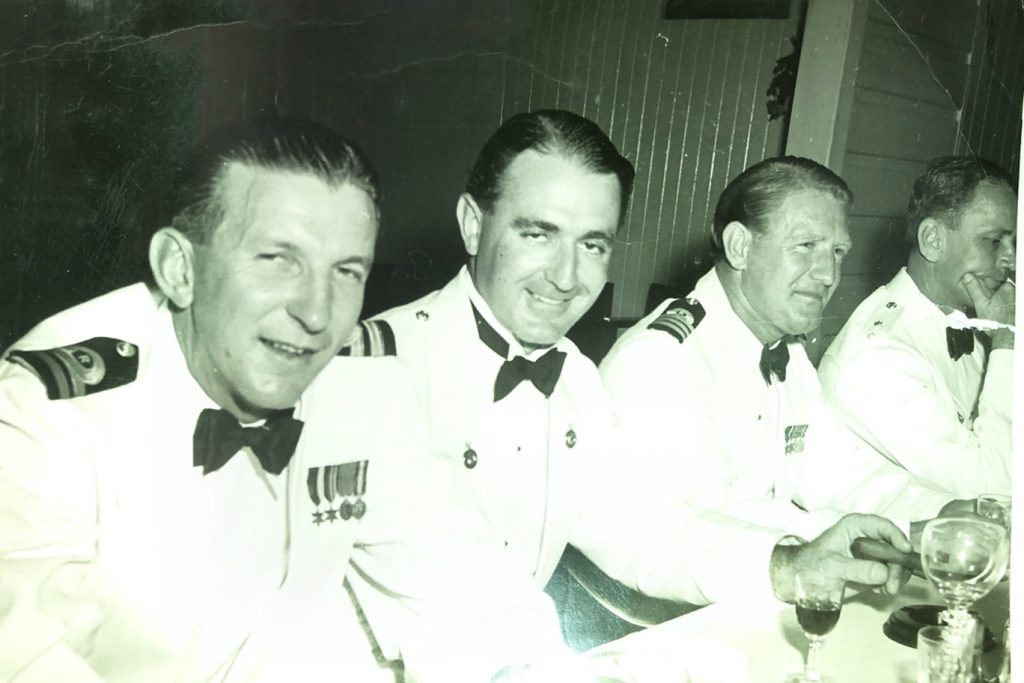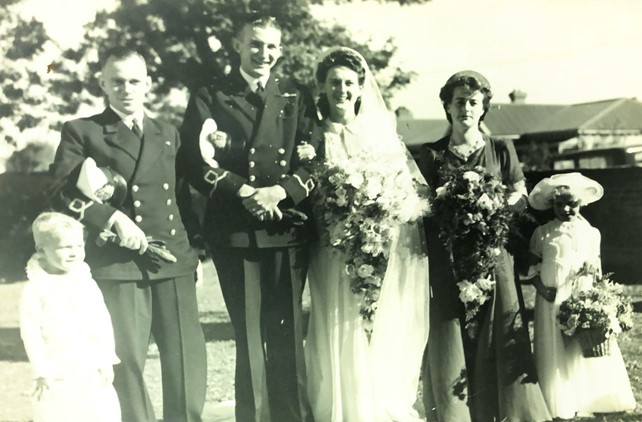 John's rise to Pacific Islands Manager for TEAL
Now as a responsible married man, John decided to return to his land job as Paymaster/Clerk for the PWD in Suva.  He spent some time travelling around the Island with the pay for workers, often with Marie and a gun beside him (in case of robbery).  He became disenchanted with this position and an opportunity for change arrived in 1949 leading to his involvement in the development of Pacific Aviation.  
He was appointed to National Airways Corporation (NAC) in February 1949 as Accounts Clerk.  TEAL took over the South Pacific routes in 1950 and with the departure of Regional Manager Tom O'Connell to NZ, John became Pacific Islands Manager of TEAL.  The first downtown office in Suva opened in September 1952.  TEAL enjoyed 9 years of service in Fiji.  Not all was smooth sailing!  1952 was the first year of Coral route operations and Fiji endured a massive hurricane which levelled much of downtown Suva.  
Then in 1953, with a full booking of passengers heading to Tahiti for Bastille day, the flight was delayed due to 11 inches of rain flooding the Rewa River sending logs, driftwood and other debris into Laucala Bay.  An earthquake, followed by a tsunami in September 1953 incurred massive damage, including breaches in the breakwater at Laucala Bay.  Several hurricanes affected operations in subsequent years but the Flying boats endured.
1953 was perhaps most noted in the Flying boat's history. The Flying boat 'Aotearoa' had been specially prepared in Auckland for Queen Elizabeth and Prince Phillip to fly them from Suva to Lautoka and back to Suva, then on to Tonga.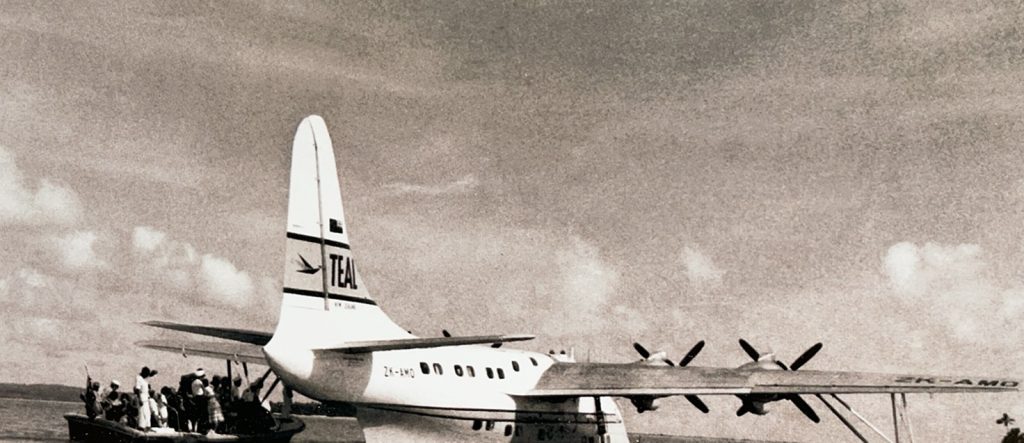 1950 TEAL took over the weekly Auckland-Suva from NAC. A TEAL Suva-Labasa-Suva service also operated at this time.
1951 The first Auckland-Papeete service via Suva and Aitutaki operated monthly. Captain C.J Le Couteur was responsible for blasting the lagoon reefs for safe landing for early flying boat operations.
1952 The Auckland–Papeete service known as the Coral Route increased to fortnightly and in October the same year Apia was included as a stopover between Suva and Aitutaki en route to Papeete.
1953 The Suva-Apia service extended to 3 flights monthly. Suva – Papeete increased to 1 flight per fortnight and Auckland-Suva 5 flights over 4 weeks. A flight to Tonga was started as an extension of the normal monthly Auckland-Suva flight. It was in this year, in December that the Royal flight occurred.
1954 In May, the first Auckland-Nadi Service was operated by a DC6. During this year four Solents were withdrawn from service but ZK-AMO 'Aranui' was retained for service to use on the Coral Route.
Ref: Air New Zealand Operational History (including Tasman Empire Airways Limited 1939-1965)
The TEAL flying boat opened up access to the Pacific Islands. Although the flights were long and sometimes uncomfortable passengers enjoyed beautiful island buffets and a refreshing swim while the plane was refuelling.
In 1960 ZK AMO 'ARANUI' returned to Auckland after a final farewell flight over the 4,600 mile Coral Route. This was commanded by memorable personality and veteran flying boat Captain Joe Shephard. 'Aranui' now resides at the Museum of Transport and Technology in Auckland. The wonderful team involved in all aspects of this era who mostly lived at Suva Point were farewelled by the City of Suva and returned to New Zealand. TEAL celebrated 21 years in 1960 and this year they also celebrated New Zealand becoming sole owner of the Airline.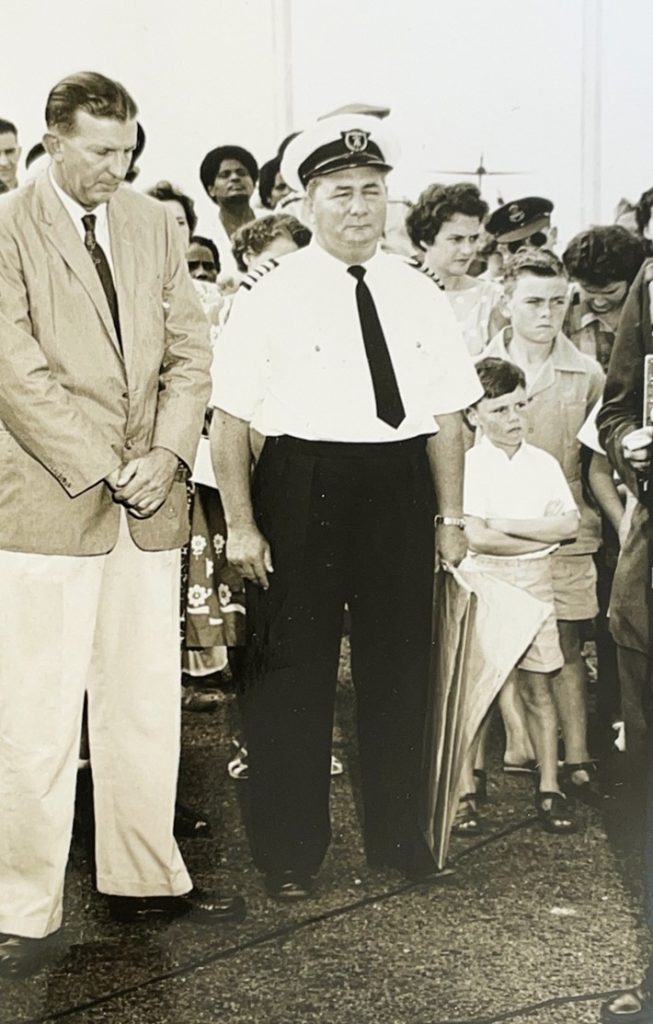 Captain Joe Shephard and John Wisdom at the final farewell and decommissioning of the Flying boat service in Fiji. This was held at the berthing jetty for 'ARANUI' at Laucala Bay and was attended by many who were involved in this service, members of the public and TEAL Management from NZ.  Mayor Charles Stinson presided over the historic event.
Recreationally at this time John had taken up golf and played at the club at Vatuwaqa.  John enjoyed golf and played well into his 80's.  A highlight of his golfing days was a hole in one at the Fiji Golf Club just prior to leaving Fiji for New Zealand in 1966.  The establishment of the Air New Zealand Fiji Open in !969 led to the formation of other golfing events –The Ladies Fiji Open and Western Samoa Tournaments which contributed to many full seats on Air New Zealand flights for those enjoying these events.
Earlier, around 1948 John was a Fiji Hockey Rep playing Full back.  The team travelled to New Zealand to  play local teams.  Listed in the newspaper were players Bryson, Bentley, Wisdom, Fenn, Leaver, Nichol, Pat Raddock (coach), V Jackson, M Bay, Garnett and Wendt.  It was reported "great defence by Wisdom and Wendt and goals by Max Bay and V Jackson and Bill Garnett." Fiji won 4-0. (Pictured below)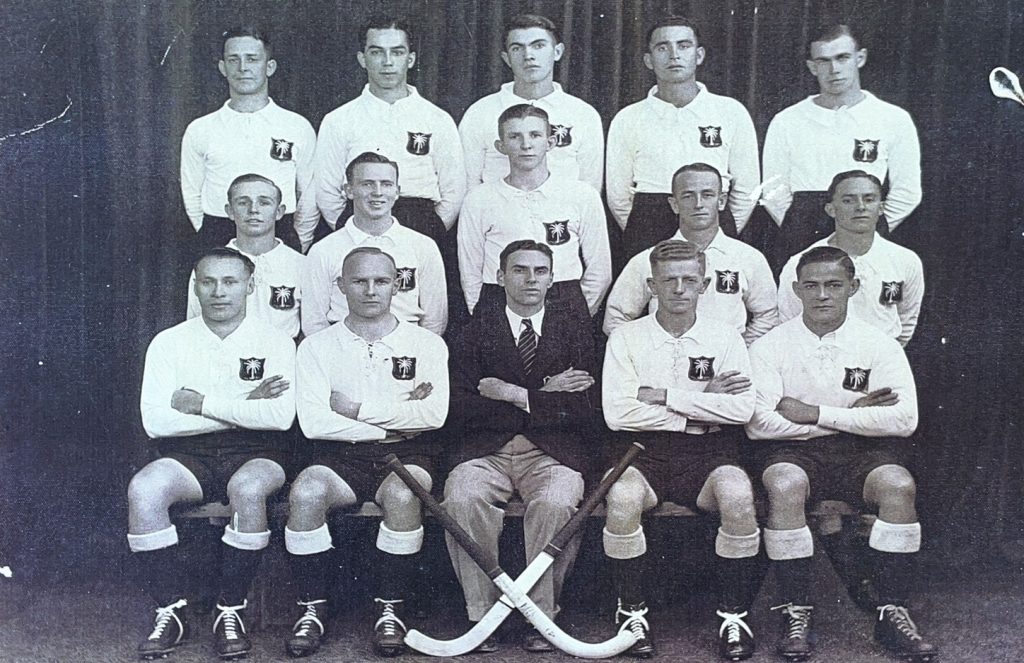 A further game against Auckland reps drew a large crowd to Albert Park where John captained the team of H. Apted, E Hurley, C Raddock, L Whiteside, A 'Costa, B Williams, A Hughes, R Smith, P Slater. This time Fiji was defeated! (pictured below)

Post War -The Family built a home on Fletcher Road and this community was growing fast. John was part of the community of volunteers who gave what time they could to build St Luke's Church under the initiative and direction of Dr George Hemming. Later, the community once again came together to build the Church hall on land behind the Church. Marie (John's wife) helped establish a kindergarten in this hall. By having a home here John's family of four girls grew up in this community and it was also in close proximity to the Laucala Bay operations of TEAL. Most of the staff – Pilots and Crew also lived at Suva Point.
John continued in his role as Pacific Islands Manager for the next 6 years with DC6s. The Electra resumed an airlink previously established by the flying boats. The DC6 services were withdrawn in 1961 which was TEAL's 21st anniversary. TEAL came under ownership of the New Zealand Government in 1961. In 1962 Trans Tasman flights were recording 33 return services per week and North America became part of the route. DC8s became the mainstay of the fleet and DC10's were on order as the Company expanded to the Orient and other North American ports. TEAL was renamed AIR NEW ZEALAND on the 1st April 1965.
John becomes CEO of Air New Zealand
John was transferred to Head Office in Auckland as Manager for the Pacific Island and North American Services in 1966 and a new life away from his beloved Fiji began.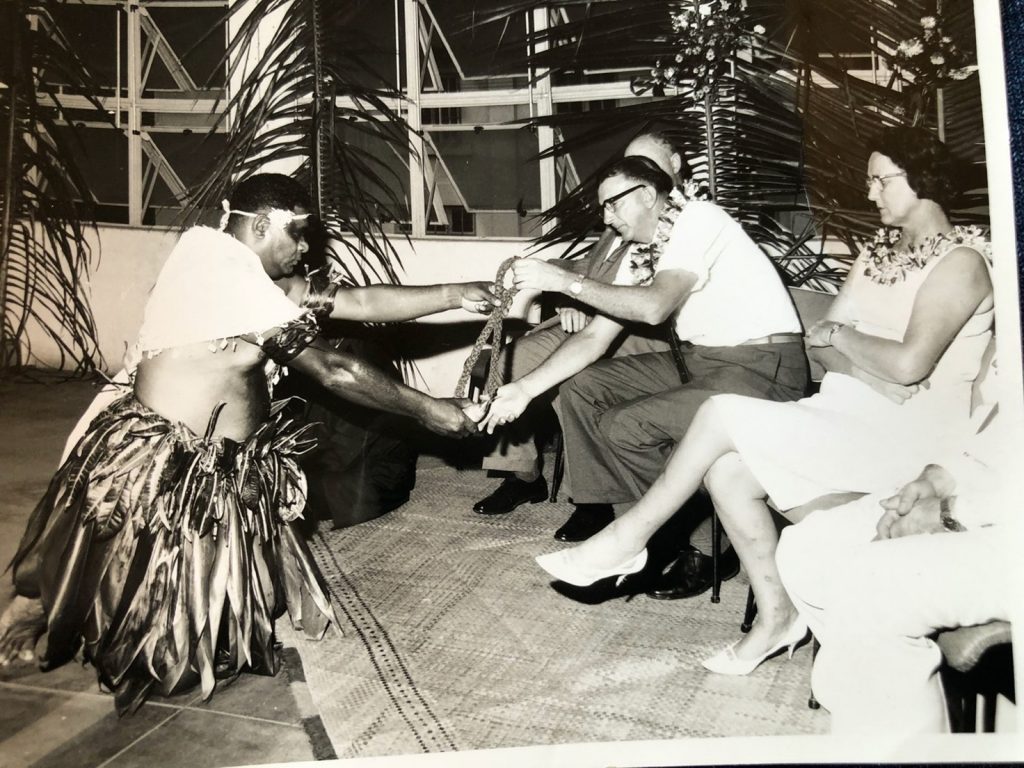 1968 saw John becoming Manager for the Eastern Region as well as the UK, Europe and Pacific. In 1970 he was appointed Director of Commercial Services. With jet propulsion on the scene in 1973 DC10 aircraft held their own in the skies. 1977 John led negotiations for the merger between NAC and AIR NEW ZEALAND where he was appointed Manager of Airline Services for the newly merged company.
1978 Executive Staff were announced and John was appointed Deputy Chief Executive of AIR NEW ZEALAND. It was company policy to retire at age 60 and John anticipated this was to be his final appointment with the Company. The Erebus disaster was to change all this on November 28th 1979.
John said "this tragedy delivered a body blow to the Company." With the departure of Morrie Davis from the Chief Executive role, John was to step up to and engage with all staff and boost moral for a company which John described as being "in the rut of depression caused by the events of the past few weeks". He continued that he was "to take the show by the hand and get renewed enthusiasm into these 8,500 people".
His position as CEO was confirmed on August 5th 1981 and the icing on the cake for John and the company during this time was the delivery of the first Boeing 747 in Auckland to join the AIR NEW ZEALAND fleet.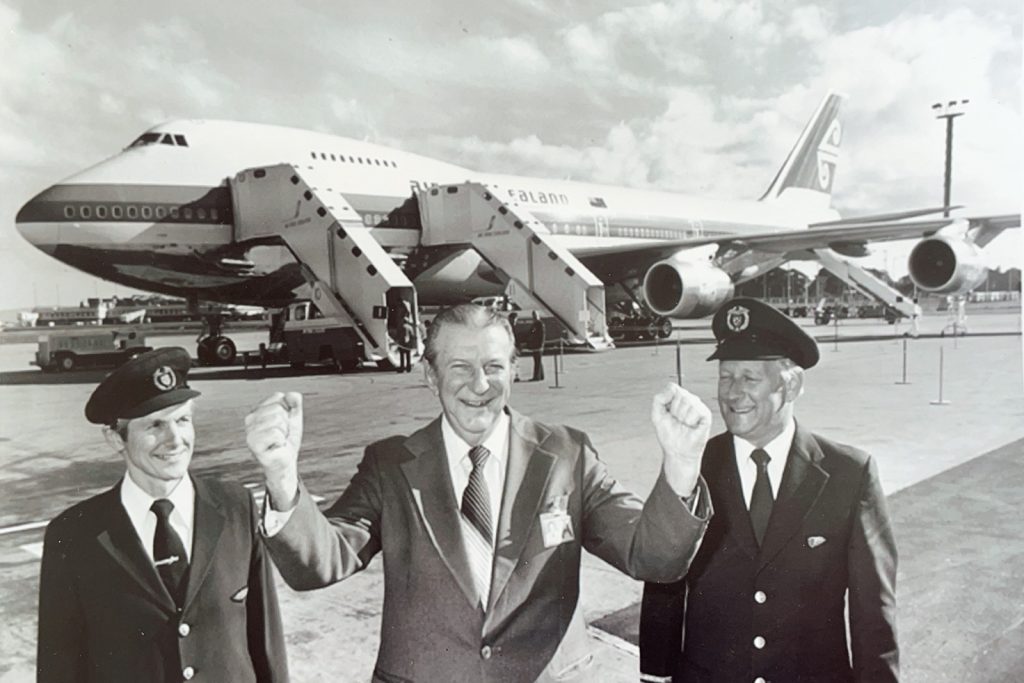 John retired in 1982 on the 1st April and took on other interests-growing orchids, amaryllis, boating and indulging in drawing and painting. Golf continued to be his passion and a move to Napier with the ocean on one side and Hawke Bay airport on the other side of his new home embodied all of his life passions.
John passed away on December 7th 2010 aged 90. He now resides in the Old Suva cemetery with many past family members, in his beloved Fiji.
Sources for Airline timelines are from Air New Zealand operational History (including Tasman Empire Airways Limited 1939-1965) and collected family memorabilia.

Entry By: Sandra Wisdom Hayward, Richmond, New Zealand.