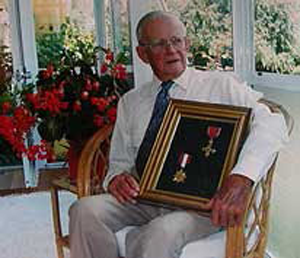 HEMMING, GEORGE RATCLIFF O.F., O.B.E.
(July 11, 1908 — July 26, 2003)
Humanitarian
Anglican Church Minister
Medical Practitioner
Co-Founder & Chairman, JP Bayly Trust.
By R A B (Tony) Snowsill.



Lieutenant Commander,  The Reverend Canon, Doctor George Ratcliff Hemming, Order of Fiji, OBE, died on Saturday 26th July, 2003 at 3.15pm in Auckland, NZ. He was 95.
"Doc Hemming", as he was affectionately known, was born in Gympie, Queensland, Australia on 11th July 1908. He had three children by his first marriage; Beth, John and Sue Hemming. John and Sue live in Auckland and Beth lives in Wellington.
I would respectfully like to pass on to you a few of my recollections of George.
George married my mother Shirley Snowsill in 1971, in Suva. My mother was at the time managing the Capricorn Apartment Hotel and I was working at Suva Travelodge.
George will be known to most of you as he spent many years at the Suva CWM Hospital in various medical positions including surgeon specialists and later operated the Bayly Clinic in Suva until he and my mother moved to Auckland in about 1985. In Auckland George helped to rebuild the congregation and grounds of a small, old stone church, St Johns', which he attended each week. My son Jarrod was baptized there.
George started life as a school teacher then studied theology and later took a degree in medicine as he felt he could serve people to a greater degree with such knowledge. He was always studying something be it cash crops in small farm areas, low cost housing, various farming methods or placenta to be used to cure cancers.
In Fiji J.P. Bailey left a trust fund including land and investments which provided the funding for the Bayly Clinic, and allowed George and his fellow trustees to provide social welfare, low cost housing, and later small farms to those in need in Viti Levu. Farms were started at Nasinu, Sigatoka and Rakiraki to my recollection and given to those who wanted to farm and had not the financial ability so to do. Low cost housing was built in various places in Suva by the Trust and including Raiwaqa, Nasinu, and Nabua as I recall.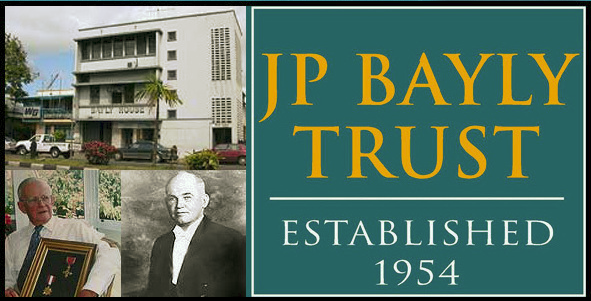 George was also a Minister of the Anglican Church and a devout Christian. He and his congregation built St Lukes, the limestone church at Laucala Bay which opened in 1952. He will also be remembered to many of you as bringing you into the world, baptizing you or your children, conducting the marriage of some of you, and being your family doctor. He officiated in burying your friends and family. George would never refuse to attend anyone who needed his medical help and he would drive around Suva, when called out, at all times of the night. He was called to visiting passenger ships, to hospitals, to shacks, houses and bures all over Suva and at times Suva Prison. He would climb down hills in Samabula and walk up to shacks in the bush to attend the sick and venture to Nausori or Coli Suva to attend those who sort medical help. He served all people.
Dinner at night at his house at Laucala Bay was always eventful with people calling at the house seeking medical help. I recall one night he diagnosed a bloke 50 feet away as he walked onto the lawn and up the path at George's house…George called out the door of the house "you've got so-in-so haven't you. Don't come here…You see me at the clinic tomorrow…What's you name…where do you work… make sure you come or I will call your boss?" "Be careful of the garden. "George loved his garden.
However, we will all remember George for his humanitarian work, especially at the Bailey Clinic in Suva, his concern for others less fortunate than you and me. He had to help and could not refuse. Refusal was not in his makeup. Yes he could be gruff and short and tried. He would say precisely what he meant. Very precisely! He would charge fees depending on your ability to pay. Do you recall his desk at the clinic where he had a glass division down the middle and spoke to two patients at once? I went and saw him there once and he was so engrossed in his work he didn't recognise me. "Yes…What's wrong with you", he said…"Oh Tony it's you…". Always the needy would leave the Bailey Clinic with food, clothing, bedding and medicine and money…All for free. Yes, he was helped by others, but he was the initiator and organiser of the social welfare provided. Many, called him "FATHER" be they Hindu, Christian, or Islamic. People of all faiths and circumstances sought his counsel. He was a humble man with few possessions, wants or needs. He faithfully said his prayers every morning and at night.
Poor George didn't quite know how to handle me when I moved into the house at Fletcher Road, Laucala Bay. I was about 19/20 and my views on many things didn't really correspond with his.
However, we were able to discuss all topics in an open and frank manner and I like to think I educated him to a small degree to the thinking of my age group at that time. He of course in turn educated me in all manner of topics. We had many wonderful conversations and discussions often with George shaking his head and saying, "it's difficult to understand where you are coming from". My sister Jane also helped George in his understanding of our generation! It was my privilege to be his step-son.
George was a great advocate of the 7 minute sermons and if he couldn't get the whole Sunday service, at the Laucala Bay Church, over in 35 to 40 minutes he was not happy. You may recall some of his sermons which were short, sharp, to the point, and always interesting.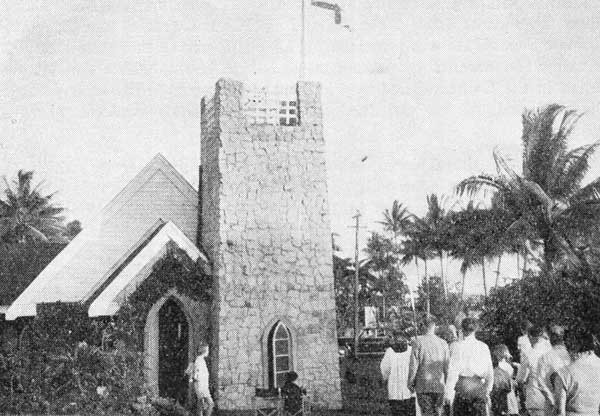 Before coming to Fiji George was a missionary doctor in the Solomon Islands where he and his family endured the terrible diseases, scarcity of medicines, and primitive conditions of the time.
After war started in 1939 George was made an Honorary Officer in the Royal Fiji Navy Reserve. Thus the Navy Rank of Lieutenant Commander.
George, Doc Hemming, "Father" to some, will always be an important part of my life, my memories, myself. He was an inspiration to me and many others. He was tenacious and would never give up on anything he started. He had to be successful, to achieve and he rarely failed. He lifted me to achieve where I may otherwise have not. He was an example to us all. Yes, he had his failings, which he freely admitted to, and he sought God's help to overcome. He was after all human. He will be remembered for his many achievements, the people he helped, the lives he saved, the services he provided, the poor to whom he gave help and his heart, and for the inspiration he gave others.
George and Mum moved to live in Auckland, George allegedly to retire which he could not. He was able to argue for and was authorized and then promoted the local Tongan community towards farming the land around his Auckland Church, St John's. Each Sunday and on other days George would lead his Auckland congregation in working in the church gardens which usually resulted in a sizeable burn off of unwanted vegetation.
In his unpublished autobiography, "A Pacific Life", George noted:  "In spite of everything I'm still left with two things which stand no matter what. Nothing can shake my belief in two important things, namely compost and the Anglican Church: not necessarily in that order."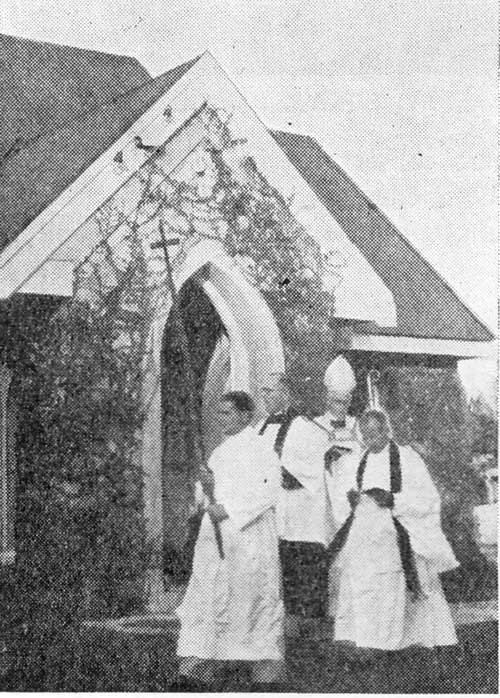 We judge greatness by the way in which we help our fellowman and our society. By any measure George Hemming was a great man.
If one strives to set an example for others to follow, to help mankind, to be humble, honest, reliable, hardworking and faithful to ones friends, community and to God, one would do well to follow the lead of George Hemming. He was an example to us all.
In times of peace he served the people.
In times of war he served his country.
In times of need he served the less fortunate and the poor.
He built his church with his congregation.
He served and progressed his community.
He served humanity, refusing no one.
He was "Father" to many and a "son" of Fiji.
At all times he served God.
He served God and all people with high distinction.
He was a man for all seasons.
Greatness is measured by our contribution to society. By any measure George was a great man. Through his efforts, Dr Hemming created a safety net for the most vulnerable in Fiji society, which has continued to this day.
The Building of St Luke's Anglican Church, Suva Point – By Sir Charles Stinson  >>
St Luke's Silver Jubilee – The Sermon preached by The Rev. Dr. George Hemming  >>
St Luke's Silver Jubilee – An address by Sir Charles Stinson  >>


Entry By: R A B (Tony) Snowsill, Chatswood, Sydney, New South Wales, Australia.
Book: Unpublished Manuscript: A Pacific Way. The Memoirs of George R Hemming.
[Download PDF File]