FLEMING, FRANK
(September 5, 1888 —  March 28, 1968) 
Electrician, Radio Operator, Airman, Administrator, Caretaker of Makuluva & Nukulau
By Kim Fleming



FRANCIS IVOR FLEMING was born in Deptford in South-East London.  He was the fourth of nine children, one of whom died in infancy. 
When 11 years old his father died after having fallen from the crane that he operated on the south bank of the Thames, and six months later his mother died.  By March 1901 the eight orphans, one a small baby, were in the charge of their elderly maternal grandmother.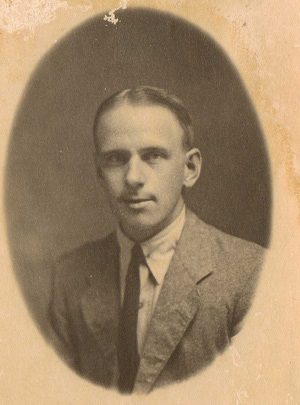 Frank Fleming, probably in the early 1920s.
Whilst at least five of the Fleming children soon went into orphanages, it is not known where or how Frank spent his remaining childhood.  Having trained as a motor engineer at the Union Gas Engine Company's works in San Francisco, he first arrived in Fiji no later than 1910.  The choice of destination was almost certainly due to his maternal aunt Geraldine who had lived in Fiji since the early 1870s, and who had been married to Captain William McGowan.  
An early job was working for one of Geraldine's sons, his cousin William Ernest McGowan, in the latter's sailmaking and rigging workshop in Robertson Road in Suva.  By 1913 he was working for the Fiji Post Office as a wireless telegraph operator in Suva and then Labasa, being taught the job by Bob Farquhar.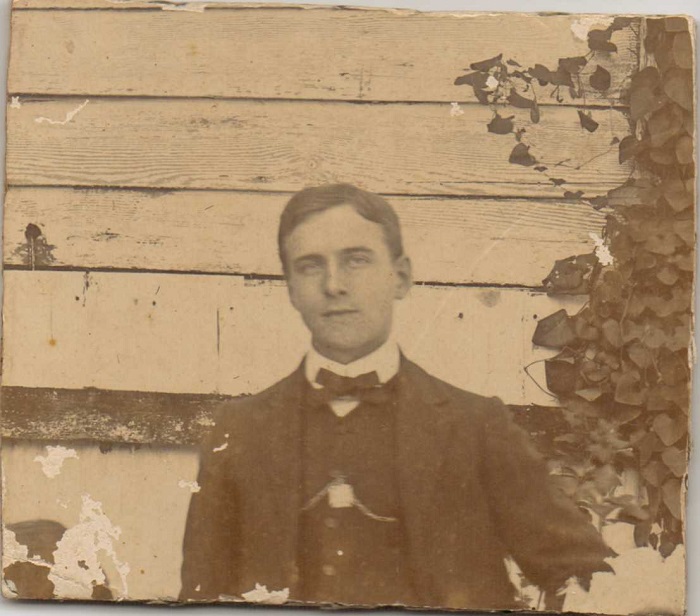 Frank travelled independently to join up in Britain to fight in the Great War.  Working initially in an aircraft factory, he joined the Royal Flying Corps in 1916 to train as a pilot.  His squadron crossed to France in December 1916.  After two months of active service the RE8 plane of 34 Squadron that he was flying crashed on approaching the Villers-Bretonneux airfield near the river Somme, and he was invalided back to England for orthopaedic treatment. 
Troubled for years afterwards by a limp and frequent pain, Frank served the rest of the war teaching young pilots and observers.  Whilst recuperating in hospital in Brighton Frank became friendly with Lucy Fleming née Penfold, originally from Petworth in Sussex, who was married to his brother Bernard, who died in 1940.
Recovering from wounds, 1917, possibly with Lucy standing on the right.
In October 1919 Lieutenant Frank Fleming returned home to Fiji – but by the following May he was back in England to collect Lucy.  Together they arrived at Suva in April 1921.  His plan was to build an aeroplane and earn a living offering flights.  In March 1922 a dismantled DH6 was delivered to Suva wharf, and he set about rebuilding it, initially in Victoria Parade, and then moving it to a hanger at Nasese as it approached completion.  Sadly it crashed on its first flight and became stuck in the soggy beach.  He had been the first man in Fiji to own an aeroplane, but his substantial investment was all lost.
In the 1920s and early 1930s the couple had very little money, Frank working as an electrician, and for a short period as an overseer at Suva gaol (which he found too depressing).  A highlight of that period was the arrival on 5 June 1928 in Albert Park of Charles Kingsford Smith's  aeroplane making the first aerial crossing of the Pacific. Frank was one of the group of Great War airmen who helped and advised Kingsford Smith, including with his departure three days later from Naselai.
The Western Pacific High Commission was looking for a resourceful man to operate the wireless on Canton Island in the Phoenix group, then part of the Gilbert and Ellice Islands.  Frank's skills and experience got him the job.  He arrived on HMS Wellington (now permanently moored on the Thames) with the Fijian handyman, Saimoni Bauvusa from Korovisilou, on the very remote Canton Island on 26 June 1938, joining the one other British resident Geoffrey
Langdale.  
Expected to serve there for six to eight months, Frank did not leave the island for four years.  Lucy was brought to join him in January 1940.  Governed as a British-American condominium, the island was to be developed by PanAm as a stop on their San Francisco to Auckland route, and so the number of Americans grew rapidly.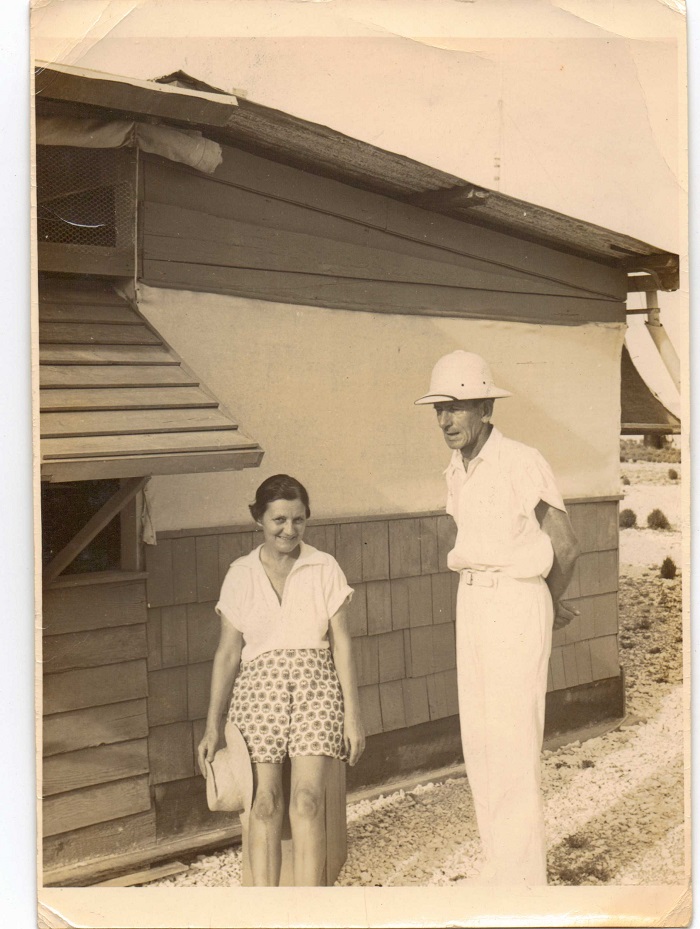 Frank and Lucy outside their new house on Canton Island in 1941.
Frank's duties were initially limited to the radio installation, making meteorological measurements, and reporting on the few shipping movements.  As the PanAm hotel developed and the first of the Boeing flying boats arrived in the lagoon, he became busier with administrative matters, including running a post office.  One of the many prominent travellers arriving by aeroplane was Noël Coward, returning in February 1941 from a busy concert tour in Australia and New Zealand.  He and the Flemings quickly struck up a friendship, which developed whilst a cyclone kept Coward there for over a month.  Though Frank and Lucy were humble people, Coward treated them with respect and great kindness, evidently enjoying their company.
After the start of the war in the Pacific Frank's duties became much more burdensome, especially after his then handyman was evacuated, leaving just him and Lucy to operate and maintain the British station.  As the war intensified, American military personnel replaced the PanAm staff on the island.  On 8 June 1942 the Flemings were collected by the Fijian inter-island ferry, the Degei, which returned them safely to Suva.  For at least some of the remainder of the war Frank served as one of the Fiji government's censors.
Remote island postings had become his speciality, but perhaps also a necessity due to incipient tuberculosis having apparently been diagnosed upon his return to Suva.  Soon after the war he joined the Meteorological Department, serving on Ono-i-Lau.  In 1947 he was appointed temporarily by the Governor of Fiji as the District Officer for Rotuma, a more senior post with a wide range of responsibilities, requiring adherence to the special constitutional arrangements of that island. Though there only briefly, he improved the radio service to the benefit of all.  The Rotuma assignment was followed by another meteorological posting in the Yasawa islands.
Frank and Lucy's home in the 1940s was in Herbert Street in Suva, which branched off the north side of Knollys Street towards Nubukalou Creek.  When nearly 60 years old, he applied for and was given the post of caretaker of Makuluva, one of the small islands on the edge of the main reef off Suva.  In June 1948 they moved to the pleasant house on the island, near enough to Suva for their friends to visit and for Lucy to make regular shopping trips.  But on 14 September 1953 there was a powerful submarine landslide, Makuluva being hit by six foot waves that covered the whole island other than the upper parts of the Flemings' house.  After two weeks, its foundations having been damaged, the house gave way, and they had to leave.
The house must have been repaired for in due course they returned.  At his next visit to Fiji in 1962 Noël Coward crossed to Makuluva to see them again, in his diaries referring to them "as indomitable as ever".  By 1964 they had moved to Nukulau, somewhat larger than Makuluva and slightly further inside the reef, an island popular with weekend trippers sailing their yachts over from Suva.
In the garden on Nukulau.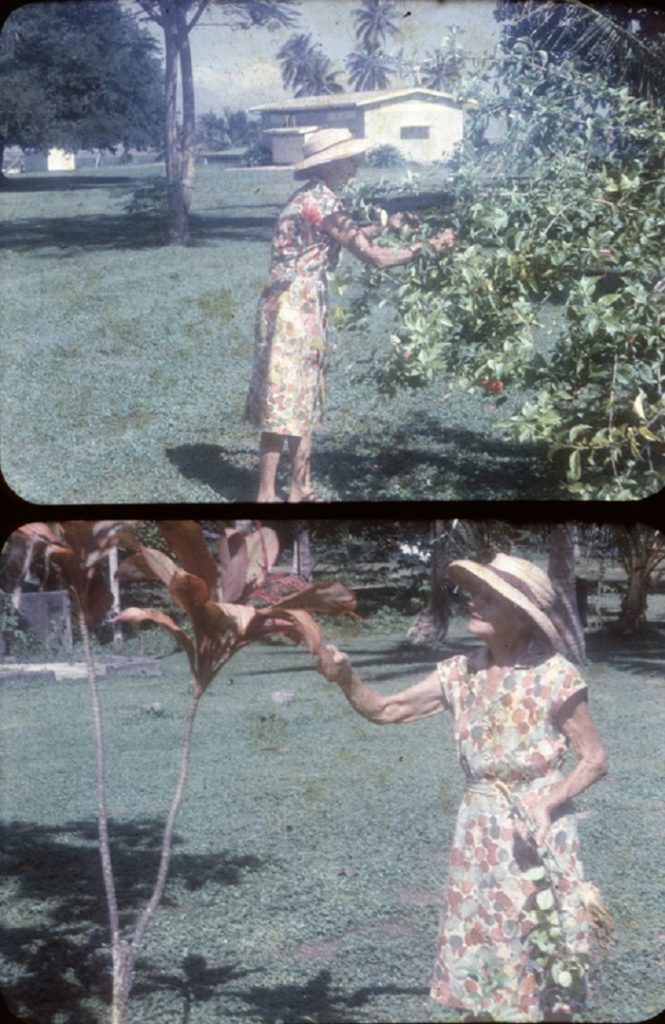 Lucy died in her sleep on 7 November 1967 aged 82, and was buried four days later in the Suva New Extension Cemetery, plot 54.  She and Frank had spent years together in physically very tough conditions on the remotest islands, and his loss must have been profound.
Frank turned his thoughts to retiring in England, and contacted the only one of his siblings whose whereabouts he knew, his youngest sister Myrtle who lived in Somerset.  Having been separated as siblings when Myrtle was a new baby taken away to the orphanage, they developed a plan for ending their days together.  In January Frank had a new passport photograph taken, and bought a one-way air ticket to England.  Having packed up or given away
all his possessions, on 7 February he closed his island radio station and left Nukulau for the last time.
Soon, though, he was in a bed in Tamavua Hospital having tests.  The x-rays brought bad news about the advance of the tuberculosis, leading him to cancel the air ticket.  In Somerset Myrtle was meanwhile preparing a room for her brother, with an extra radiator to help him cope with the English climate.  On 23 February he retired from the Fiji government service, but there was no pension as his service had been discontinuous and often under temporary contracts.
Coward happened once again to be in Fiji, and on 29 February took the trouble to visit Frank in hospital, bringing him books and fruit, and staying for a long talk. The disease was now advancing fast, and Frank died on 28 March 1968 at the age of 79.  He was buried on the same
day in plot E82 in the Suva New Extension Cemetery.  An obituary was published immediately in the Fiji Times, and another much later in the Pacific Islands Monthly.  
Coward's short story "Mr and Mrs Edgehill" was based closely on Frank and Lucy's lives; it was televised by the BBC in 1985, starring Sir Ian Holm and Dame Judi Dench.
Because the Fleming orphans were widely dispersed from an early age, most had no idea where their siblings lived.  Other than that he was thought to have lived in Fiji and worked for the Post Office, the facts of Frank's life were until recent years almost completely unknown to his relatives.
A full length biography has been published as:
Frank Fleming: a life of duty, Kim Fleming, 2017
Copies are in: the National Archives of Fiji;  the Western Pacific Archives at the University of Auckland;  and the British Library UIN: BLL01018809813.
Major acknowledgements (amongst many more):
British Library, Cadbury Research Library at the University of Birmingham, Simon Jones, National Archives at Kew, National Archives of Fiji at Suva, Photekforensics, TIGHAR (The International Group for Historic Aircraft Recovery), The Wellington Trust, Western Pacific Archives at the University of Auckland.

Entry By: Kim Fleming, Chichester, England
Post script from Mr Kim Fleming:
My debt to many individuals and organisations in reconstructing Frank's story is immense.  Prominent amongst them is an American organisation called TIGHAR, which researches the loss of Amelia Earhart's plane in the Phoenix Islands in July 1937 as she was attempting a crossing of the ocean.  They went to the enormous trouble of examining Frank's box of belongings after his death because they had heard that he had had a connection with the Phoenix Islands, found in it rolls of damaged film, paid for a forensic photographer to develop what they could from the old film stock, and then published it on the internet just in case it was of any interest to anyone.  What philanthropy!  You can see the developed images, which were of priceless help in my biography, at:
Note by Editor:
Please click on the link above to view many memories from pictures of Nukulau in the 1950's and 1960's when Frank was Caretaker – Yachts moored at the jetty and on the beach in film Roll A to Roll E.