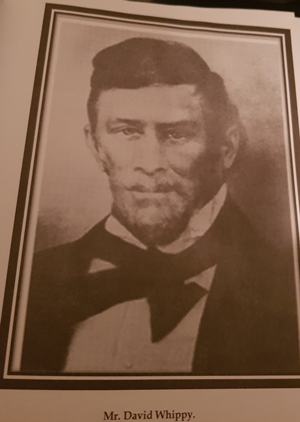 WHIPPY, DAVID
(February 15, 1801 — , 1871)
Founder of Levuka Town
Whaler, Trader, Translator, Pilot
Owner of Whippy, Simpson and Cusick, building sailing cutters and schooners
Began experiments with granulating sugar on Wakaya Island
Owner of a tract of land at Yadali, near Solevu
America's Vice-Consul to Feejee
Mata ki Bau – Tui Levuka's envoy to Bau.
By Frances Campbell (nee Whippy)



DAVID WHIPPY is the Patriarch of the Whippy family, one of the largest in Fiji.
The Mayflower departed from Plymouth, England, UK on 6 September 1620, and two couples among the 105 passengers that ventured to New England, from whom David Whippy was a descendant. Namely, John and Elizabeth Howland, whose daughter, Desire Gorham, was David's ancestor, also Jedediah and Abigail Coffin.
The other families who settled in New England, from whom were from Daivid Whippy's ancestry are Bunker, Keziah was David's mother, Coffin, Corminow, Fitch, Gorham, Howland and Tilley. The American revolution dealt harshly with Nantucket Island residents. At the time whaling and fishing has brought prosperity to them. In 1773, the population was nearly 5000. The Islanders owned several sailing vessels.
David was born on 15 February 1801 the second son of David Whippy Snr and Keziah Bunker. At the age of 16 years, young David joined his father's whaling ship, senior, being the captain. David served as ship mate, under an older brother. David's first trip was to Peru, where he jumped ship at Callao, as he didn't want to be under his brother, who made life unbearable for him. He stayed hidden until the ship sailed three weeks later.
Eventually, he joined a brig bound for the 'Feejees'. It was the Calder, under the command of Peter Dillon. David Whippy's job on shore, was in the curing sheds, for beche-de-mer, where he was absent for weeks, while the ship went to other ports for cargo. He quickly learned to speak Fijian, and the job wasn't difficult, except that the ship never returned! When Dillon failed to return, David made a life for himself.
He made friends with the Tui Levuka, a friendship which lasted twenty years, and under his protection, he began making himself at home, on Ovalau. Within a year, he was 'Mata ki Bau', the Tui Levuka's official messenger to Bau. On one of these trips to Bau, David Whippy met an old friend and townsman, William Carey. William didn't recognize David, but the latter remembered William. The two men had a great reunion, and Whippy told Carey he had no intention of leaving the island, as he had become a particular favourite of the King and Chiefs.
Whippy had several wives, but he married Tokasa, daughter of the Tui Levuka. David Whippy was the man to become the most respected member of the early traders and the very founder of Levuka town, he was a soldier of fortune. But it was difficult to be too critical. He was living in very violent times, and life was cheap.
Carey's account of their expedition to Vanua Levu, is the only one which mars his record. Everywhere else he went, he made friends. As more and more ships arrived, making Levuka their first port of call, Whippy made sure that the villagers received proper payments for their goods. Axes and knives made out of reasonable steel, rather than makeshift tools. Captains of visiting ships all asked for 'Whippy'.
In 1840, Commodore Wilkes met David within minutes of dropping anchor, telling him he had heard of him years earlier. Whippy was translator aboard the American ships during their stay. His accounts of Fiji and its' customs became a major part of Wilkes' famous 'narrative'. David became America's vice-consul soon after the Commodore's return to the United States. Wilkes added Ovalau is the principal residence of the white men in the group, to whose general department and good conduct I must bear testimony.
Levuka was growing and Whippy was certainly doing his part. First with the assistance of Tulia, who bore his first child (David), and then with a woman from Natokalau and another from Koro and another from a mission station, (Dorcas aka Tokasa) who convinced him they should be formally married. In 1839, David Whippy was keen to have his son, David Jnr visit New England with Captain Benjamin Wallis, but instead went to Salem, where he met his aunt and uncle and returned to Fiji after a year's absence.
By the 1840's, Levuka was a prosperous little settlement of traders, and the firm of Whippy, Simpson and Cusick was building sailing cutters for all of them. But by 1844 there were problems. One of the less scrupulous traders, Charles Pickering of Rewa, broke the Europeans' rule of 'non-involvement' and assisted Qaraniqio in the Bau Rewa war.
When his schooner was wrecked on Cicia, Cakobau sent a party to capture Pickering – but some of Levuka's traders reached him first and carried him to safety. Cakobau was so angry he gave the European and their families three days to leave Levuka. Everything that could not be carried was abandoned including the just built hull of Whippy's 70 ton schooner.
For the next five years the traders lived at Solevy Bay on the tip of Vanua Levu, a mangrove swamp, which claimed the lives of sixteen from dysentery. Cakobau relented in 1849 and let them return to Levuka. Their houses were gone, the schooners hull destroyed, and Whippy's friend the Tui Levuka had been killed in a Lovoni raid.
They started all over again, building houses and trade stores and a school, which opened with 80 pupils – most of them the offspring of the Europeans. With Doctor Isaac Brower, he began experiments with granulating sugar on Wakaya Island. It wasn't a success, but it was the beginning of Fiji's sugar industry.
Two years later, in 1862, David bought a tract of land at Yadali, near Solevu, where he was to live until his death in 1871. Any of his descendants can go and live at Yadali, and build their own homes. David Whippy is buried at Yadali.
Because David Whippy had several wives and children, the Whippy family is the biggest family in Fiji, with inter marriages over the years including: Simpson, O'Connor, Riley, Pickering of Vanua Levu (descendants of Thomas Fowler Pickering), even Whippy's marrying Whippy's. Consequently, many families are related to the Whippy family.
On December 15-19 1993, a Whippy family reunion was held in Suva at Buckhust Park, and a large gathering attended. Possibly more overseas descendants than locals! A good time was had by all. Gratitude goes to Milford Southon who put together a book, The Whippy Family, for the occasion. He travelled extensively to the UK and the USA gathering information and the book is traced back to the year 1100.
Frances Campbell commissioned a bust of David Whippy, to present at the reunion, which was carved with only the head instead. The head of David Whippy was then put on display in the Levuka Museum, the former Morris Hedstrom shop. A photo of the monument was then published in another book about the life of David Whippy in Levuka.


Entry By: Frances Campbell (nee Whippy), (location)