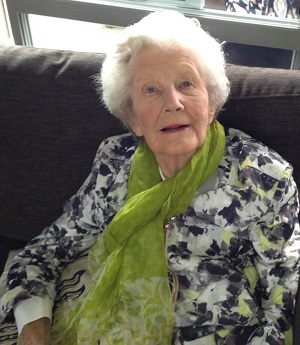 HEMMING, SHIRLEY CONSTANCE
(1923 — January 1, 2019)
Widow of Dr. George Hemming, Co-founder of The Bayly Clinic, Suva
Volunteer Almoner at the Suva Welfare Centre for 12-years

By R A B (Tony) Snowsill



Shirley Constance Miller, – Snowsill, – Hemming was first married to Mr Alan "Soot" Snowsill on April 27, 1946. They were married in the Catholic Church at Lawaqa, Nadroga – (That's now a suburb of Sigatoka) – by the legendary Father T.M. Desbois.
Bill Clark of Korolevu fame was the best man. Kathy Clark of Korolevu fame was the Matron of honour. Each signed the marriage certificate as witnesses. Alan died in June 1970.
Shirley married Dr. George Hemming, in Suva in 1971. At the time Shirley was managing the Capricorn Apartment Hotel. George died on July 26, 2003.
Mother to Bruce, Anthony and Jane Snowsill (McLean), Shirley to many – and Gran to her much loved grandchildren and their children.
Shirley – Gran loved life – She loved helping people. She loved helping people to realise their full potential – helping people to grow and to grow in mental stature.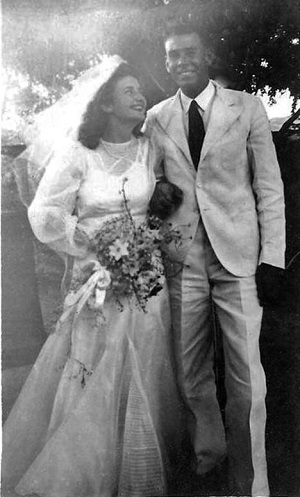 In Fiji :
With my father, Alan "Soot" Snowsill, – Gran (my mother) lived in many places in Fiji – Sigatoka. Lautoka, Ba, Raki Raki, Taveuni, Labasa and, finally, Suva.
In Sigatoka she often travelled on horseback with my father who was surveying the landscape so as to ascertain the best road-building options. The bush paths travelled were dangerously treacherous – muddy and slippery. Her horse once slipped and fell on her causing her leg to break which was not a pleasant experience in 1946 in Sigatoka, Fiji if you can imagine the times and tribulations.
When in Labasa in the 1950's
There was no telephone initially – messengers delivered messages around the Government quarters.
There was no electricity in the Government houses, whereas the CSR houses had electricity via "the mill".
Benzene lanterns were used to light the house when dark
Clothes were boiled in copper over a fire – the boiling provided the agitation to loosen the dirt and also make the clothes hygienic in these very tropical environs
Grass was cut by hand using a long-bladed cane knife – 20 prisoners with long handled cane knives (and one bastard file) would arrive to cut the grass around "the quarters" accompanied by just one prison guard who had a 14-inch wooden baton attached to his belt as evidence of his authority and power and supremacy – no doubt
Medical services were very limited and there were no antibiotics – tropical diseases were evident amongst the whole population
Sports :
Gran enjoyed several sporting pursuits at different times including Tennis, snorkelling, speed-boat racing (she won a boat race cup in the Sea Fever), hiking, bush walking, reef walking, the beach, painting and more.
Gran had several occupations and they included: Newspaper journalist – dressmaker of grand evening dresses – tour guide (river boats) – tour guide on buses – museum tour guide – hotel manager – social welfare worker & almoner.
As a tour guide on the Rewa river she worked with Storks Cruises and she and her fellow tour guides, including Maureen Southwick, would take tourists up the Rewa River – inevitably it would rain and all would get wet.
However, her most treasured activity was:
being a mother and gran to her grandchildren and their children
being a wife to her husband, and
being of value to her community.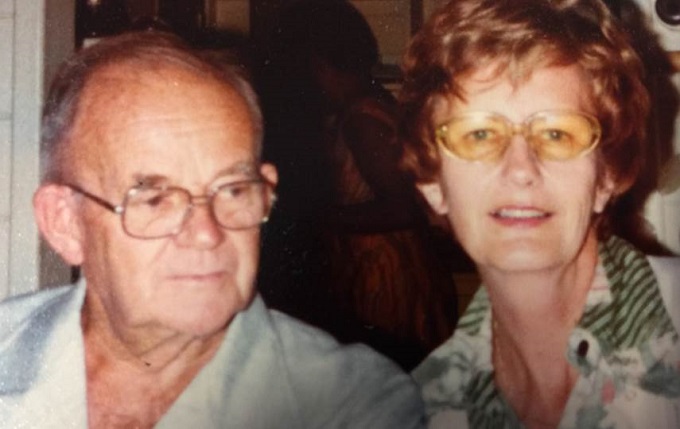 Gran had the benefit of meeting and living with and helping peoples of all stations in life.
Through various religious-based and general welfare agencies she helped the poorest of the poor – the destitute – the unloved and unwanted of the world.
She helped those with mental health issues – wealthy and poor – the needy – in so many ways.
She and her humanitarian and welfare provider colleagues provided hope to those who had little hope and little optimism and in turn those suffering provided Gran with JOY and a sense that her duty to society was being fulfilled.
Duty and one's obligations to society have, it seems, been lost in modern day society.
Gran was an office bearer in several organisations in Fiji:
She rose to be President of Save the Children – in Fiji – and on one occasion lunched with the Queen on the Royal yacht, Britannia.
Almoner of the J P Baily Clinic welfare service – providing food, clothing and medical services to those in need.
Community advisor to the PM on welfare services
Committee member of the Suva Arts Club
Reference Dr. George Hemming :
The needy would leave the Bayly Clinic with food, clothing, bedding and medicine and money… All for free. Yes, George was helped by others, but he was the initiator and organiser of the social welfare provided. Many, called him "FATHER" be they Hindu, Christian, or Islamic. My mother was subsequently known as "Mother" to those received help at the Clinic. She was greeted at such in and about Suva. It was quite an experience!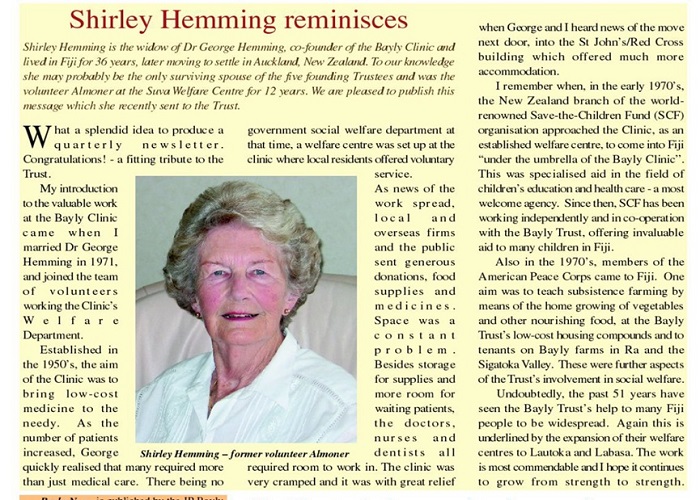 Dr. Hemming and John Percy Bayly shared a common concern for the increasing numbers of poor and the less fortunate. In the first few months of its operation, more than 80 people a day visited the Clinic in Suva. Almost all of these patients qualified for the concessional rates by virtue of earning less than four pounds a week. Today, the Trust assists in excess of 800 families through its Clinic, Welfare and Education areas throughout the three centres located in Suva, Lautoka and Labasa.

Three mornings a week, volunteers staff the Social Welfare sections at all three centres. In the early days, the volunteers were women from the Anglican Society of St. Francis and St. Claire and today volunteers (both local and expatriate) continue to devote their invaluable time to help package and dispense food parcels, clothing, and other goods.

As the number of the less fortunate receiving charity continued to grow, operations of the Welfare section developed separately from that of the Clinic. Mary Chadwick, Shirley Hemming, and Sheila Jones were some of the Trust's earliest Almoner's. Much of the Welfare work has now become the responsibility of full-time Almoners.

Source http://www.baylytrust.org/pages.cfm/who-we-are/our-history/
New Zealand :
When George and Gran retired to Auckland, they both again became involved with all manner of community services – mainly through the church in Auckland, Saint John's – On the Hill
Gran served her family, her society and those of all races and status in society.
Together with George they also befriended the local community of Pacific Islanders (who were cultivation land poor) and organised for the lands around St John's to be cultivated by those islanders.
How appropriate are these words?
"We lost the irreplaceable centre of our Fiji & New Zealand family and joyous light in our lives, but the inspiration of her faith, optimism, and perseverance will live on in our hearts forever… She loved both Fiji & New Zealand and devoted her life to serving their peoples to the best of her ability."
Now Gran's soul, together with the keenly eyed Great Frigate birds (kasaqa) flying with the Pacific Royal Albatross, both aerial masters, guard the profoundly beautiful sapphire and aquamarine reefed coastlines of Fiji and New Zealand. They glide above these cerulean seas, verdant lands and exquisite reefs and one feels there also, deservedly, soars Gran's spirit. Always watchful over the lands that she, like her forebears before her, loved and treasured.
Lolomas
R. A. B. (Tony) Snowsill. 03/01/2019.


Entry By: R A B (Tony) Snowsill, Chatswood, Sydney, New South Wales, Australia.