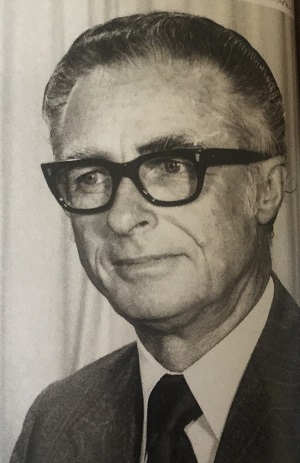 PROBERT, ROGER PARK ANDERSON
(March 19, 1917 — February 05, 2016)
Chairman, Fiji Gas Company Ltd
Suva & Lautoka City Councillor
President, Suva & Lautoka Chamber of Commerce
President, Fiji Employers Consultative Association (now Fiji Commerce & Employers Federation)
Chairman, Housing Authority of Fiji & other Government Bodies
Vice Chairman Fiji Red Cross Society
President Suva Rotary Club
President Fiji Golf Club
Order of Fiji for services to the community.
By Lyndall Probert Fisher



ROGER PARK ANDERSON PROBERT was born on 19th March 1917 in Auckland, NZ. He died on 5th February, 2016 in Caloundra, Australia a month shy of his 99th birthday.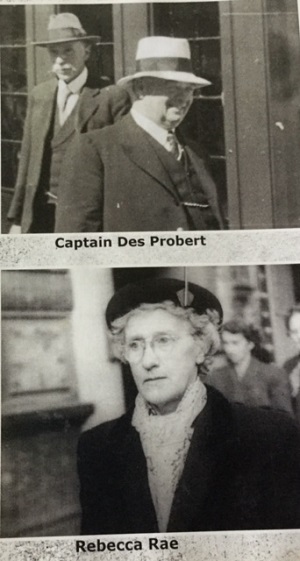 Roger was the son of Captain Desmond Ryall Probert, b 10th January, 1881 and Rebecca née Roger Born in 1885 in Cumbernauld, Glasgow.  Rebecca and her brothers emigrated to New Zealand and she and Desmond were married in Auckland in 1914. Captain Probert was a Master Mariner and away a lot and he and Rebecca divorced in 1920.  He was employed by Burns Philp in Rotuma and Nauru.
In his 80's Roger found out he had two half-sisters born in Rotuma, Marie and Christine Foster. Sadly Christine had passed away but he met Marie and the families are in regular contact. Roger as a three year old, whose mother had to work to support them, was sent to live with his uncle on a farm in Gisborne.
He was sent to boarding school as a six year old, firstly to Wesley College and then to Dilworth Boys School in Auckland. Roger left school in 1932 aged 15 and got a job working for the Gisborne Meat Works, then as Sales Manager at Fontaines Lingerie and then at Reid Rubber.
He joined the NZ Army in July 1940 as a Private at Papakura Camp. He underwent training as an instructor and came out as a Staff Sergeant and went to New Caledonia on a troop ship in December 1942. He returned to NZ in 1943 to attend officers training and returned to New Caledonia as a 2nd Lieutenant.
The Fiji Military Forces had sustained heavy losses and requested volunteers from the NZ Army. Roger volunteered and was sent to the FIji Military Forces (FMF) in the Solomon Islands and was posted to the 3rd Battalion where they served for 9 months with fierce jungle fighting against the Japanese.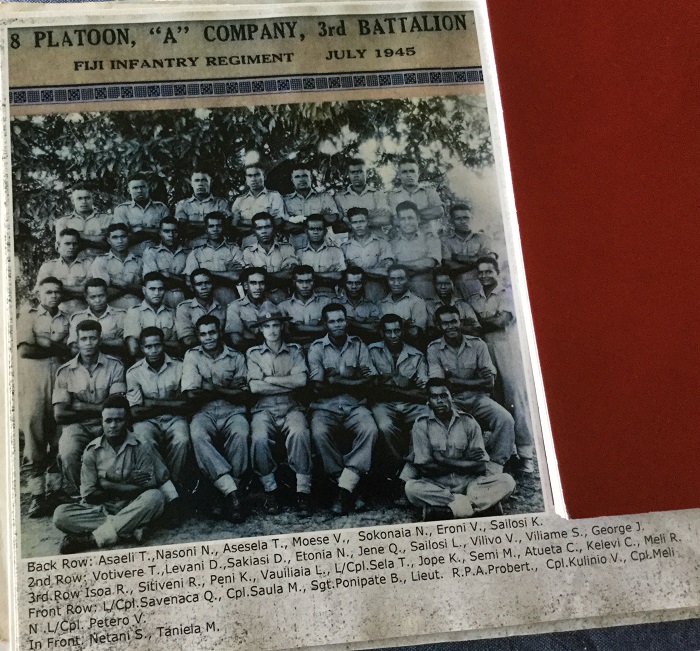 It was there that Fiji's first Victoria Cross was awarded to Corporal Sefanaia Sukanivlau for his amazing act of courage.  He was in Roger's Company with Ratu George Cakobau as the Company Commander. Ratu Edward Cakobau also served in the Battalion.
After the tour of duty in the Solomons, Roger returned to NZ and in 1946 was sent to Japan with the Occupation Forces where he was promoted to Captain.  He served there for a year and returned to NZ in 1947 where he was discharged from the Army.  He applied for a job with New Zealand National Airlines (NAC), the forerunner to Air NZ, and was posted to  Nadi Airport.
Roger met my mother Lesley Cila Harvie at the Northern Club, Lautoka, at the 1947 New Year's Eve function.  Lesley recalls 'he swept her off her feet probably his persistence and champagne!' They married at the Methodist Church in Lautoka on 31st July 1948.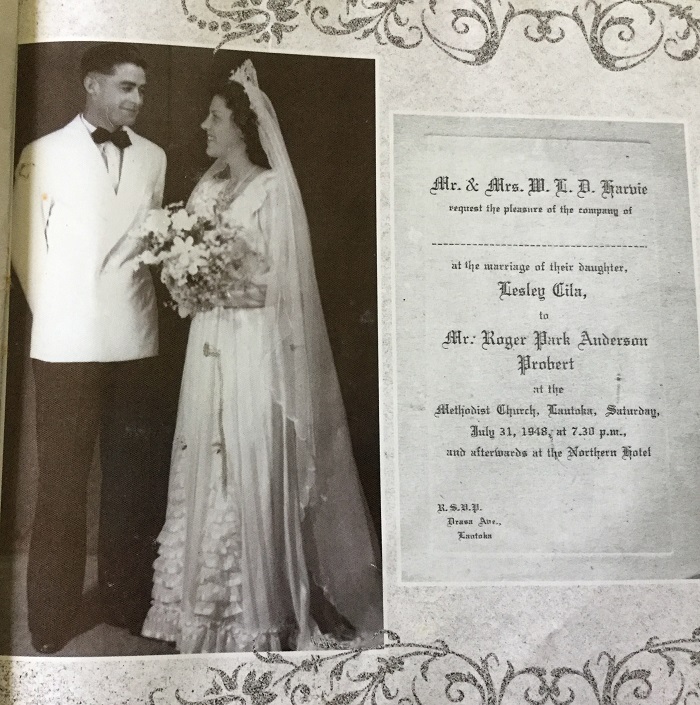 Harvie was the first of Roger and Lesley's children to be born in 1950 in NZ when Lesley and her mother had gone to visit her elderly parents.  Harvie returned to Fiji at three weeks old.  Lyndall was born in Lautoka in 1953 and Merran In 1956 the year that Ready Gas was formed.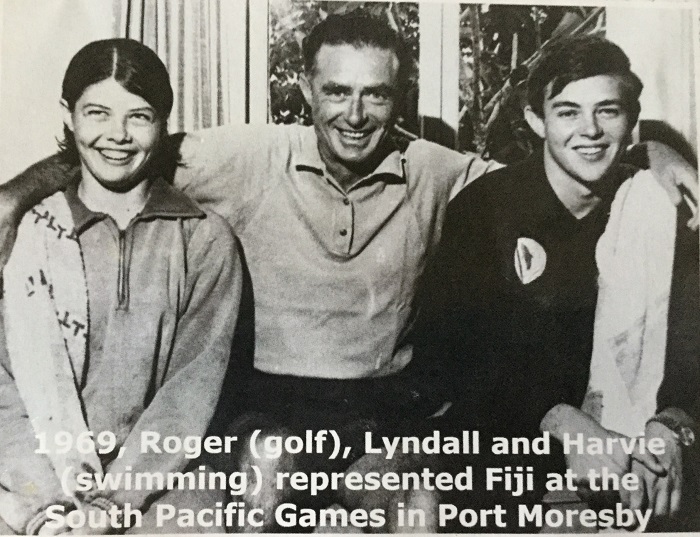 Roger joined Lesley's dad, Walter Harvie, and her brother Allan, in 1950 in his business WLD Harvie Ltd, a construction company that amongst construction works and building roads they also exported copra, manganese and trochus shells, for the button trade.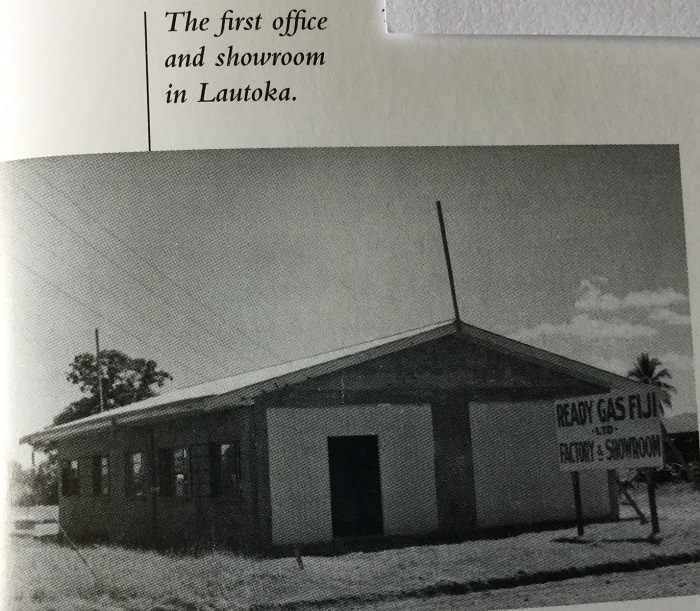 WLD Harvie Ltd was a shareholder when Ready Gas was established in 1956 by four Colonial Sugar Refinery (CSR) engineers based in Lautoka, who decided that LP Gas was a good energy source. They arranged to bring gas stoves and cylinders into Fiji. However, before they could start they were repatriated.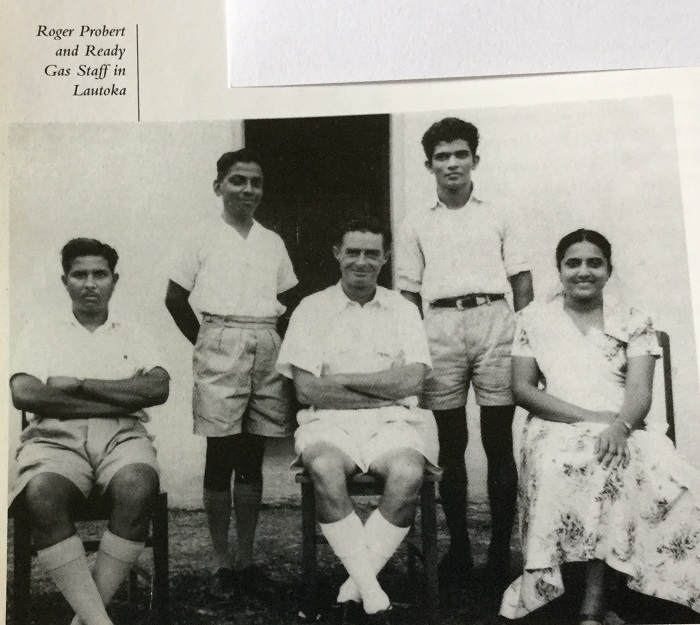 WLD Harvie Ltd took on the business, with Sir High Ragg as Chairman and Roger as Company Secretary, being appointed Manager in 1957.  The business struggled initially to create the demand for gas including converting kerosene users to this new style of cooking.
The first year saw a loss of £2344.  The next year they then struggled to meet the supply demand!  Wal and Jess Harvie retired to NZ in 1957 to look after Wal's sick mother and Allan took over WLD Harvie Ltd.
As there was more business opportunities in Suva the Probert family moved there in 1958 where they employed the first staff member who helped Roger with deliveries and increased gas sales. Roger recalls 'I taught me all I knew, nobody else knew anything about it; the gas business. Roger became a Director of the company in 1958.
In 1959 large orders from CSR and the South Pacific Air Transport Council (Nadi Airport) resulted in a 263% increase over the previous years gas sales that brought out a smile on Roger's face and gave shareholders confidence in the company's future.
1960 saw a filling station and storage plant built at Lami that had a storage capacity of 6,000 gallons ensuring three months supply of gas in Suva.  The showroom and office were located in town.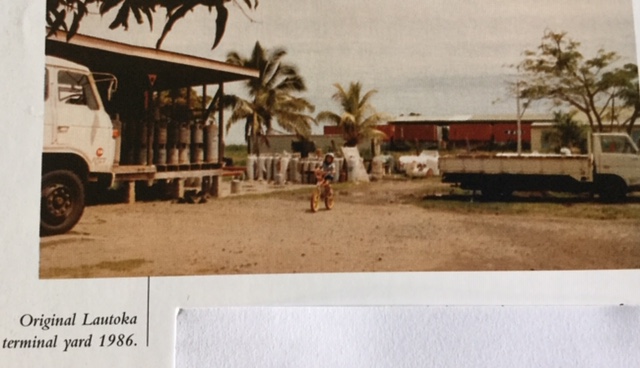 In 1961 Ready Gas was approached by a major oil company to erect bulk tanks that would be supplied by ocean-going gas tankers. The erection of the first 160 tonne tank was completed in 1963 with a ten year supply agreement signed with Mobil Oil Australia Ltd who also took over ownership of the gas cylinders.  Mobil also bought the company name so in 1964 The Fiji Gas Company Limited was registered that was later changed in 2004 to Fiji Gas Limited.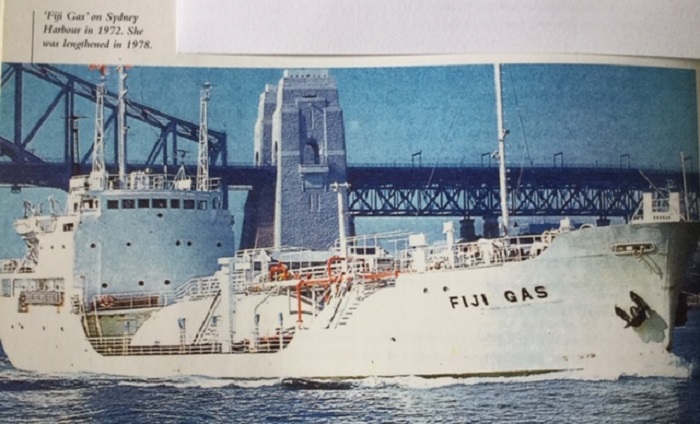 The current location at the corner of Amra St and Foster Road at Walu Bay was completed in 1965.
Roger's son Harvie joined the company in 1969 for a short term as a LP gas fitter. He then rejoined in 1972 as Sales Manager and learnt the business the same way Roger had. Harvie was appointed operations Manger in 1977 and General Manager and CEO upon Roger's retirement in 1983.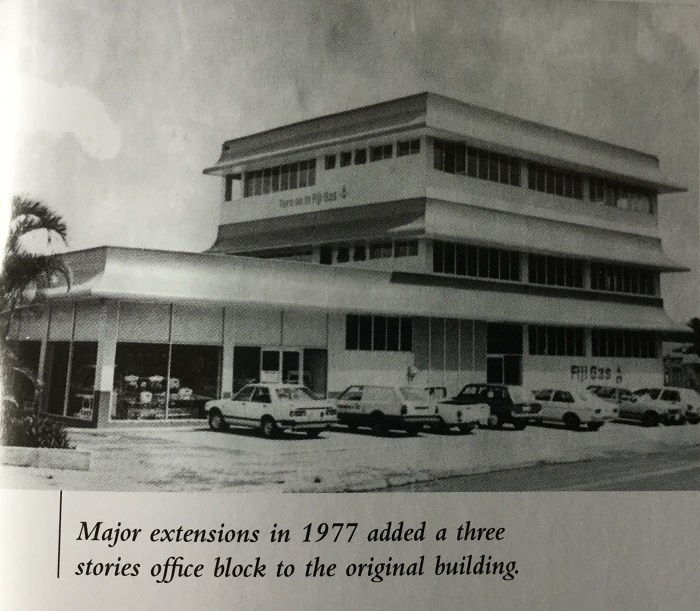 History of Fiji Gas in Fiji:
1956 — Ready Gas in Fiji
1956 — Ready Gas established in Lautoka, WLD Harvie Ltd shareholders, Roger appointed Secretary and Sir Hugh Ragg Chairman of the Board until his death in 1963
1957 — Roger appointed Manager
1958 — Ready Gas relocated to Suva and Roger also appointed as a Director
1960 — Filling Station and Storage built at Lami
1963 — David Petrie Ragg, son of Sir Hugh Ragg, appointed Chairman
1964 — Agreement with Mobil Oil, first gas storage tank,160 tonne, built
1965 — Walu Bay offices built
1972 — Gas Supply Ltd, subsidiary of Boral Ltd Australia, obtained 50% interest in the Company and invested in new subsidiary, Liquified Gas Carriers (Fiji) Ltd purchasing new 500 tonne ocean tanker named Fiji Gas
1973 — Bulk Storage Terminal built in Lautoka on reclaimed land on the foreshore along from the local wharf. Opened by Ratu Josaia Toganivalu, Minister  of Lands
1974 — Suva Terminal opened at Wailada Industrial Estate, Lami
1981 — Labasa terminal at Malau opened with an office in town
1983 — Roger retires and appointed Chairman
1992 — Sigatoka filling station in town opened, relocated 1996 on the outskirts of town as a 19 tonne storage terminal
1993 — Savusavu filling facility, 8 tonnes, opened
2001 — Roger at 84 retired as Chairman
2004 — Name change to Fiji Gas Company Ltd
Order of Fiji
Roger and Lesley were both awarded the Order of Fiji for services to the community in 1995 by the President of Fiji, Ratu Sir Kamisese Mara.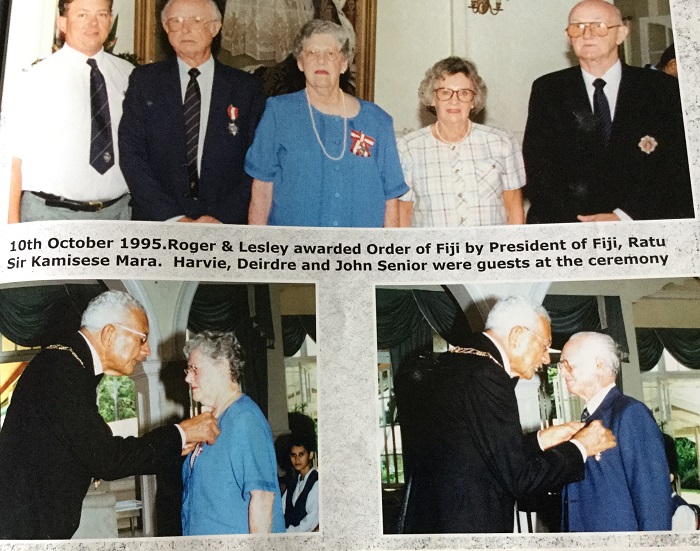 Community Service
Lesley was on the Board of the Crippled Children Society as it was initially called and very involved with the establishment of the Crippled Children's School that is now called Hilton School.
Roger was very involved with local councils and organisations and served on many boards including:
1950s — Lautoka City Councillor and President Lautoka Chamber of Commerce
1970s — Suva City Councillor
— President Suva Chamber of Commerce
— President Fiji Employers Consultative Association (now Fiji Commerce & Employers Federation (FCEF))
— Helped establish the sub regional office of the ILO in Fiji and represented FECA at ILO meetings in Geneva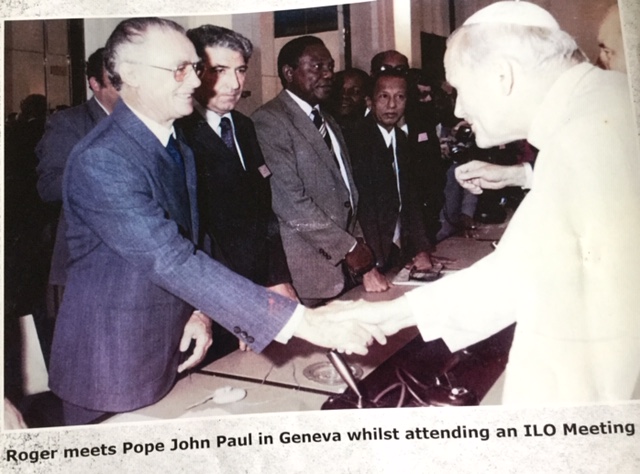 — Chairman, Housing Authority of Fiji, Central Traffic Authority (now LTA), Missions to Seaman, Isa Corporation, TecAir Ltd, External Trade Organisation (Fiji) Ltd
— Vice Chairman Fiji Red Cross Society
— President Suva Rotary Club having initiated the establishment of Rotary in Fiji
— President Fiji Golf Club also served as captain for several years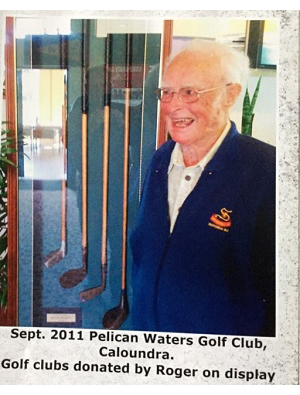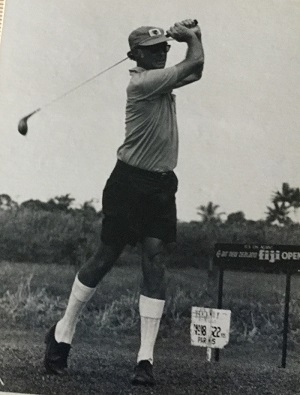 Roger's father in law, Walter Leslie Douglas Harvie, introduced him to golf as his wife, Lesley, was a good and keen golfer. He learnt fast and represented the West in the annual East vs West event several times and then represented the East when they moved to Suva.  Roger was a champion golfer in his day, playing at all the courses from Vatukoula to Nausori.  He represented Fiji in golf in 1969 at the South Pacific Games in Papua New Guinea with Harvie and Lyndall who competed in swimming.  Roger and Lesley went on many golfing trips with great friends John and Marie Wisdom and he later represented Fiji at the World Seniors Golf Championship in Colorado, USA.  Roger was well known at the Fiji Golf Club for planting shrubs and trees and even today the older caddies refer to them as 'Roger's trees'.
A wonderful husband, father, grandfather and Big Papa, greatly missed.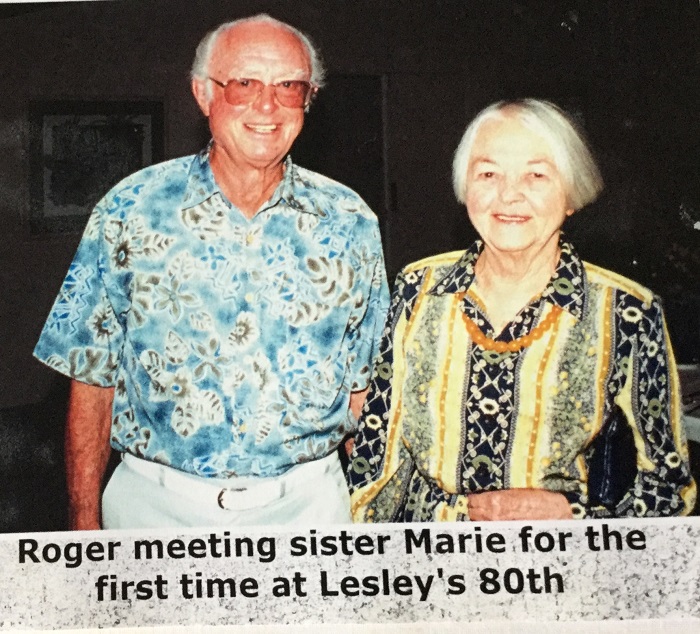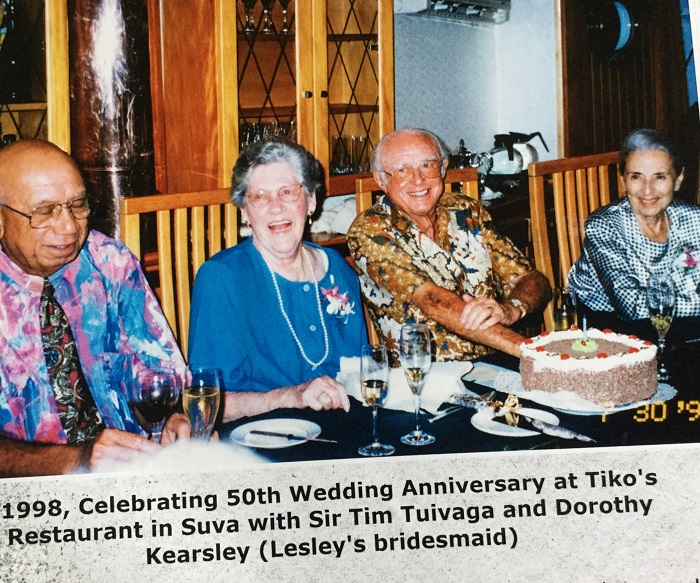 Entry By: Lyndall Fisher, Suva, Fiji