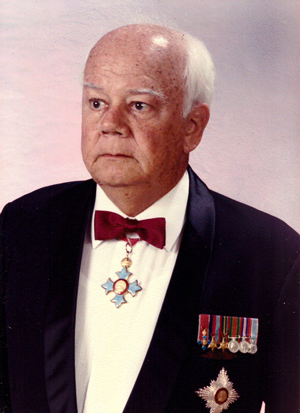 STINSON, SIR CHARLES ALEXANDER KBE, OBE, CMG JP.
(June 22, 1919 — November 02, 1989)
Director / Managing Director / Chairman –
Stinsons Limited
City Councillor and Businessman 1947-1959
Mayor Suva City Council 1959-1966
Member, Fiji Legislative Council 1966-1970
Member, The Fijian Parliament 1970-1982
Minister for Works, Communications, and Civil Aviation and Minister for Finance
Chairman Fiji Visitors Bureau
Chairman Fiji Fire Brigade
War Service Medals
Fiji Independence Medal
Fiji Republican Medal.
By Ambassador Peter Stinson, CSM, AAVL, JP.



Charles Stinson, Chas or Charlie as he was affectionately known to his many friends and family, was born in Levuka, Ovalau on the 22nd June 1919 and died 2nd November 1989 aged just 70. I write this as his eldest son Peter Stinson born in Suva on the 14th of September 1948. Charles was not only a wonderful Father but also a mentor to his three children Peter, Jeanette and Ian. As I grew up we also became best friends which was a great experience and no man or woman could have a more loyal or caring friend than Charles Stinson.
Through his career he was often much maligned by his opposition in the political world but also much loved by his supporters. He was a man completely without vanity and honestly never cared what his critics had to say so long as he was at peace with himself, his conscience and his God. Although not well known he was a very religious man but also very open minded and respectful of other religions and races. Many articles from those days in the 50's, 60's 70's and 80's spoke of Charles as a complex man.
In reality he was a very straight forward simple man with a very high Intellect, great sense of humour and just as comfortable in the Company of Royalty, world Leaders, and the dock workers who he would visit on a Friday for a bowl of grog. No matter how high he rose in life from City Council, to Mayor to Cabinet Minister he was the same Charles who would rise early like 2 am on a Saturday Morning and sit on a box at the Suva market surrounded by crowds of his constituents listening to their problems and yes seeking their advice.
He would always have a team of civil servants with him and snap orders at them like sort out this Lady's housing problem or the problem of extra school rooms needed at a particular school and so on. That was Charles Stinson. When I was a little boy he was already a politician as a member of the Suva City Council and later Mayor so I knew no other than him always being a politician who was also my loving Dad.
Charles never wanted a biography but he left me with endless notes and dates and the one and only bit of his history he did write was about his childhood and schooling so I will end this tribute to a humble but larger than Life man with his own words dictated to his secretary in 1981. It makes mention of so many other children well known later as great men like Wisdom, Kermode, Kirkham, Gosling, Ah Sam to name a few.
The story in itself is very informative about the early part of last century in Fiji and typically Charlie, rather amusing. But he only wrote about himself being a child in Fiji, he never wrote about his adult career as he considered it to be a pompous act. So I will attempt to comment further on his adult career later. I will post his paper as an article.
After Charles wrote a little about himself as a child he wrote more about other people and I rely here on documents written about him by people like Sir Leonard Usher, Sir Derek Jakeway the Fiji times, and other men including Apisai Tora who we all used to fear after the 1959 riots. So many people wrote about his life and their experiences with him.
Charles always said that the War was his great break in life as unlike his older brothers and sisters educated in England and Canada, Charlie had to leave school at 15 and start work. The reason for this was that my Grandfather had been wiped out during the depression and Charlie was child number 7 out of 9 and helped my grandfather rebuilt his fortune during the war.
Charles first worked as an underground miner at Vatukola for the Princely sum for 2 shillings and six pence per week he was just 16 years old. Here he learnt the skills of an electrician and a vehicle mechanic. He next went on to work for Morris Hedstroms selling Model A Ford cars for five shillings a week.
During the War, he served as an officer in the Navy from 1939 to 1945 and received a good education at various naval academies including Flinders in Melbourne where he first met my mother, Mollie Dean in 1940, she outranked him and was a Senior Officer in the Australian Air force. He served alongside some of his school mates and friends like John Wisdom, Freddie Archibald, Stan Brown and others I can't recall.
Commander Cummins was his Commanding Officer on the HMS Viti and Captain Stan Brown was his Senior Officer, they remained lifelong friends. He saw action throughout the Pacific including places like Guadalcanal in the Solomon's where after the Victory he met a Japanese Officer / Prisoner somewhere in the Solomon's by the name of Dr Mitarai who went home to Japan where he had already founded the Canon camera company in 1937. More about that particular friendship later. Another friend made was his cabin boy Titoko who remained as a servant and boatman / Chef to Charles right up until his death.
He finally married Mollie Nancy Dean in Sydney in 1946 and the next day they departed for Fiji where I was born in 1948, my Sister Jeanette in 1951 and Brother Ian in 1954.
In 1947 he was encouraged by the then Governor of Fiji along with Ratu Sukuna and others to run for the Suva City Council. They had found a loophole in the election regulations where only expatriates could vote but it did not say that only expatriates could run for election and so Charlie ran for the Tamavua ward where all 14 registered voters, all expatriates, voted for him even though he himself could not vote.
And so Charles became the first ever Fiji born man to be elected to political office in Fiji's history. From 1947 until 1982 he was always in elected office until he quietly retired by way of not standing in the 1982 election due to illness. He never spoke openly about his illness and passed away 7 years later in 1989 after a hard battle against cancer aged just 70.
He remained a City Councillor and businessman from 1947 to 1959 when he was elected Mayor and remained in that office until 1966 when he ran for election to the first Fiji Parliament which replaced the old British Legislative Council. That 1966 Parliament led to Fiji's Independence in 1970.
Some of his achievement highlights were:
Convincing the British to allow Suva Citizens to have the vote I think about 1957.
He reclaimed the Suva City waterfront starting in 1959 from Victoria Parade out in front of Westpac, in front of his old school Suva Grammar and all the way to the Grand Pacific. Much of modern Suva now stands on that land including the Travelodge, Civic Centre, Sukuna Park and many others. The water front Parade was later named Stinson Parade in his honour. He also built the new markets and Suva wharf with government support to name just a few.
One memorable occasion was the riots of 1959 his first year as Mayor led by James Anthony and Apisai Tora. There is a famous story where the morning after the riots Charlie was seen with his family and some employees cleaning up the glass and his ruined shop while the city was still empty and under curfew and slowly some of the rioters from the night before who had destroyed his shop joined in and helped him clean up and all full of apologies.
One of them was a young Apisai Tora who became an uneasy friend but very admiring of Charles. That strange friendship continued until Charlie convinced Apisai in 1981 to run for the Alliance party in the 1982 election with myself and Apisai was one of the most efficient Ministers I ever worked with and Charles a hero in Apisai's eyes. Charles theory was it is better and safer to have the rebel inside the Alliance Camp rather than outside attacking.
His first Ministerial appointment was as Minister for Works, Communications, and Civil Aviation where he was responsible for developments like the Suva Nadi Highway, the construction of the Monasavu Hydro scheme, and accelerated construction of hundreds of schools and water supplies to the people. Building the new Nadi airport terminal, extending the runway (and likewise Nausori airport runway) and then the new Suva – Nausori highway. Another was to turn Air Pacific into an International Airline to boost tourism.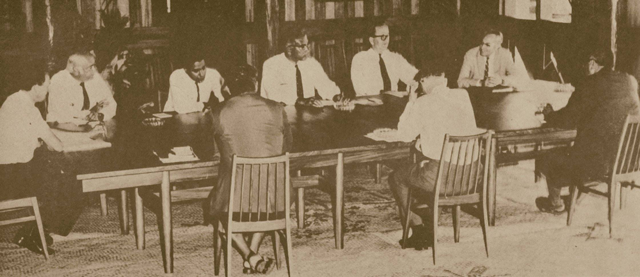 Too many things to list, he was well known for doing his own thing and often not consulting Cabinet, he was impatient and had a passion to build the Nation's infrastructure. During those years he developed a close friendship with Lee Kuan Yew of Singapore and copied their model of developing a Provident Fund FNPF and establishing the Reserve Bank when he went on to become Finance Minister.
He was not in the Ministry of Works for too long before Ratu Mara promoted him to be Minister of Finance where he remained for the rest of his political career. It is interesting to record that Ratu Mara and my father did not get on well for many reasons, maybe both were born leaders, both with strong personalities.
Ratu Mara said to people in private that he did not like Charles Stinson but he couldn't do without him. My Dad on the other hand never criticised Ratu Mara and although they had fierce arguments behind the scenes they both, like true gentlemen, put on a united Front in Public. I won't go into great detail like stats and figures when Charles held that high office but he was pretty much a loved and if not loved then greatly respected Finance Minister that kept the ship on an even keel and as history evolves those years 1966 to 1982 were Fijis golden years wiped out in 1987 and changed for ever.
A couple of true stories about Charles the Finance Minister
His office had no furniture except for his desk and chair and in front of it was placed a lectern so that civil servants or others visiting him were brief and to the point. If someone very important came to see him he would stand in the room and offer them coffee which they never accepted because there was nowhere to put anything except the floor or his overloaded desk.
This happened to every visitor but often he would invite them to join him at his home for a drink or on his boat for a Sunday after Church explaining he was interested in what they had to say but there was more seating on the boat. He was a man in a hurry and it seems his Suva Grammar pranks as a child never wore off (See separate post: Being Born in Fiji by Sir Charles Stinson).
He was strongly supported in elections by the business community and also the Unions, quite unusual. One day he was annoyed to see that customs revenue was well down for a couple of months so he paid a visit to the Suva wharves before the days of containers. He had the Commissioner of Inland Revenue and the head of customs together with famous old Taniella Veitata Leader of the dock workers Union. He marched through all the sheds and gave orders that all cargo that was still in there in three weeks' time was to be thrown in the sea.
This was duly advertised and gazetted with Ratu Mara being furious at his style. Three weeks later the same little group entered the sheds and marched through every empty shed to the last one where at the far end was a big pile of packing cases and Charlie immediately said "right throw them in the sea". The head of the Union Taniella suggested he look at who the cases belonged to and it was Stinson's Ltd.
Charlie was very annoyed but when he got around behind the cases there was a big group of dock workers waiting with the grog bowl ready to greet him with applause. And so he had a meeting with his supporters but did not mention Stinson's Ltd. Nor repeat his order to throw everything in the sea. Fijians are very good at practical jokes and they sure got him at his own game.
It would be remiss of me not to mention Charles Business career and I refer back to Takeshi Mitarai who Charles met during the war. Dr Mitarai was in fact a gynaecologist who became an industrialist. He first started the Canon Company in a garage in 1937 to copy the German Leica Camera. He had to leave the little business in the hands of friends when he was sent off to war in the Imperial Japanese Army. Charles and Takeshi became long term friends and in 1954 Charles set off to Japan to meet Takeshi Mitarai with the object of becoming the Fiji agent of the Canon Camera Company.
While he was in Japan Takeshi introduced Charles to Rejero Hattori founder and owner of Seiko as well as the co-founder of Sony Masaru Ibuka. Although they were all considered still as inferior products at the time, Charles returned with the agencies for for Canon, Seiko and Sony. As history tells us Japanese products later became the best and when duty free shopping was introduced in Fiji his Family Business boomed and expanded. That was how Charles made his money as the company was left to him by his Father in 1960.
I cannot finish this without mentioning my Mother Lady Mollie who always tried to avoid the limelight but it was her that kept Charles on an even keel and ran his business for him and managed all his charities while he concentrated on his life in Politics. She was a marvellous hostess as well and had to be, as Charles would always invite dozens of people to their home every week and always on his boat on Sundays. Our home often felt more like a Hotel than a simple family home and the visitor's books are full of the names of famous people mixing amongst the local community.
Names like the astronaut Michael Collins, Australian and New Zealand Prime Ministers like Robert Menzies, Malcolm Frazer, Robert Muldoon of New Zealand, and members of the British Royal family. The world's captains of industry like Malcolm Forbes, Rajero Hattori (Seiko), Dr Mitarai (Canon), Nelson Rockefeller, Lord Denning, Archbishop of Canterbury Ramsey, King of Tonga and the Sultan of Brunei, Lee Kuan Yew to name a few and also Actors like Bert Lancaster, Jean Simmons, Gregory Peck, David Lean, Thora Herd, Kirk Douglas, Pierce Brosnan and Dame Margot Fontaine.
Too many to list but he would always invite his constituents at the same time to give them a chance to meet famous people. Also the visitor's books reads like a who's who of Fiji with every former leader in Fiji from Ratu Sukuna and Sir Ronald Garvey through until 1982.
Amongst his many hobbies was breeding Labradors, growing orchids (probably a bug caught from his lifelong friend George Hemming), boating and fishing, golf and rugby, but mostly his various Charities in which his wife Mollie and his children were required to assist.
Awards and positions held
Officer of the British Empire 1962
Companion of the Order of St Michael and St. George 1969
Knight of the British Empire 1979
Listed by the National Geographic Society in their Who's Who of World Intellectuals
Granted to the keys to many Cities around the World like New York, Los Angeles, Washington. Auckland, Sydney, Tokyo, London and many others.
War Service Medals
Fiji Independence Medal
Fiji Republican Medal
Life member Suva Rotary Club.
Life member Suva Yacht Club.
Many International Photography Awards.
Honorary Sherriff of the of Alameda County in California and an avenue named Sir Charles Stinson Avenue Alameda County This gave him great amusement and the only one he would talk about. This was by invitation of his old Friend Malcolm Forbes.
Charities and Volunteer Work
Chairman Fiji Visitors Bureau
Chairman Fiji Fire Brigade
President of the Red Cross.
Board of the CWM Hospital and Tamavua Lepers Hospital.
Twice President of Suva Rotary Club with emphasis on Charity work.
Bailey Clinic.
Working with George Hemming to Build St Luke's and homes for the Poor
Pearce Home.
Patron Chairman's All Races Sports Club
School fees for hundreds of under privileged Children.
University Scholarship for Bright young People on the condition they returned to Fiji.
Bi annual Weekend trips on his boat Mollie Dean for Suva's shoe shine boys.
And so many others. I remember Lennie Harvey, the Sister of Roger Probert and his long suffering and loyal secretary, saying she often hid his check book.
Charles was a man who in the immortal words of Rudyard Kipling could walk with Kings and Princes yet never lose the common touch, truly a man of the people who saw everyone as an equal, he never forgot his upbringing or first language Fijian before he really learnt English. His Grave stone which he wrote himself simply says:
CHARLES STINSON 1919 – 1998 HUSBAND, FATHER AND GRANDFATHER, FRIEND TO HIS FELLOW MAN. AWAITING THE GLORIOUS RESURECTION.
His wife Lady Mollie was buried in the same grave with him in 2004.


Entry By: Ambassador Peter Stinson, CSM, AAVL, JP, Gold Coast, Queensland, Australia.