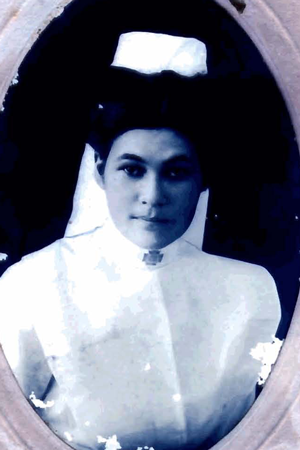 FADDY, GERTRUDE HELENA RRC
(1884 — June 14, 1943)
Matron Levuka Hospital
Royal Red Cross Medal
World War I 1914-1918
By Jim Sanday



Sister Gertrude Helena Faddy, Fiji's 'Lady of the Lamp', was the daughter of Dr William Faddy and Ruth Harriet Johnstone of Sigatoka, Fiji.  She was also the sister of Captain Norman Faddy who, with his brother Captain Francis Faddy, served with the Fiji Contingent of the British Army in France and Belgium during World War 1 (1914-1918).
Sister Gertrude Faddy left Fiji for War service as a nursing sister to serve on the staff of the Netley Military Hospital in England. As a nursing sister she cared for wounded soldiers and sailors from the War. In recognition of her War service she was awarded the Royal Red Cross medal.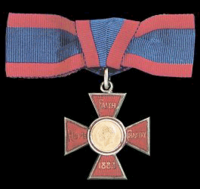 The Royal Red Cross award was instituted by Queen Victoria in 1883 to British nurses for exceptional services in military nursing.
It was awarded to Sister Faddy for "exceptional devotion and competency in the performance of actual nursing duties".
In her profile picture above, she wears the emblem of the medal on the neck of her collar.
After the war Sister Gertrude Faddy returned to Fiji and served for a while as Matron of the Levuka Hospital. She died in 1941 and was buried at the Old Suva Cemetery (Lovonilase). She was unmarried at the time of her death.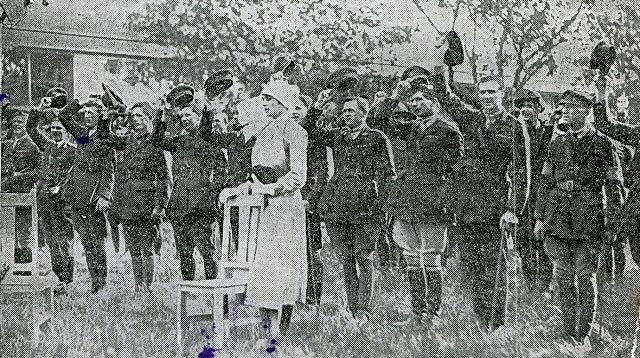 Standing at the front behind a chair is Sister Gertrude H. Faddy. The occasion was the Investiture Ceremony in October 1919 at which Sister Gertrude and others in the picture received their military awards for service in World War 1 (1914-1918). The picture shows them giving three cheers to His Majesty the King (George V). In an act of chivalry, Sister Gertrude, being the only female on parade, was provided with a chair to sit on at the front of the parade. She politely refused and opted to stand with the rest of the officers and men she cared for during the war.
(Picture above was taken from the Sunday Times, 12 Oct 1919)


Entry By: Jim Sanday, Brisbane, Australia.