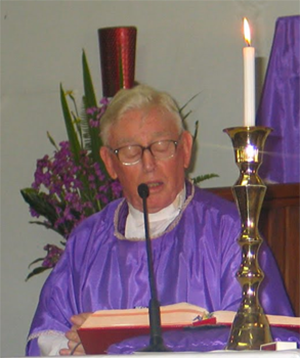 BRANSFIELD, MICHAEL FR. S.M.
(June 29, 1926 — August 04, 2009)
Marist Father and Parish Priest
The Catholic Church, Society of Mary
Instrumental in the formation of the Tutu Training Centre on Taveuni
Worked with the Marriage Encounter Movement
Ran The Altar Boys Sodality, The Sacred Heart Cathedral, Suva.

By R A B (Tony) Snowsill.



Father Michael Bransfield was a member of the Marist Fathers and spent his priestly life in Fiji after arriving from Ireland on October 31, 1951. He was part of the growth of the Catholic Church in Fiji and Rotuma.
For more than 50 years this gentle, humble priest served in parishes across Fiji from Levuka on Ovalau — the beginning of the Catholic mission to Fiji — to Lomeri on the Viti Levu Coast and then the highlands of Namosi. Fr Bransfield worked in many parishes for various lengths of time, including Sacred Heart Cathedral in Suva, Levuka, Lomary, Namosi, Wairiki, Nadi, Lami and Laucala Bay. He was very much involved in the training of religious brothers from 1968 to 1974 (Fiji Times Saturday, August 08, 2009 Salute to a priest).
Fr. Bransfield wasn't rich! He had no material possessions of note or value. Just four old white shirts, uniform grey long trousers and two brightly coloured Fiji Bula shirts some of which had seen better days.
He carried a small battered leather suitcase in which he seemed to carry all his belongings. His closed shoes were well worn and scuffed and he preferred his open leather sandals because of the heat and humidity in Fiji.
I first met Father Bransfield in Savu Savu in 1974 when I was there for a month as a relieving manager in a hotel. He was just doing his rounds of churches and church schools and implementing some new liturgy or doctrine it seems. I was perhaps between religions at the time. We and others drank tea together.
He was unmistakably a most articulate and learned man. He skilfully presented many complex and varied topics in an understandable manner and made strong arguments for both sides of the discourse without bias. He talked with Prime Ministers and the poorest farmer equally well.
He was a modest, humble, gentle man at ease in any social situation. He never used his superior intellect to demean or humiliate those he met. He used his gifts, clearly obtained by study and scholarship, to stimulate and inspire. His studies of people and their needs as individuals (many "in situ" I would imagine) no doubt gained from his intellect, compassion and strong beliefs.
I met him several times in a three week period and was overcome by his benevolent nature, compassion and humanity. His verve and love for life, God and spirit was exceptionally strong and conspicuously evident.
In 1976 I was at Pacific Harbour Resort, Deuba, and learnt that Father Bransfield was at the mission and seminary at Lomeri. A few days later we met at a local gathering. He was his usual vital self.
One of my duties at Pacific Harbour was to entertain all manner of visitors, travel agents, potential major real estate buyers, radio and TV personalities, advertising agents from overseas and potential investors. How one-dimensional most of them were! Frankly most of them were either worn out and desperate for some R&R or else just couldn't be bothered making courteous conversation. It was at times very often hard work for me to engage and entertain them.
That's when it occurred to me that inviting Father Michael Bransfield to one of these dinners might help social interaction and conversation.
It did!
Upon invitation Father Bransfield said grace and straight away all at the table were on their best behaviour. His grace was simple and yet ample. Tired and drained people became invigorated and interacted and tried hard to converse. They all then began to relax and enjoy themselves in a new environment where they were not being judged by others seeking one-upmanship. No, all that had been overcome and those gathered just wanted to be friends and enjoy the company of others. Michael Bransfield had achieved again. He had skilfully taken away any pomposity that might have been and allowed people to be themselves.
Michael Bransfield had intentionally been seated at the head of the table. At the other end there was no chair. Those who might have thought themselves more important sat down the table either side of Father Bransfield. It was appropriate!
It didn't matter that Father Bransfield's shirt had been washed and ironed several times too many so the lustre had gone from the sheen and that his trousers has been ironed so often they had developed their own sheen. His well worn leather open sandals seemed appropriate for a true man of God and instantly made it seem that his dinner table company wore too much! That they didn't need the diamonds, gold and jewellery and expensive perfumes because those things didn't matter here around Father. Status and rank had gone. Personality, character and interaction were more important.
So it was that "Irish to the core, his keen sense of humour and impish grin allowed this priest to communicate with young and old at a level all could understand and appreciate" (Fiji Times Sunday August 09 2009, "So long Father Bransfield")
I remember the first time I sent the Resort's mini bus driver to collect Father Bransfield much to the intrigue of the driver. "Boss", he said, "why you send me for Father Bransfield, you sick, someone going to die?" I said I didn't really know, I couldn't really explain it. I explained the dinner party situation. "These people you eat with they not religious people"! I said again I didn't really know, I couldn't really explain it. He said, "Then why Boss?" In a circumspect manner these words arrived, they just arrived in my mind. I said that these people had lost their spirit or "mana" and they really needed to get it back. The driver agreed and said in a judicious manner "then Father Bransfield is the right man!"
We both nodded our heads wisely and agreed irrevocably though silently.
To this day I don't know where my words came from!
These dinners attended by Father Bransfield brought with them their own blessings and his parishioners often benefited with new roofing iron or another stand pipe for the village or a younger bullock for the farmer's plough. On one occasion three very expensive new suits were given to the good father. I later learnt they were being proudly worn by the poorest men in Lomeri village! An expensive watch intentionally found a new owner in a poor villager.
Father Michael Bransfield was rich!
His wealth was in his personality and his being at peace with the world, with his relationship with God and with all peoples. He feared, treasured and loved God! His wealth involved being loved and respected by all who knew him or all who came in contact with him because of his humility and humanity. His wealth was in his magnetic personality which drew young and old, rich and poor to him and his ability to inspire and motivate all he met. He aroused ones own interest in investigating ones ability to do better. He aroused ones interest in doing better by ones friends and for the interests of ones community.
I felt Father Bransfield was forever smiling at people and at life. His vitality and vim and vigour were infectious. One always walked away feeling better about oneself after meeting or being with the good father. Troubles seemed less important after being in his presence.
People just wanted to be acknowledged by Father Bransfield. Wherever he went people would go out of their way to greet him and cross the street to shake his hand or be recognized by him. Once you knew him you were drawn to him. Men and women of all faiths sought his welcome. Many sought his blessing right there in the street, in the field, or on the rara, at the bus stop or wherever.
Father Michael Bransfield was an inspiration to all who knew him and met him! The world is a lesser place because of his passing! He was 83. He is remembered by his brother Dr. Jack and sister Anne in England, brother-in-law, sisters-in-law, Marist Community, relatives and a large circle of friends in Ireland and Fiji.
The choir of Immaculate Conception, Lami led the singing at the Mass of the Ressurection for Fr. Michael Bransfield SM. We thank God for the gift of this wonderful servant of God who was a well loved priest all over Fiji.
RIP Father Michael Bransfield.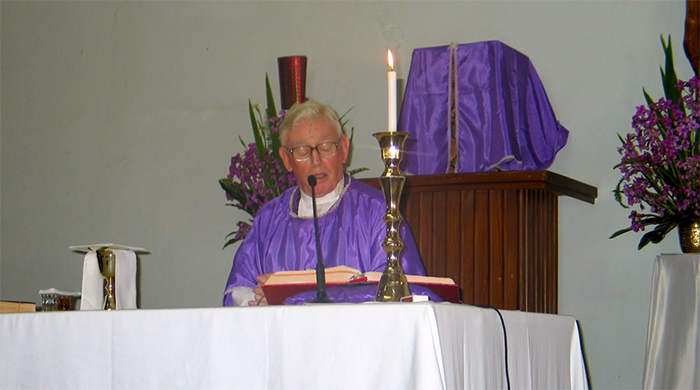 Entry By: R A B (Tony) Snowsill, Chatswood, Sydney, New South Wales, Australia – August, 2009.