MOORE, JOHN ANTHONY (TONY) O.B.E.
(December 02, 1908 — March 15, 1994)
Superintendent, Royal Fiji Police Force
Awarded the Colonial Police Medal
New Business Manager and Deputy General Manager, CML
Member, Fiji Legislative Council
Senior Active Rotarian – Original Suva Club
Champion Athlete and Fiji Rugby Captain
Olympic & Commonwealth Games Fiji Sports Administrator
Fiji Olympic Order.
By John Anthony Eyre 'Tony Junior' Moore.



John Anthony Moore was born in Labasa on 2nd December, 1908. He was the son of John Ducker Moore and Ada Moore (nee Eyre). He had a younger sibling, Lita (Wendt). The family managed a small grocery store.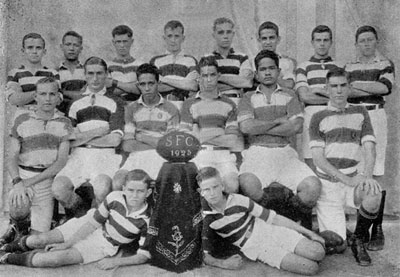 Known always as 'Tony', his high school years were spent in Suva at Saint Felix College. In his final year at age 17, Tony was selected in the Fiji National rugby side to play the touring NZ Maori team. This was in 1925. Tony went on to play for Fiji in ensuing years, enjoying the ultimate accolade of captaining his country. Players such as the late Ratu Sir George Cakobau and the late Ratu Sir Penaia Ganilau played under his captaincy.
Tony Moore quickly became known as a lightning fast sprinter. This was the era of professional footrunning. Fiji Amateur Athletics Association (known today as 'Athletics Fiji') was not founded until some years after he retired from all sport.
Every year, a professional handicap carnival was held at Easter in the former capital, Levuka on the island of Ovalau. Year after year for 11 consecutive seasons, Tony won the 100 yards and 120 yards hurdles. Winners received a small cash amount but were rewarded with large, impressive silver trophies. The family possesses a wonderful portrait of Tony, dressed in his shorts and singlet, surrounded by his trophy collection.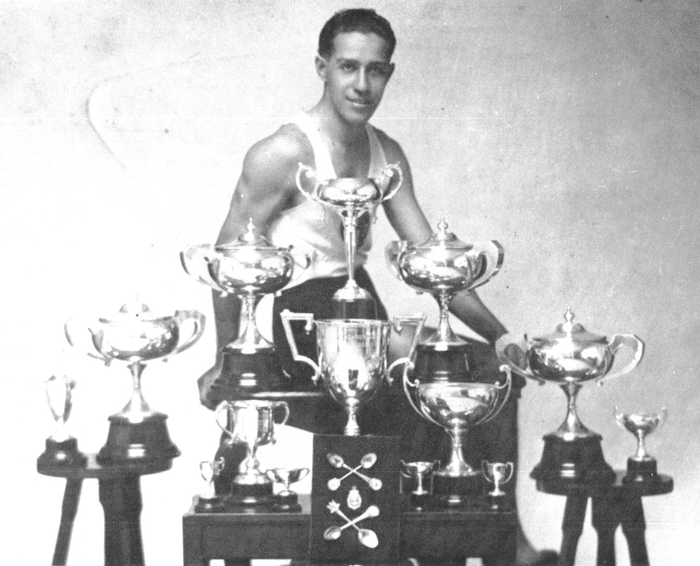 In 1938, The British Empire Games (now known as The Commonwealth Games) were scheduled to be held in Sydney during February. Influential people in Fiji concluded that Tony Moore was a genuine medal prospect in his two pet events. So funds were raised and Tony (having recently just turned 29) was sent by steamship to Australia. Fiji had had assurances that the Australian athletics fraternity would ensure he was well looked after.
A day or two out from landfall, the vessel's captain received a cable via the ship's wireless. Officials in Sydney had deemed Tony ineligible to compete on the grounds that he had raced professionally. So upon arrival, he was placed on a country train and sent to Melbourne, where Victorian Professional Footrunning officials welcomed him and billeted him with a local family.
Six weeks later, Tony found himself competing against the World 100 yards Champion Austen Robertson. This was at the world famous Easter Stawell Gift. Both men were placed on 'scratch', the back marker where the fastest runners must start (because of the handicap system). Austen finished second, beating Tony by less than a foot. However, neither of them progressed to the next round, as only the winners of each heat would go through. The kangaroo hide spikes which the Victorians had made-to-measure as a gift to Tony are still in the family's possession today.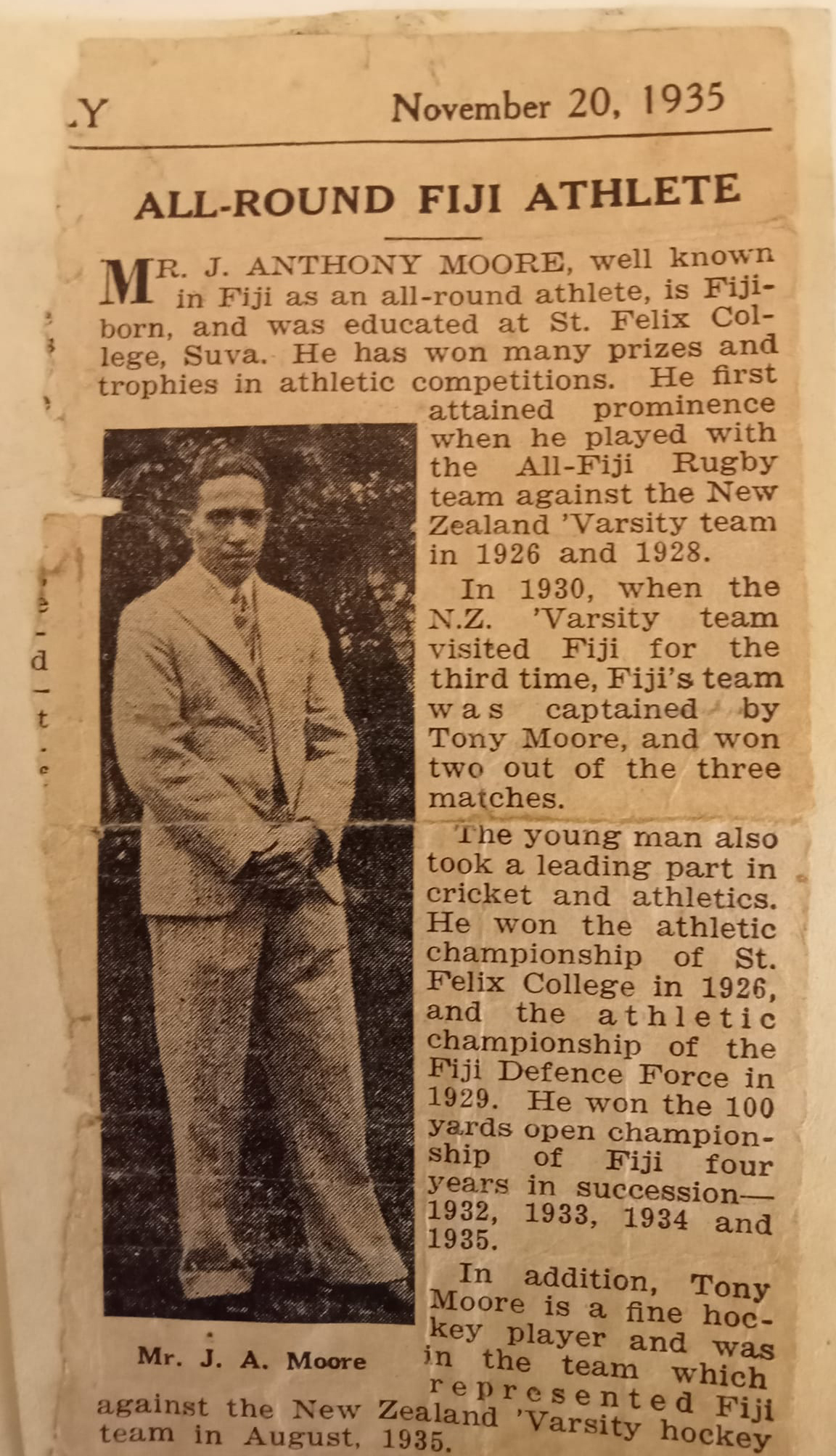 Upon leaving school, Tony Moore was apprenticed to AJ Farebrother & Sons, a trading firm of importers and exporters. (Old AJ's legacy lives on in the form of a rugby trophy still keenly contested in Fiji to this day.)
A few years later, a long and distinguished career in the Royal Fiji Police commenced. Tony was the first Fiji-born person to reach the rank of Superintendent. Sometime during the war years (1939-45), he was seconded for several months to NSW Police and was stationed primarily at Manly HQ. He was trained not only in general police work, but specifically in finger prints.
Upon returning to Fiji, Tony succeeded in solving a murder case in Sigatoka, based on finger prints he had obtained from a blood-stained beer bottle at the crime scene. A guilty verdict was reached, making this the first such conviction of its kind in Fiji's legal history. He was awarded the Colonial Police Medal in recognition of his outstanding detective work.
After leaving the force and enjoying another stint at Farebrother's, in 1957 Tony joined CML (now 'Colonial') as a salesman. He soon joined the management ranks as New Business Manager and Deputy General Manager.
At about this time, Tony was invited to join the Legislative Council (Fiji's colonial parliament) as a 'nominated member' (appointed by the Governor, not elected by the people). 'LegCo' as it was known then, had two sides of the House: 'Official', comprising British colonial officers and 'Unofficial', comprising elected and nominated members, divided along racial lines (Fijian, Indian and 'Other').
Tony was a member of LegCo's 1965 Independence Talks delegation to London, and remained in the House until about 1968 when his second term expired.
In 1968, HM Queen Elizabeth II awarded John Anthony Moore the honour of Officer of the Order of The British Empire (OBE). Apparently, this entitles one's offspring to marry in Westminster Abbey, an opportunity yet to be availed by any of the Moore children!
After retiring from sport, Tony immersed himself fully in community activities. He was one of Fiji's earliest locally born Rotarians (the original Suva club), reaching 'Senior Active' status upon retirement. His voluntary contribution to sports administration was enormous and spanned several years. Tony held high office at various times (and on numerous occasions) in the following organisations:
Fiji Amateur Athletics Association (now Athletics Fiji)
Fiji Rugby Union (over 30 consecutive years on the Board, and given Life Membership)
Fiji Amateur Sports Association (known these days as Fiji Association of Sports And National Olympic Committee, or 'FASANOC')
Tony was Athletics Manager of Fiji's first South Pacific Games team in Suva in 1963. He was Team Manager of Fiji's one-man 1968 Olympic Games team to Mexico City, where javelin thrower the late Rev Viliame Liga competed. In 1974, he was again Athletics Manager, this time at the Christchurch Commonwealth Games.
Tony also served on numerous committees, task forces, working groups and boards of government and associated statutory authorities. He found it hard to say 'no', as in his eyes, all such bodies were important to his beloved Fiji. The author recalls the night when an escaped prisoner took refuge in the family home, seeking protection from the law on the grounds that Tony was a Justice of The Peace. Calm heads and quiet talking resolved a somewhat tense and potentially dangerous situation!
Singling out just two of these groups, Tony's terms as Chairman of The Prisons Board and his resultant ex officio role as one of three members of the Committee of Appeal for the Prerogative of Mercy (with the onerous task of reviewing individual appeals against the death penalty) were amongst his most challenging and soul-searching appointments.
Tony and his wife Vernie (nee Iverna Namoli Thomas) retired in late 1974, at which time they emigrated to Auckland. They enjoyed their final years living in Vauxhall Rd, Devonport, overlooking Auckland Harbour.
FASANOC Recognises Tony Moore
Fiji Association of Sports and National Olympic Committee (FASANOC) posthumously awarded the Fiji Olympic Order to John Anthony Moore on November 14, 2015 at the 2015 Fiji Sports Hall of Fame and Olympic Order Induction Dinner at Grand Pacific Hotel, Suva. Tony Moore junior, a Hall of Fame Inductee in 2009, was present to accept his father's award.
Tony was highly respected and admired for the tireless work he contributed towards the betterment of sport in Fiji.  Despite also serving concurrently on about 15 parliamentary and government boards, he always found the time to perform work for sport, which he loved with great passion.
He  was made a life member of the Fiji Rugby Union in the 1960's in recognition of his service to the organisation for 32 consecutive years on the executive board that included a term as President. He was instrumental in overseeing the FRU's transition from pre-colonial competition structure to the far more inclusive model that has evolved in what it is today. He served for several years on the Committee and as President of the Imperials Rugby Club.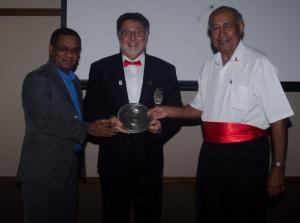 Throughout the 1960's and 70's he was a committee member and former secretary of FASA that is now FASANOC.  He actively contributed to working groups within the committee where his advice was often sought and highly respected.
Read the FASANOC citation here  >>
Tony Moore, a great grandson of Edward John Eyre, died on 15 March 1994. He truly was 'a great son of Fiji'. Vernie died just 16 months later. They are survived by daughter Gela (Saint) and son Tony Junior, along with son-in-law Roger, daughter-in-law Rhonda, and grandchildren Nathan, Anthony and Jordan.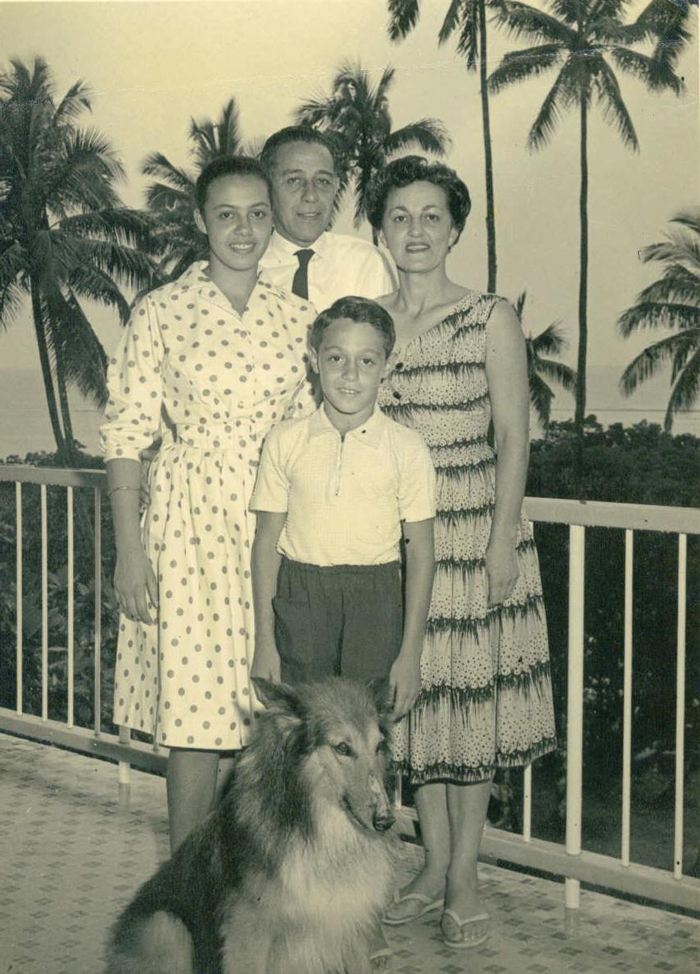 Entry By: John Anthony Eyre 'Tony Junior' Moore (only son of JA Moore), Jervis Bay, New South Wales, Australia. Fiji representative at the South Pacific Games, the Commonwealth Games and the Olympic Games, 1976 Montreal Olympic Games. Inductee 2009 – Fiji Sports Hall of Fame.