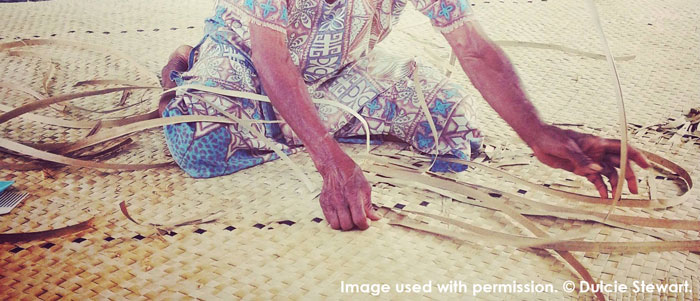 The first Part-Europeans were descendants of the first European white settlers and iTaukei women and established themselves mostly in Levuka, Vanua Levu, or other outlying islands. Over the years these descendants intermarried and established kinship ties, so generations are now linked through marriage or bloodlines.
Part-Europeans came to be known by some using the Taukei word Kai Loma, which means 'in between'. Another term is Vasu, but this is not available for common use as it is bestowed directly from and through one's iTaukei maternal line. It is not known where the word kailoma stems from, and it is now used to refer to people who were born in Fiji from mixed races, such as, iTaukei/European, iTaukei/Indian, and others. So in Fiji a kailoma is no longer a person descendant just from a European.
For more detailed information on Kailomas, please read Sandra Thaggard's account of Fiji and the History of Part-Europeans.
Also see: Fragmented Identities: The Journey of a Kailoma  >> Dulcie Stewart provides a list of resources available for anyone who is researching their family history in Fiji.
The Fiji. Land of our Fathers website is dedicated to recording the lives of descendants of European settlers. The editor would welcome entries from families listed here to add to our growing list of men and women who have made significant contributions to the shaping of modern Fiji.
A LIST OF KAILOMA FAMILIES IN FIJI WITH THEIR COUNTRY OF ORIGIN AND WHERE THEY SETTLED IN FIJI.
In cooperation with the Facebook group, Kailomas In Fiji, Neil Billings has provided a list of Kailoma Families in Fiji with their country of origin and where they settled in Fiji. The list is being continually updated.
We have a list of families so its time to make this list more meaningful and informative. Two pieces of information will be added, one the country of origin of the family name and the second the place of connection in Fiji to the name. Please contribute, we also have family researchers on the Facebook page (Kailomas In Fiji) if assistance is required. For example Neil has listed two family names (Billings, Taylor) that he is associated with to get things rolling. This will be interesting information for all, this has never been done collectively. The list will be updated and a revision date stated.
Revision date: 2/2/16 (Fiji), 1/2/16 (USA).
For inquiries about families on this List of Kailoma Families in Fiji, please email Neil Billings.
AH-KING-China. Bua.
AITCHESON- Scotland.Kadavu
ANDREWS-(?) West Indies.Lovonisikeci & Vunikavika-Kasavu-Savusavu.
ARBUTHNOT- Scotland, Levuka- Lomaiviti.
AULL-Hesse-Germany. Matautu-Samoa, Levuka.
BACKHOUSE SMITH- Birmingham-England, Waimotu-Natewa Bay-Cakaudrove.
BAILEY – Worthing-Sussex-England, Australia. Fiji
BARRACK- Aberdeen-Scotland,Pyrmont-Sydney-Australia. Oneva-Savusavu-Cakaudrove.
BATHE-England. Solevu-Bua, Levuka.
BEDDOES- Auckland-New Zealand, Levuka- Lomaiviti.
BEDDOWS- ,Horwich, Lancashire, England. Taveuni, Rewa.
BENNION- Ireland, Levuka, Delaitoga Village-Naitasiri.VASU- Matailobau Village-Naitasiri.
BENTLEY-Astoria Hall-Manchester-Lancashire-England,Tutuila-A/Samoa.Ra, Rewa,Levuka
BERWICK-Norfolk-Virginia-USA. Motoriki (Lomaiviti), Gau, Draiba (Ovalau).
BILLINGS- Landskrona-Malmo-Sweden, Tacoma-Washington, San Francisco. Levuka, Navutu- Dogotuki- Macuata.
BLAKELOCK- Durham- England, Kadavu.
BOWER/BAUER-Germany?,USA. Vagadaci-Ovalau.
BOYLE-Ireland/England?, Australia. Sigatoka.
BROWN- Boston-Massachusetts-USA, Taveuni.
BROWN- Sheepshead-Leicestershire-England, Wainunu-Bua.
BROWN- Pembrokeshire-South Wales, Suva.
BRYSON- Dunbartonshire-Scotland, Levuka.
BUCKNELL- Westminster-London- England, Rukunivitu-Korolevu- Nadroga/Navosa.
BULL- London-England, Dreketi-Macuata.
BURT- Adams-Jefferson County-New York-USA, Rewa & Kadavu.
BYRNE[S]- Newark-New Jersey-USA. Sigatoka.
CADIGAN – England. Solevu, Savusavu.
CAMPBELL-Charleston-USA, Vunivesi.
CHALMERS-Rothesay (Isle of Bute) Scotland. New Zealand, Rewa, Koro, Suva.
CHUTE- County Kerry-Ireland, Gilberts. Nakula-Udu Point.
CODEVELLE (aka Manuell)- France, Totogo- Levuka- Lomaiviti.
COVERT: New Haven-Connecticut-USA, Raoul Island/Sunday Island-Kermadec Islands-New Zealand, Macuata.
COX- Clarendon-NSW-Australia. Fiji.
CARRUTHERS-Taganrog-Russia. Levuka
CURTIS- Ireland, New-Zealand, Levuka, Suva.
DANFORD- Minories-London-England, Tonga, Kadavu, Rewa, Raiwaqa-Namosi.
DE BRUCE- Normandy-France, Taveuni, Tamusua-Nacula-Tavewa-Yasawa.
DODS- Gifford-East Lothian-Scotland, Balaga-Savusavu Bay.
DOUGHTY- Oatlands-Tasmania-Australia, Yasawa.
DOUGLAS-Isle of Thanet-Kent-England. Navaca-Taveuni.
DUNBAR-Ayrshire-Scotland,New Zealand. Dreketi-Macuata.
DUNN-Ireland. Togoru, Navua
DUTHIE-Sunderland-Durham-England, Victoria-Australia. Rewa.
DYER- Ireland, Wainunu- Bua.
DYER- New York-USA. Nai Tukiwai-Rewa.
EASTGATE-Ashford-Middlesex-London, Levuka.
ELBOURNE-Cambrigeshire-England. Lautoka.
EMERY-England. Rotuma.
EVANS- Shrewsbury-England, Levuka.
EVERS-Hamburg-Germany. Levuka
EYRE-England, St Vincent- West Indies- Caribbean, Natuvu- Buca Bay- Cakaudrove & Malau-Labasa- Macuata.
FADDY- Sydney-Australia, Wainivesi-Tailevu.
FARRELL – Ireland. Victoria-Australia, New Zealand, Fiji.
FENTON- Hanley-Staffordshire- England, Navava-Savusavu- Cakaudrove.
FOX – Dublin-Ireland, Dreketi- Macuata.
FRANCIS- Springhill- Brisbane- Australia, Wailevu- Labasa- Macuata. VASU- Mali Island- Macuata.
FROST- Germany, Navutu- Lautoka.
GARNETT-Teltown-Meath County-Ireland, Serua, Taituraga-Rewa.
GERRISH- St John's Wood-London, Auckland, Sydney. Levuka, Oneata, Lakeba
GIBLIN- Launceston-Tasmania-Australia, Dreketi – Macuata.
GRIFFEN- Ireland,USA,Suva.
GROOM-Harefield-Tasmania-Australia. Suva.
GWILLIAM- Monmouthshire-England/Wales, Melbourne. Ra, Levuka.
HALE-New York-USA. Viwa, Nakelo, Rewa.
HALSTEAD- Scotland/Ireland, Rewa. VASU- Savusavu- Cakaudrove.
HARMAN-Yorkshire-England, Melbourne-Australia. Levuka, Savu Savu.
HATCH-Hanworth-Middlesex-England,Vanuatu. Suva.
HAYNES-Auckland-NZ. Navakavua Estate, Salt Lake- Maravu Plantation, Savusavu-Cakaudrove.
HAZELMAN-Liverpool-England.Levuka.
HAZELMAN-Germany,Strasbourg-France, Australia. Vuda, Savusavu.
HEFFERNAN-Ireland, Ba.
HENNINGS – Bremen-Germany, Levuka/Lomaloma-Vanuabalavu/Katafaga.
HENRY- Sligo-Ireland, Rewa and Lau.
HERITAGE-London-UK. Vatulele, Viwa, Levuka.
HETHERINGTON-Melbourne-Australia. Dreketi-Macuata, Levuka-Ovalau.
HICKS- Woolwich- Kent- England, Sawaieke- Gau- Lomaiviti.
HICKES- Cornwall- England,Schemmel – Berlin-Germany. Namosi, Kadavu.
HILL-Antrim County-Ireland,Sydney-Australia.Rabi Island, Taveuni.
HOLMES- Kings County-Ireland, Delanasau-Bua.
HOWARD- Yorkshire-England, Haga-Juju-Rotuma.
HOYT- Germany/Ireland?, Levuka,Nadroga,Gau
HUGHES-Watertown-New York-USA, Tonga, Vanualevu.
JACK-Scotland, Ba.
JACKSON-Riccall-County York-England. Telau, Naqaqa, Vatukuro- Savusavu.
JAMIESON-Killinchy-Ireland, Pennsylvania-USA. Kasavu, Wainunu, Levuka.
JAMIESON- Scotland.
JOHANSEN- Copenhagen-Denmark, Namara- Labasa- Macuata.
JOHN-Northumberland-England. Rotuma.
JOHNS-Wales, Australia. Fiji.
JOHNSON-Colchester-England, Victoria-Australia. Lautoka.
JOHNSON-Port Dover-Ontario-Canada.Canada.Levuka,Tavua,Savusavu, Suva.
JOY-Lima-Peru-South America. Macuata, Wainunu, Savusavu.
KAAD-Als-Denmark. Rotuma,Levuka.
KEAN-Tasmania. Savusavu.
KIENZLE-Stuttgart-Germany. Levuka.
KING [JOACHIM "JOE" KING]- Florida-USA. Tawadromu Island-Galoa Bay- Kadavu.
KING [JOHN KING]-Amoy-Xiamen-China, Levuka- Lomaiviti. VASU – Rewa.
KING [RICHARD HENRY NEWTON]- Australia, Raralevu, Lau.
KINGDON-Scotland. Yasawa , Lautoka.
KOSTER/COSTA – Portugal. Savusavu
LANYON-Cornwall-Wales (then became part of England), Kiribati. Taveuni, Vatudamu-Cakaudrove.
LEPER/LEPPER- Oxfordshire-England, Namawa-Buca Bay-Cakaudrove.
LOCKINGTON- England, Qavitini, Kadavu.
LORD- Rochdale-Lancashire-England, Victoria-Australia, Lautoka-Fiji.
MACDONALD-Isle of sky-Scotland, Nanu-i-ra Island-Ra.
MACDONALD-Canada. Fiji.
MACKAY-Kinlochbervie-Sutherland-Scotland. Rotuma
MACOMBER – Dartmouth- Massachusetts (USA), Laucala Island- Cakaudrove.
MADDEN-Dublin-Ireland. Taveuni.
MARSHALL-Nelsen-New Zealand, Labasa.
MAY-Germany. Korotubu-Ra.
McFADYEN-Isle of Mull-Scotland, Nasaqalau-Lakeba-Lau, VASU-Vatukalo- Levuka-Ovalau-Lomaiviti.
McGOON (originally Magoun)-Nantucket-USA. Somosomo-Taveuni, Bau, Levuka and Kadavu.
McINDOE-Scotland, New Zealand.Ra, Vatukoula,Veisari,Taveuni
McKAY-Grafton-NSW-Australia. Levuka
McKENZIE-Isle of Sky-Iverness-Scotland. Diloi-Buca Bay, Taveuni. VASU- Kasavu.
McKINNON-Glasgow-Scotland. Ba.
MEANEY-Auckland-New Zealand. Taveuni.
MILLER- England, Levuka, Solevu, Savusavu.
MILLS- Clifton-Bristol-England. Wainunu.
MISSEN-Germany. Rotuma.
MITCHELL- Sydney, Australia, Qamea- Cakaudrove.
MOREL- Normandy- France, Nabukebuke- Naqara- Namosi.
MORELL- Wiltshire-England, Navua River-Namosi.
MOORE-England, NSW. Labasa, Suva.
MORRIS- Hackney- London-England, Naisomua- Tailevu.
MORTON-Duddingston-Scotland, Perth-Australia. Naviti, Somosomo and Yasawa.
NARRUHN-Nuremberg-Hamburg-Germany, Chuuk/Truk (Micronesia),Fiji.
NEWTON-Boston-USA, Levuka, Savusavu.
NINEES-Cornwall-England. Levuka, Nausori.
NOALL- England, Lomaiviti.
O'CONNOR- Ireland,Sydney. Rewa, Kadavu.
PECKHAM- USA, Matei- Taveuni.
PETERSEN/PETERSON- Soderkoping-Sweden, Chandlers Valley Pennsylvania-USA. Naselesele-Taveuni.
PFEIFFER-Hamburg-Germany. Levuka.
PICKERING – Worcestershire- England, Sydney-Australia, Laucala Island- Rewa.
PICKERING T.F.- Southhampton-Hants-England, Melbourne-Australia, Koro Island, Navuni-Fawn Harbour-Cakaudrove.
POWELL-Wales-UK, Auckland-NZ, Lomaloma-Vanuabalavu-Lau.
READE-Bendigo-Victoria-Australia, Christchurch-NZ, Suva.
RICHARDS-London-England. Wailevu, Bagata, Savusavu.
ROBINSON- Glasgow, Scotland. Labasa-Macuata, Udu .
RODAN- San Francisco- Mexico/California (USA), Bau & Nukuwatu, Lami. VASU- Bau.
ROSA-Spain, Chile. Laucala island.
ROUNDS- New Bedford- Massachusetts (USA), Sigasiganilaca- Serua. VASU-Burebasaga, Rewa.
RYDER- New York-USA, Rewa.
RYLAND-Birmingham-England, Wainunu, Natuvu, Vaturova-Saqani-Cakaudrove.
SANDAY- Windsor-NSW-Australia. Ba, Labasa, Nadalei.
SANDYS- Germany,Tonga.Nadelei-Tavua, Lomaloma-Vanuabalavu,Levuka.
SCHEMMEL- Berlin- Germany, Kadavu.
SCHIERLING- Hamburg- Germany.Levuka
SCOTT-Devonport-England. Levuka.
SHACKLEY-USA. Macuata, Vagadaci-Levuka.
SHEPHERD- USA, Nukui- Rewa.
SHUTE-Boston-USA. Naseva, Savusavu, Kasavu.
SIMMONS- London-England, Levuka, Taveuni, Dnreketi – Macuata.
SIMMONS-Somerset-England.Suva, Taveuni, (?)
SIMPSON- Poplar- London-England. Levuka,Wainunu,Kuladrusi- Savusavu- Cakaudrove.
SMITH/SCHMIDT-Germany,USA,Wallis Island.Rewa.
SMITH- Southampton, London- England. Lovoni- Levuka, Qamea.
SMITHYMAN- Wolverhampton-England, Rewa.
SNOW-Wimbledon-Surrey-England. Navua, Savulu Point, Ra (Nanukuloa)
SODERBERG- Sweden. Levuka, Savusavu.
SORBY-Norway(?), Kaba, Rewa
SORR/SHAW- Manila- Philippines, Bau & & Nukuwatu, Lami. VASU- Bau.
SPOWART-Berwick-upon-Tweed-Scotland.Kadavu, Tova-Ra.
STARK-Scotland. Levuka, Beqa, Nasoqo-Naviti-Yasawas.
STEINER- Bern- Switzerland, Nukubati- Macuata.
ST. JOHN- New York-USA, Bau, Nairai.
STEPHENS-Northamptonshire-England. Lomanikoro-Rewa.
STEWART- Denmark, Sydney, Christchurch. Fiji
STORCK SCHUSTER- Damstagt, Germany, Samoa – Ba, Rewa, Suva.
STOLTZ/STOLZ-Germany. Vunimaqo-Taveuni. To be clarified by Eunice Valentine
SUTHERLAND- Glasgow- Scotland, Seva- Macuata.
SWANN- England, Levuka-Ovalau-Lomaiviti.
SWANSON-Stockholm-Sweden.Suva,Ba,Levuka.
SWANSTON-Berwick-upon-Tweed-England, Samoa. Rewa, Levuka and Lau.
TARTE- Birmingham-England, Ballarat-Australia. Vuna Point-Taveuni.
TAYLOR- Lauder-Scotland, Udukacu- Taveuni. VASU- Somosomo, Taveuni.
THAGGARDS-Thisted-Denmark. Valavala Estate-Cakaudrove.
THOMAS- Hobart- Tasmania- Australia, Suva.
TING-Canton-China, Suva, Naduri- Macuata.
TRAILL-Scotland, Samoa. Levuka, Tailevu.
TRASK-Wisconsin-USA. Vagadaci-Ovalau.
TRIPP- England,South Australia, Samoa. Verata, Ba, Lomaloma-Vanuabalavu.
UNDERWOOD- Homer- Michigan (USA), Emuri- Sigatoka & Kadavu. VASU- Kadavu.
VALENTINE- New York- USA, Levuka- Lomaiviti & Taveuni- Cakaudrove.
VOLLMER-Hamburg-Germany. Lomaloma, Wailevu Levuka,Savusavu.
WADE-Auckland-New Zealand. Vakabalea-Navua-Namosi.
WATKINS-England(?). Levuka, Dreketi, (?).
WENDT- Wendland- Germany, Levuka- Ovalau- Lomaiviti & Suva.
WEDLOCK-Cornwall-England. Lomaloma.
WILSON-Genape-Sweden. Bua, Levuka, Savusavu.
WILSON – Salton, Scotland – Levuka.
WILSON-New York-USA. Bua.
WHIPPY- Nantucket Island- Massachusetts (USA), Levuka, Nakabuta Estate- Wainunu- Bua, Kasavu, Savusavu.
WHITCOMBE- Somerset- England, Rotuma.
WHITE-Nottinghamshire-England, New Zealand. Rewa.
WHITESIDE- Norfolk, England.
WILKINSON-Cockermouth-Cumberland-England. Kioa,Bua.
WISE-London?. Vagadaci, Wainiveidio-Navua.
WOODHOUSE-Kingstown-Ireland, Levuka.
WORK- Rhode Island-USA, Naqara Island,Kulukulu-Nadroga. VASU – Yavitu-Kadavu
WRIGHT-Pluscarden-Morayshire-Scotland. Mua-Taveuni.
For inquiries about families on this List of Kailoma Families in Fiji, please email Neil Billings.