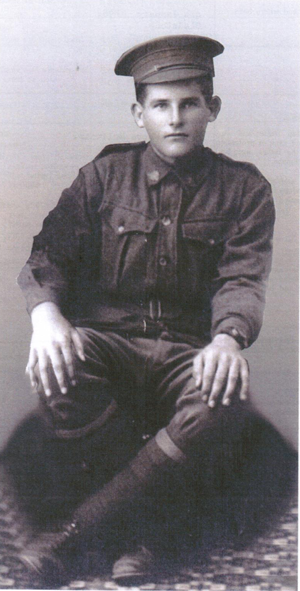 McILWAIN, ERIC HASTINGS
(January 04, 1898 — February 05, 1962)
Chairman – Rewa Dairy Company
Agriculturist
Hotelier
Financier
Pastoralist.
By Dr. Jock McIlwain.



Eric McIlwain was the 7th son of Robert and Maria McIlwain and was born at Gladstone in northern New South Wales, Australia on 4th January 1898. His father was a farmer and his older brothers grew up and were mainly engaged in timber getting. Eric was educated at schools in northern New South Wales in places between Kempsey in the south and Macksville in the north, but was always hands on in farming whilst growing up.
In 1915, at age 17, Eric joined the Australian Infantry Forces and became engaged in the First World War. He served in the trenches in the Somme area of France and furloughed in London. He received shrapnel wounds to his left knee and was phosphine or chlorine gassed in the trenches when the Germans resorted to that type of warfare just before the war ended.
After war's end, and on repatriation in 1919, Eric received agricultural management training at Hawkesbury Agricultural College outside Sydney, where he achieved a diploma. He was full of adventure and applied for a job in Fiji with a big saw milling company in Suva, called Whans. His application was successful and in 1921 he sailed to Fiji, probably on the "Niagara" or "Aorangi", which were the passenger ships on the route at that time.
Eric boarded in Suva and often went to the silent movie theatre in Pier Street called "The Universal". Two young Fiji born sisters played the accompanying music at the silent movies, one, named Muriel, played the piano and the other, Ivy, played the violin. The girl's parents, John and Lily Butler, operated a watchmaker and jewellers shop in Suva and developed an industry making tortoise shell into all the products one sees these days made from plastic, including watch bands, combs, hair clips, hair brush backs and bowls. Eric McIlwain started wooing their daughter, Ivy.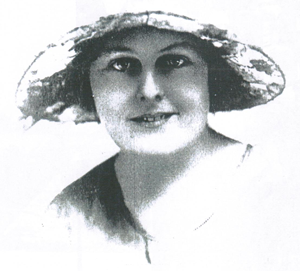 Eric and Ivy eloped and were married on 25th April, 1923 in Petersham, Sydney. Eric was aged 25 and Ivy 23. They moved to the northern rivers area of New South Wales. Their first child, Joyce, was born at Smithtown just north of Kempsey and a stone's throw from Eric's birthplace, Gladstone, on 21st February, 1924. Eric was probably employed by the Smithtown Co-operative Dairy Company, which had a factory in that town at the time.
Ivy's desire to reconcile with her parents and to show them her new baby girl, Joyce, probably influenced Eric to successfully apply for the job of Manager of the Rewa Dairy Company, which had its headquarters in at Tailevu, inland from Suva, Fiji. He operated a cream processing factory where the main product was butter. There was no milk processing at the time because of quality preservation problems, and farmers, all of whom were repatriated ex-servicemen from Australia, separated the cream from the milk and sent the cream off in cans to the factory where it was processed into butter and ghee. Ghee was clarified butter and used extensively by the Indian population to cook their basic breads, such as, "roti", "puri", "jappatty", and "naan".
The Chairman of the Rewa Dairy Company was Alfred H. Witherow and he apparently persuaded the other Board members that a better location for a factory was on his land on the banks of the Rewa River near the Colonial Sugar Refining Company's base of Nausori, a town just 12 miles from the major population centre of Suva. The Board was at the time considering expansion with pasteurisation and a refrigeration process which would allow fresh milk to be supplied to the people of Suva.
Eric was made responsible for building the new factory and it was up and operational by the end of 1926. The energy source for the new factory was steam generated from the burning of wood in a furnace with a boiler. There was no electrical reticulation outside of Suva at that time. Eric and Ivy made their home in a cottage at Waila on Witherow land on a hill overlooking the factory. Their second child, John Robert (always known as Jock) was born on Boxing Day, 26th December, 1926.
Despite the great economic depression beginning to emerge, Eric prospered during the late 1920's and the early 1930's. The factory went into milk production. Most of the milk and cream arrived from the dairy farms by boat down the Rewa River. Jock remembers a milk programme was introduced into schools in Suva and every child received a half pint glass bottle of milk each morning. The morning consumption was essential because the days heated up rapidly and no school had a suitable storage system.
Eric and Ivy bought a house in Pender Street, Suva, as an investment and rented it out. They also bought a Morris Cowley car, which was very similar in design to the Model T Ford mass produced in that era. Their 3rd child, a daughter, Beryl May, was born to Ivy and Eric on 5th December 1929 and the family endured a period of great happiness. Eldest daughter, Joyce, started boarding school at the Girls Grammar in Suva in 1932 and Jock began his education at the CSR Company School at Nausori, continuing at the co-educational Girls Grammar School in Suva from 1934.
Eric's management of the Rewa Dairy Company continued harmoniously with the expansion into pasteurised milk delivery as well as butter and ghee production. His work load increased and he was able to appoint a European Assistant, Len Smales. Ivy gave birth to their fourth child on 11th August, 1934. She was to have been called Fay, but after complications set in straight after the birth, resulting in Ivy dying of septicaemia on 21st August, 1934, she was named Ivy in memory of her mother. Eric's world, and that of the four children, was turned upside down. Eric arranged for the three girls to return to live in Granddad McIlwain's Australian home where they were nurtured by Eric's niece Dulcie and attended school in Macksville on the New South Wales north coast. Jock remained in Fiji, by this time attending Suva Boys Grammar School.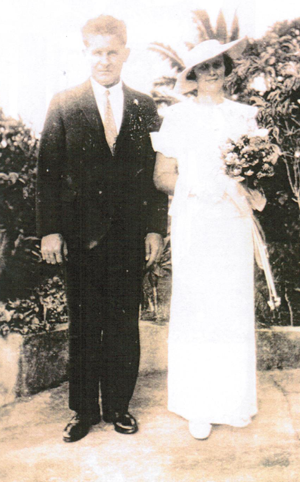 Eric continued his management of the Rewa Dairy factory at Waila and came under the notice of Anne Gertrude Stork, a female relative of one of the Dairy farmer families, the Corbetts, in the Rewa catchment area. In 1937, less than three years after the death of the four children's mother, Ivy, Eric married Anne and she became the children's step-mother. The marriage took place at the Bishop's Court in Suva because Anne was a strict practising Roman Catholic and Eric was a nominal Protestant, so protocol determined that the marriage could not take place in the Roman Catholic Cathedral. The marriage caused some rumblings within the dairy farmers' community, which was primarily of Protestant stock. Eric applied for leave for his honeymoon and was begrudgingly given it and he and Anne sailed to Australia.
Apparently Len Smales, who had been Eric's assistant factory manager, slotted into the management of the Rewa Dairy Company well because whilst in Australia Eric received his notice of dismissal from his job by telegram. He was in the process of organising for his new wife and three daughters to return to Fiji when he got the dismissal notice. He rushed back on the first available ship to Fiji and left Anne in Australia to organise and bring the girls home. Eric pleaded with the Board of the Rewa Dairy but failed and they offered him a menial milk distribution job in Suva. Fortunately, his investment in the Pender Street house in Suva earlier proved a stroke of genius because he had a home to bring his re-assembled family back together in. New wife, Anne, proved to be a stalwart and brought the girls, who were now aged 13 (Joyce), 8 (Beryl) and (3) Ivy back to Fiji and settled them into a family routine very quickly — just as well, because Anne, being a dedicated Catholic girl, was aiming to soon have children of her own. Jock eventually moved in with the rest of the family and did many of the chores that Eric, because of his busy distribution job, could not engage in, like slitting the hard "doqa" logs for the cast iron wood stove. "Doqa"(pronounced "donger") was a very hard, knotted, slow burning, efficient stove heating wood that was harvested by prisoners who had been sentenced to hard labour and were detained in the Korovou gaol in Suva.
The McIlwain family scraped along for months in 1937/38 and just subsisted. An opportunity came in late 1938 when Rewa Hotel at Davuilevu near Nausori came up for sale. An entrepreneurial Catholic family led by Dan Costello offered to finance Eric into the hotel and he jumped at the opportunity. He sold the Pender Street house and moved the family to Rewa. The girls became weekday boarders at the Catholic Convent and Jock moved back in with Granny Butler in Suva so he could continue his studies at the Boys Grammar School. All the children came home to the Rewa Hotel of a weekend and occupied nearly half the available rooms in the very accommodation-limited hotel.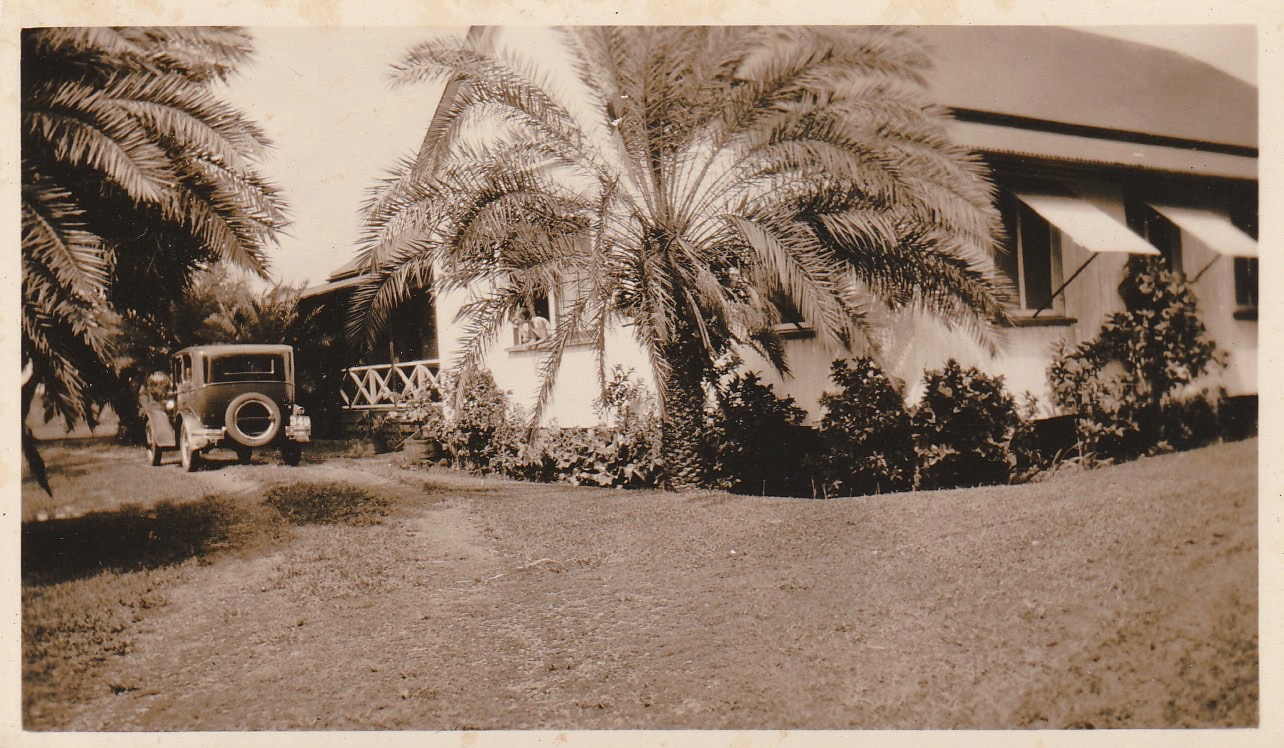 Anne and Eric knuckled down to make the run-down hotel a paying proposition. They introduced weekend afternoon teas and Saturday night dances and Europeans from Suva would travel the twelve rough, gravel road miles to participate in those activities and perhaps enjoy a gin sling or two. The bar trade was mediocre because the indigenous Fijians and the introduced Indians were subject to a permit system, which only allowed the consumption of alcohol to those who could afford it. There were very few who could afford it.
It's amazing how world historical events can impact on mediocre little places like Rewa, Fiji because a windfall arrived with the declaration of war by Britain against Germany in September, 1939. Fiji, being a Crown Colony, was also at war and the New Zealand Government, because of Fiji's strategic geographical position in the Pacific Ocean, started thinking defences for the Pacific Island. Aircraft bases were planned on the eastern and at Nadi on the western side of Fiji's main island, Viti Levu. The eastern base was planned for a flat river delta area just a few miles from the Rewa Hotel and early in 1940 construction crews arrived from New Zealand and Hawaii to build the runway and fuelling facilities. The senior members of the construction teams were accommodated at the Rewa Hotel and Eric and Anne saw their new venture explode into a flourishing business. Anne's first child arrived on leap year day 1940 and the son was named Kenneth John.
Construction of the Nausori runway and infrastructure appurtenances was an around the clock operation with hard working and hard drinking shift workers. It wasn't long before Fairy Swordfish reconnaissance aircraft were stationed at Nausori piloted by New Zealand airforce personnel amongst whom was the well-known pilot, Fred Ladd, whose reputation grew as the years progressed. He, his wife Mabel and daughter Patti, were accommodated at the Rewa Hotel, which was now becoming a very lucrative business. Even though most of World War II was at the time being fought in Europe and North Africa there was fear, with Germany the principal opponent, that there might be a repeat of the exploits of Admiral Felix Von Lucknow and his sleek raider SMS Seeadler, which had reeked havoc in the Atlantic and the Pacific in World War I, sinking many cargo supply ships.
During 1940, hundreds of New Zealand troops set up camp at the entrance to the Methodist Mission, Davuilevu, right alongside the Hotel, and there was a constant demand for alcoholic beverages, which Eric was only too willing to supply. With no refrigeration system in the Hotel, ice supplies from the local ice works became one of the prime requisites of the Hotel's bar. Australian and New Zealand brewed beer was consumed in copious quantities. Dining in the Hotel became secondary to the provision of beverages and larger floor areas in the Hotel were set aside for drinking only.
Anne and Eric's second son, Edward Hastings, was born on 20th January, 1941 and their daughter Anne-Marie on 21st June, 1944. Eric bought property in Gorrie Street, Suva in 1941, including four houses and five vacant allotments from the estate of his first wife's Butler family estate. He donated one of the allotments to the Masonic Lodge and a temple was eventually constructed thereon.
Everything changed at the end of 1941 when the Japanese entered World War II with their infamous attack on Pearl Harbour on 7th December, 1941. Suddenly the war became very close to home and the expectations of hostilities in the near vicinity were high in Fiji. The United States of America War machine moved quickly and it wasn't long before the patronage of the Rewa Hotel changed from Kiwis to Yanks. The sale of alcohol became tightly controlled by the military and the Hotel was only allowed to sell beverages at times set down by the military. It was a blessing to Eric really because the resources of the Hotel were stretched greatly even with two hour drinking times a day. Military Police of the US Army were housed at the Hotel and they kept strict law and order. The dining facilities of the Hotel were kept busy with all the burly MPs to feed.
1944 saw the might of the United States Armed Forces gain the upper hand over the supply line stretched Japanese Imperial Forces and the allies were getting the better of the Germans and Italians in Europe. The threat of invasion dissipated in Fiji and the presence of the US Armed Forces created unexpected prosperity within the local community because the troop emphasis switched from preparation for conflict to rest and recreation after the fight. The Rewa Hotel business thrived and when WWII ended in 1945 there was a huge vacuum when the armed services vanished and suddenly there were many fewer consumers of goods and services.
Eric's health had deteriorated somewhat over the hectic years. He did little exercise and consumed more food and beverages than his body needed. His weight increased from 90kg to 120 kgs and his heart started to object to the burden. Alfred Witherow, who had been Chairman of the Rewa Dairy Company, died in late 1946, soon after the marriage of Eric's oldest daughter Joyce to George Towson on 24th April, 1946. Witherow had anointed Eric as executor of his vast estate and Eric was suddenly thrust back into the dairy industry supervising a number of farms and importantly was appointed a Director of Rewa Dairy Company, which had treated him so shabbily in the past. Eric got much more physical exercise whilst supervising the farms and lost some of his excess weight, but in hindsight the damage had been done.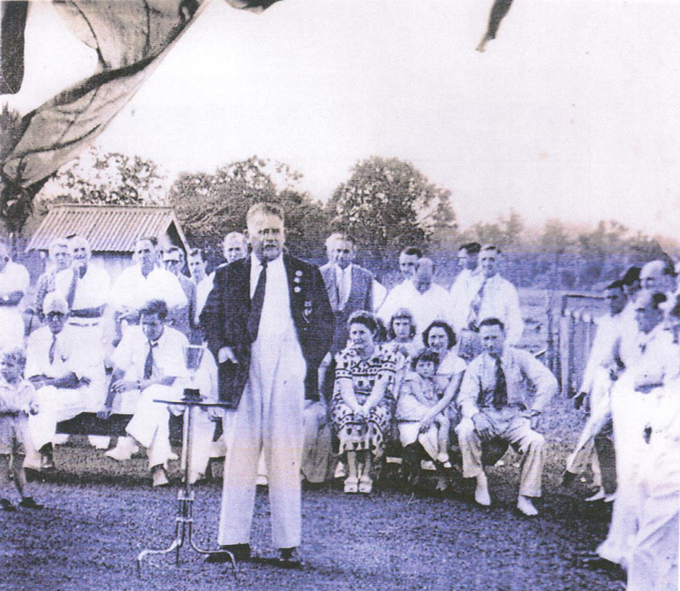 Eric McIlwain aged 55 – Opening of the Tailevu Bowls Club and Trophy Presentation
Son Jock completed schooling in 1943, served a three year cadet engineering position with the Public Works Department of the Fiji Colonial Government and enrolled in Sydney University's Peter Nichol Russell School of Engineering in February 1947. It was a very sad parting of father and son when Jock boarded the flying boat "Coriolanus" at Luacala Bay, Suva Point on 28th February 1947. The two men did not meet again until 8th December 1948 when Jock, having successfully completed the 2nd year of his engineering degree, flew home to Fiji. International aircraft routes had expended exponentially by this time and super constellation aircraft were flying most of the international routes. Jock temporarily took over the licence of the Rewa Hotel so that Eric and Anne could travel to Australia for holiday and for Eric to receive a medical assessment. Eric was told that his heart was suspect and he was prescribed medicines with the object of moderating any problems. He and Anne returned to Fiji in early February and Jock returned to Sydney to continue his studies on 25th February, 1949.
The Rewa Hotel business declined marginally over the next couple of years even though liquor laws were greatly relaxed to enable non-Europeans to consume alcohol. Eric had become a licensed money-lender and helped finance many clients, mainly Indian, into new homes and businesses. He was kept busy with the Witherow Estate, which he was gradually selling off, and played more bowls. To his great satisfaction he became Chairman of the Rewa Dairy Company. It was a superb achievement and the Company prospered and progressed greatly under his leadership.
Jock completed his Bachelor of Engineering and returned to Fiji on 3rd January, 1951. He again took over the licence of the Rewa Hotel and his father, Eric and step-mother, Anne, immediately embarked on a three month around the world tour. It was during their world trip that Eric and Anne made the decision to sell the hotel and move the residual family to the Gorrie Street House in Suva that had previously been the Butler family home. The move eventuated sometime in 1953. With the proceeds of sale of the hotel, Eric bought a block of land opposite the Gorrie Street household and built a rental flat complex with a dozen units, which augmented the retirement income he was earning from the money-lending business.
The Witherow estate had been completely liquidated by this time but the Rewa Dairy Company continued to expand with a new factory being built at Tamavua close to the principal population and consumption centre of Suva. Modern refrigerated trucks conveyed the milk from the Taileveu and Rewa farms and they had painted on them the jingle, "Make Mine Milk". Homogenised milk, which kept for many days without refrigeration, was produced at the factory in addition to ordinary pasteurised milk, butter and ghee.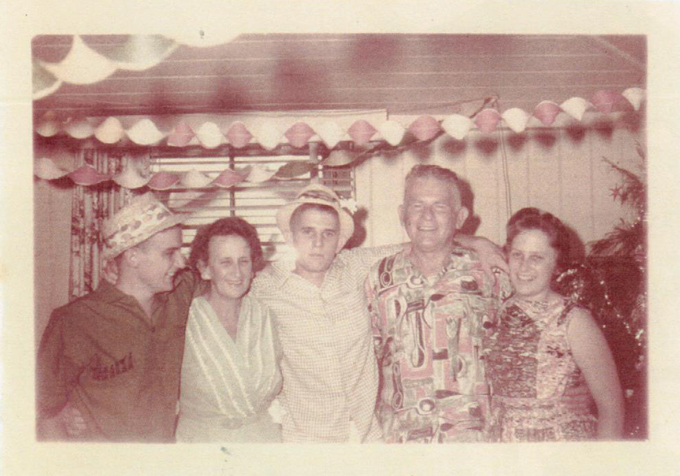 Christmas 1961 – L to R: Kenneth, Anne, Edward, Eric, Anne-Marie
Eric's remaining years were spent living in the family home in Gorrie Street engaging in his established pursuits and philanthropic giving, helping many people and organisations. He provided a trophy for the Soccer Association of Fiji and the McIlwain Cup soon became the most sought after trophy by Clubs throughout Viti Levu. He died in his sleep on 5th February, 1962 aged 64 and was buried at the Korovou Cemetery, Suva, alongside his first wife, Ivy. Anne, Eric's second wife, born on 21st August, 1921 in Suva, died on 12th June, 1993 and is buried in a small cemetery at Coomera, Gold Coast City, Queensland, Australia.


Entry By: Dr. Jock McIlwain ("jocmac"), Mermaid Waters, Queensland, Australia.
A message from Jocmac to the young and aspiring Fijians :-
You are a precious and unique individual—no one else,
Even a twin, can ever be the same as you;
You are blessed with an intellect that, if tapped by
Thought, education and meditation, has the infinite
Potential for you to achieve a life of distinction;
Within your reach lies every path you ever dreamed of taking;
Within your power lies every step you ever dreamed of making;
Within your life lies every joy you ever dreamed of having;
Within yourself lies everything you ever dreamed of being.
Jock McIlwain OAM has been inducted into the Gold Coast Business Hall of Fame >>
Jock & Beverly McIlwain are long-time and valued sponsors of the Gold Coast Area Theatre Awards' Presentation Night  >>