ABRAHAMS, MAUD WILHELMINA (MINNIE)
(May 15, 1901 – September 13, 1991)
Mother died giving birth to Minnie, Suva Fiji 1901
Father died 7 years later Suva, Fiji 1908
Raised by Granny Petrie, sister Connie and others Suva and Ba, Fiji 1908 – 1920
Married Vivian Rudolph Abrahams, Suva Fiji 1921
Rarawai, 1924 – 1948; Nadi Airport, 1948 – 1955; Laucala Bay and Suva, Fiji 1955 – 1971, Raki Raki, Fiji 1971-1974
Worked at the Bayly Clinic and as Matron of the Nurses Quarters CWM Hospital
Moved to Sydney, Australia 1974.
By Michael Abrahams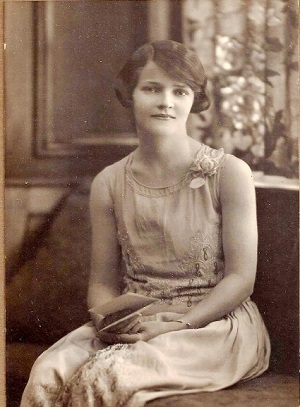 Our grandmother Maud Wilhelmina (Minnie) Abrahams was born on 15 May 1901 to parents Herbert Edward Ambler and Maud Wilhelmina Ambler (nee Petrie) in Suva, Fiji.  Minnie was the fifth Ambler child, with two boys and two girls preceding her.  Sadly, her mother died six days after her birth.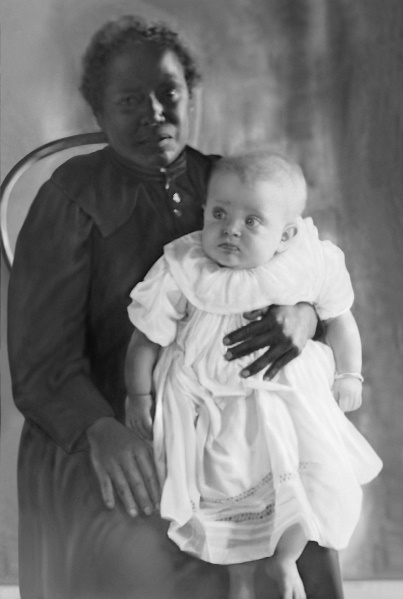 Minnie's father Herbert Ambler was born in Melbourne, Australia in 1856 and at the time of his father's death from tuberculosis in 1864 he returned to England with his mother and two sisters. According to my cousin John Thomson, as a fatherless boy and the grandson of an Anglican Minister, Herbert ended up in a boarding school for orphans of members of the Church of England in London, while his mother worked as a matron at a boy's boarding school. From there he appears to have joined a scientific expedition to the Solomon Islands, which disbanded by the time it reached Suva and henceforth Fiji became his home. Herbert worked as an accountant for the Mago Island Company and it was on the island where he more than likely met his future wife Maud Petrie (b. High Wycombe, England 1869), whose father's 60-ton Schooner the "Windward Ho" was often chartered by the Company. 
Captain William Scott Petrie's story can also be found on this website. Herbert, aged 35 years and Maud, aged 22 years were married in Suva on 3 March 1892 by the Rev. Francis Jones a Priest of the Church of England. Witnesses to the marriage were Herbert St Julian (clerk and accountant at the Suva Post Office and later Colonial Postmaster) and the bride's sister Dora Petrie. 
Herbert's profession on the Marriage Certificate was that of an accountant. At the time of his daughter Joyce's birth in 1899 he had become a Commission Agent, and this may have coincided with his involvement in a failed vanilla project in Navua, where Herbert is said to have lost a lot of money. The Cyclopaedia of Fiji also shows that he held the position of Town Clerk of Suva until 1903. Maud died of pelvic peritonitis on 21 May 1901; followed three months later by daughter Joyce from convulsions on 17 August 1901 and Herbert on 8 July 1908 at the age of 52. He was, understandably, severely depressed after the loss of his wife and baby. Herbert was also asthmatic, though ultimately it was Bright's Disease, a kidney complaint, that ended his life.
It is interesting that the witness at both the burial of Maud and Herbert was one C J Morey of Mago Island. We knew of the friendship between James Borron, also of Mago, and William Petrie, a fellow Scot but not the Ambler's connection to the Morey family. Charles and his family appear to have led quite a peripatetic life moving from island to island. We do know that in 1933 C J Morey's translation of Isa Lei into English was published in the Journal of the Polynesian Society 42(166) under the title "A Modern Song of Parting, Fiji."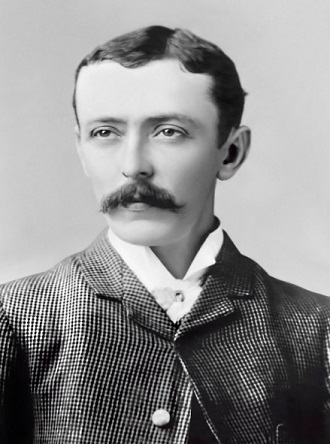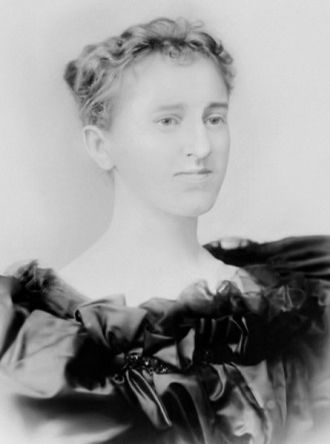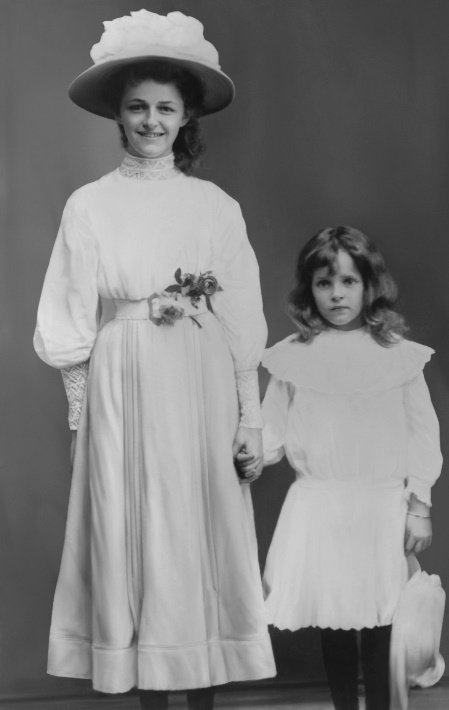 Minnie, or Nana as she was known to my sister Merren and me, was raised by several people.  Initially this was by her father until his death seven years later and her grandmother Emma (aka Granny Petrie) with ongoing support from her sister, Constance Penelope (Connie) Ambler and Aunts Florrie Boyd (nee Petrie) and Dora Ragg (nee Petrie), wife of Hugh who by this time was living in Ba.  We understand that the Ragg's provided some financial support to the family as well. 
Hugh (later Sir Hugh) as many will know, was a prominent businessman and politician.  Early in his career he worked for A M Brodziak and Co and Brown and Joske before setting up his own company. In the mid-50's he established Northern Hotels and was considered by many as the father of Fiji's tourism industry.  
Alongside his business interests, he served 25 years (1926-1950) as a member of the Legislative Council.  Hugh was knighted in the 1947 New Year's Honours.  His first wife, Emma Dora Petrie, with whom he had eight children, died of Spanish flu in the epidemic of 1918-1919.  She is buried in Ba.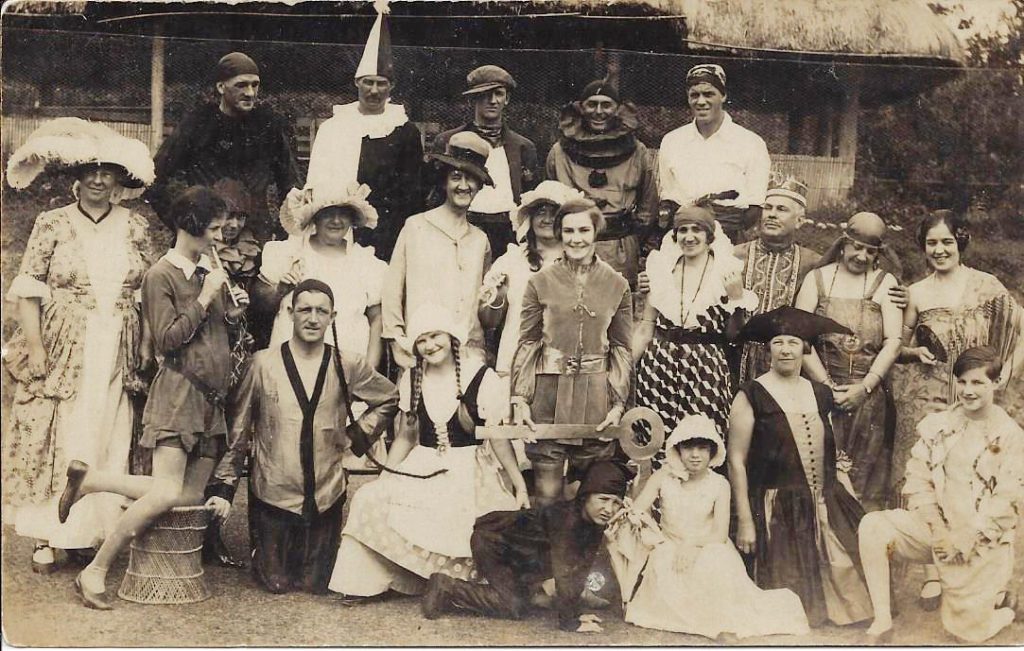 It is likely that the Ambler children were educated at Suva Public School, a co-educational institution established in 1883 and located up the hill on Selbourne Street.  Connie Ambler was a pupil teacher at the School until the time of her marriage.  We also know that the Hon. Simeon Lazarus MLC (Mayor of Suva, 1887-1891), who did much to further primary education in the new capital of the Colony, was for some years Chairman of the School Board.  In its early days, the School appears to have drawn staff from Victoria and followed an Australian curriculum of sorts.  Apart from that I can find extraordinarily little about Suva Public School.  Later in life it became Suva Girls' Grammar School, and with the building of new classrooms and an administration block across the road, the original structure was turned into the Girls' Hostel.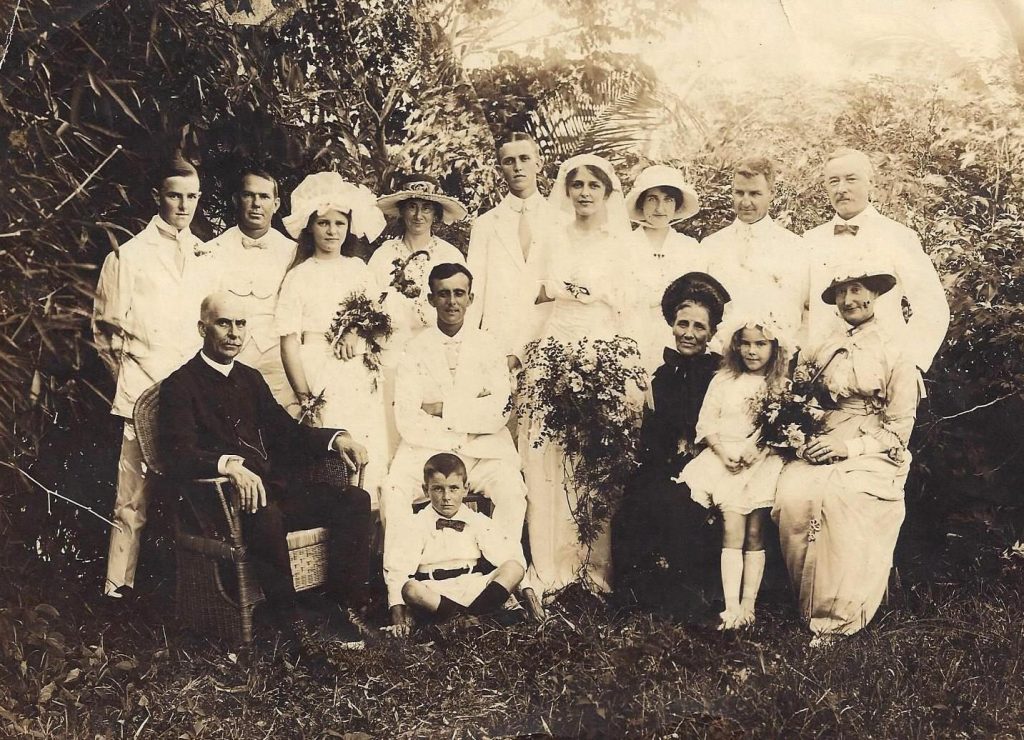 On 3 February 1915 we know that Minnie (aged 14) was bridesmaid at her sister Connie's wedding to William (Bill) Kearsley and that she was also one of the witnesses on the marriage certificate.  This photo is of the wedding party and, as best we can determine, those in attendance were back row (L-R): Victor Ambler, Hugh Ragg, Minnie Ambler, Hollie Barker (maker of the bride and bridesmaid dresses), Lloyd Ambler, the bride Constance Penelope Ambler, (Emma) Dora Ragg, Nelson Grayburn (best man) and on the end of the row, Robert Boyd.  Seated: The Rev. James Jackson (Presbyterian), the groom William Kearsley, Granny Petrie (aged 71) and Dorothy Jackson.  In the foreground David and, flower girl, Dora Petrie Ragg.  The photo was taken at Ambler residence on Knollys Street in Suva.
Robert Boyd OBE is another interesting character in Fiji's history. He joined the Colonial Service on 1 May 1898 as a Clerk in the Audit Department at the age of 34. He became Native Land Commissioner (1910); Census Commissioner (1911); District Commissioner, Lau (1917-1918); Acting District Commissioner, Rewa (1919) and on 15 March 1920 made acting Chairman of the Native Land Commission and was eventually appointed the Commission's Chairman on 1 January 1922 and a member of the Legislative Council (1925-1927). Robert was not particularly popular with Fiji's European population as he championed giving land back to Fijians, for which several Chiefs sent him notes of thanks and made life for his extended family difficult. Robert retired on 30 November 1928, to be succeeded by Ratu Sir Lala Sukuna KCMG KBE, whose father Ratu Jone Madraiwiwi was Robert's friend.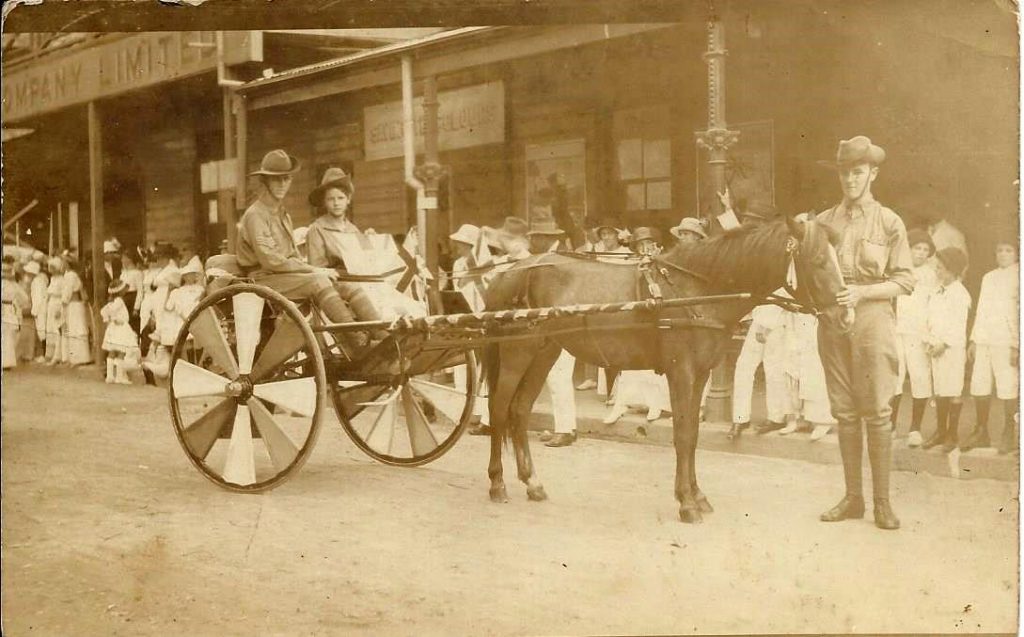 In addition to the Kearsley wedding, we also know that Minnie's future husband, Vivian Rudolph Abrahams, was enrolment No. 17 in a force of 56 men who made up the 1st Fiji Contingent, Fiji Defence Force, that departed Suva on 1 January 1915 for Europe via Canada. See separate entry on this website for Vivian Abrahams.
Minnie's brother Lloyd, who entered the Colonial Service in 1909, was keen to join the armed services though initially refused permission to do so because he had a dependant sister. He enlisted in 1916 and proceeded to active service with the First Fiji Reinforcements. He remained in France with the King's Royal Rifle Corps until commissioned in the Indian Army Reserve of Officers and served with the 98th Indian Infantry in Baluchistan (1917-1919.)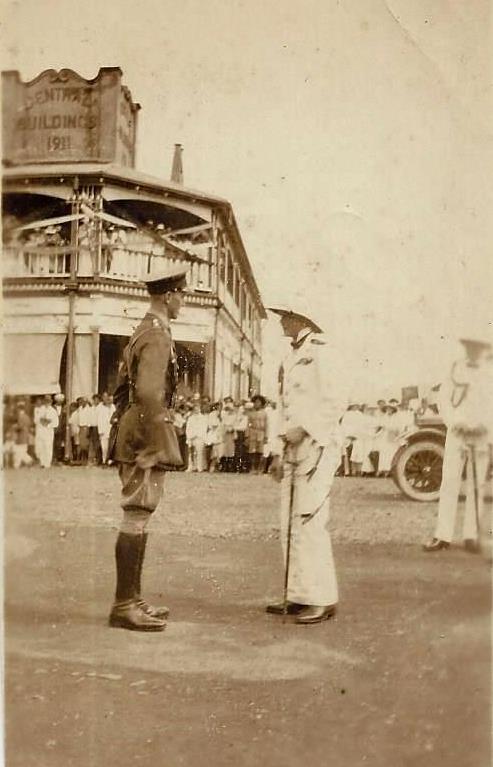 Brother Victor, who enlisted in New Zealand in 1918, fell ill on route to Europe and by the time he got there the war was all but over.
On 21 April 1920, the HMS Renown sailed into Suva harbour with the Prince of Wales and Flag Lieutenant Lord Louis Mountbatten on board. It was to be a brief visit but included dinner for the Prince at Government House on the Wednesday evening hosted by the Governor Sir Cecil William Hunter Rodwell GCMG and Lady Rodwell. This was followed by a ball given in honour of the crew of the HMS Renown. Apparently, one of the challenges for the organisers was to find suitable dance partners for Lord Mountbatten. Two attractive young Suva ladies were chosen, one of them being Minnie Ambler. By all accounts Minnie left a lasting impression, so much so that four decades later she was surprised to receive a phone call from Lord Mountbatten (more later.)
As an aside Lord Mountbatten wrote in his diary that "one of HRH's first dance partners was the lady typist of the Chief Indian Agitator (sic), much to the consternation of Government House."
Minnie, like her sister Connie, cast a giant shadow. They were striking women with a commanding presence, tall and beautiful, resilient, and yes, strong willed – which is not surprising given the early loss of their parents and having to make their own way in the world. They were forever grateful to all those who helped them on that journey.
In the Fiji Royal Gazette of 3 September 1920 Miss M Ambler is appointed as a Temporary Clerk in the Lands Department, Suva with effect from the beginning of the month.
On 9 February 1921 Maud Wilhelmina Ambler married Vivian Rudolph Abrahams at Suva's Pro Cathedral (Holy Trinity.) Vivian at the time was also employed by the Colonial Service as an Inspector of Labour. The service was taken by the Rev Richard T Matthews BA in the presence of Trevor Johnson, Lloyd E Ambler (the bride's brother) and, according to records of the Family History Centre of the Mormon Church, William Kearsley. As was required in those days Minnie's employment ended with her marriage to Vivian.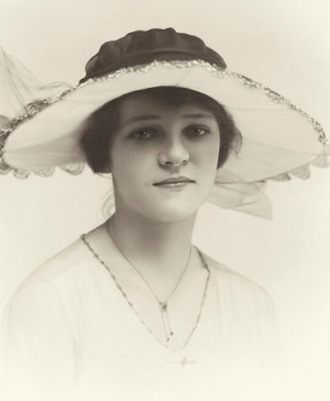 Our father, Maurice John Abrahams, was born in Suva on 10 June 1922.
Following a few different roles, our grandfather resigned from the Colonial Service and joined the Colonial Sugar Refining (CSR) Co Ltd in Rarawai in 1924, where he remained for the next 18 years. Minnie appears to have kept herself busy with, among other things, golf, and cards. Dad was packed away to boarding school in Suva, which by all accounts was not a happy experience, though I could never get him to tell me why. It was then off to primary school in Auckland and secondary school at New Plymouth Boys High, where the Fiji boys were expected to make the First XV, which he did following in the footsteps of Wilf Bentley and Bruce Lawlor.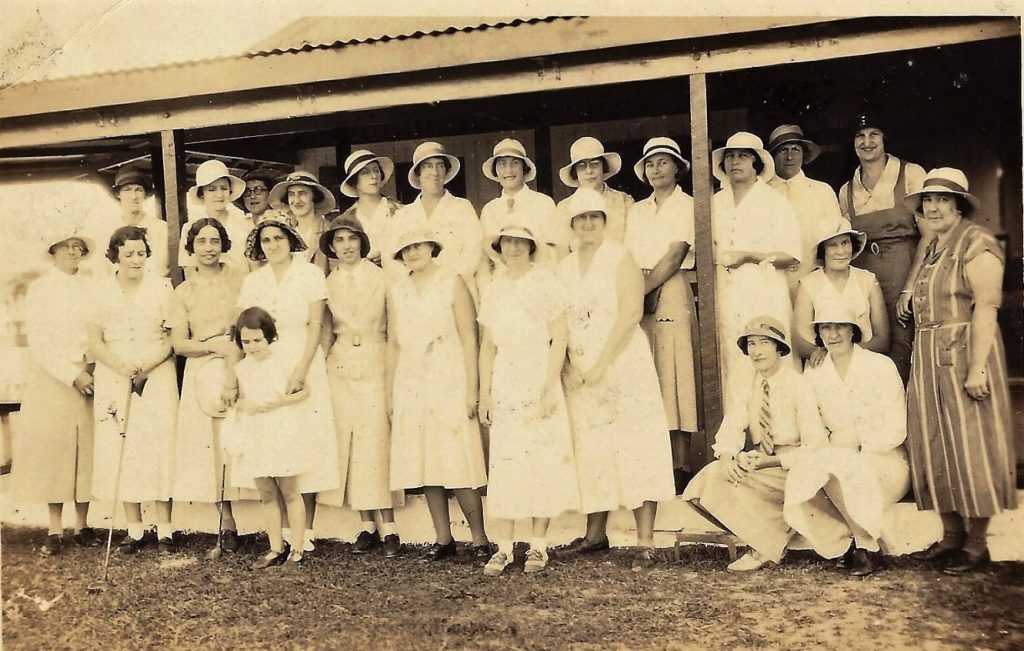 It was never said but others commented on Minnie's perception, real or imagined, that Vivian lacked drive and ambition, which perhaps failed to consider what he had been through during the war. Again, something he would not talk about, but it had left its mark. To us he was a kind and gentle man who quietly suffered through some painful years with the cancer which eventually took his life. Vivian's service during WWII is covered elsewhere on this website.
I do know that Minnie was sending care packages to her Aunt Emma in Shrewsbury, England. In her letter of 11 December 1947 Emma writes:
"My dear Minnie,
Thank you very much for the parcel I received yesterday all very acceptable for our rations are very poor 3oz of bacon, a (smudged) of lard and (indecipherable). I am very interested in all your news and it would be nice if you could settle in Auckland, it is such a nice place. We had to stop there three weeks on our way to Fiji and I quite enjoyed it. Write to me when you can. I am getting very old, 94 in August.
With much love to you, Vivian and Maurice.
Your affectionate Aunt,
Emma G Meredith."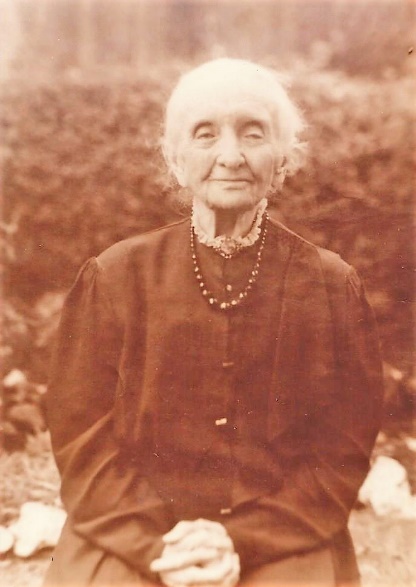 On being demobbed Vivian returned to CSR and retired in 1948. Vivian's fluency in Fijian and Hindi saw him recruited by the Civil Aviation Authority of New Zealand (1948-1955) to take charge of labour relations during the construction of the new Nadi International Airport. It was while they were at the airport and subsequently residing in Laucala Bay and Suva that we got to really know our grandparents.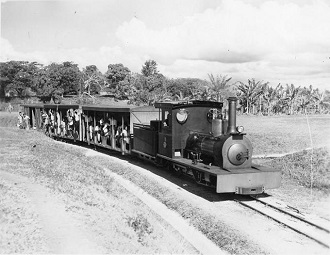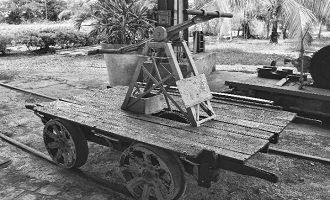 Some of my earliest memories and happiest moments with my grandparents (Nana and Pop) were when they visited us in Cuvu.  Each day Nana and I would stroll down the beach with fishing lines, secured around small clear glass bottles, complete with sinkers, hooks, and bread for bait in search of Kabatia and Kake.  She loved fishing, as did I.  Once that activity was over it was usually down to the lagoon (separating Cuvu from Yanuca Island) for some swimming around the partially submerged tree trunk that sat in the middle of the water with its branches providing great diving platforms – a rite of passage for anyone who spent time at CSR's holiday cottages.  Some years later the Fijian Hotel was built on Yanuca and alas the lagoon is no longer.  
It was also fun to play around the loco sheds, travel on the "pumper" or take the passenger train as far as Lomawai, where Dad would pick us up – often followed by a swim at Natadola's beautiful beach.
When they moved briefly back to Suva (Gladstone Road) and more permanently to Laucala Bay on the beach road, the fishing continued along the breakwater built to safeguard the Royal New Zealand Airforce's Sunderland flying boats. My visits on school holidays were punctuated with regular visits to my Thomson cousins at Raicakau – extra meals or a bed for a sleep over never phased Nancy and Ian.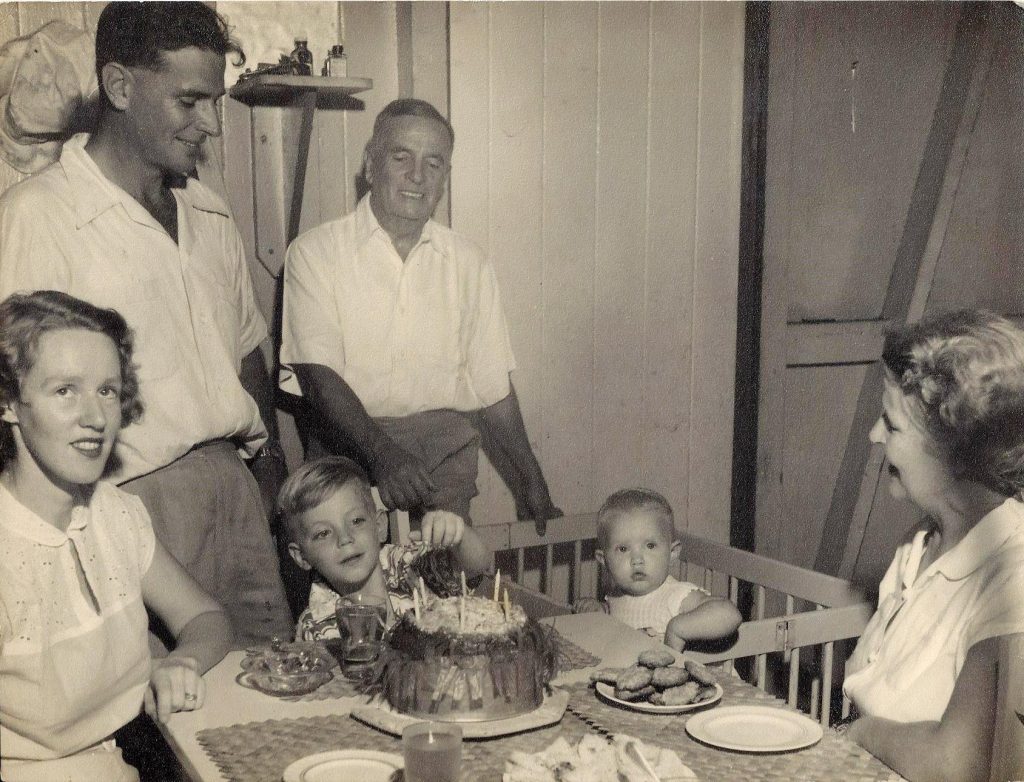 There were many enjoyable and at times hair-raising escapades, some of which Peter has eloquently described in his book "Kava in the Blood", as well as frequent visits to the Phoenix, the Regal or the New Lilac to see that latest movies and roll Jaffas down the aisle. My grandparents also took me to the open-air cinema on the RNZAF base (now the University of the South Pacific) at Laucala Bay which was always fun. Nana also introduced me to Scrabble and card games and would ensure that on each visit I was paraded before all the mataqali (Ambler and Petrie descendants) who lived in Suva at the time and I'm pleased that a number of these friendships continue to this day.
Ian Thomson (later Sir Ian), another who had a significant influence on colonial and post-colonial Fiji, arrived in the Colony in 1941 as aide-de-camp to the Governor Sir Harry Luke before being commissioned in the Fiji Military Forces, seeing action in the Solomon's campaign and being awarded an MBE in 1945 for "gallant and distinguished services." After the war he served as a District Officer and Commissioner until 1966 when he was appointed to the Executive Council, while serving as Acting Chief Secretary. In 1967 he was made Governor of the British Virgin Islands and appointed CMG in the 1968 Queen's Birthday Honours. In 1971 he returned to Fiji at the invitation of the Prime Minister Ratu Sir Kamisese Mara KBE to be independent Chairman of the Sugar Board and of Air Pacific. Ian was knighted in 1985 and after 45 years of exemplary and distinguished service retired to Scotland where he died in 2008. Lady Nancy predeceased him. 
As far as the wider family goes, Auntie Minnie was much loved by two generations of nieces and nephews.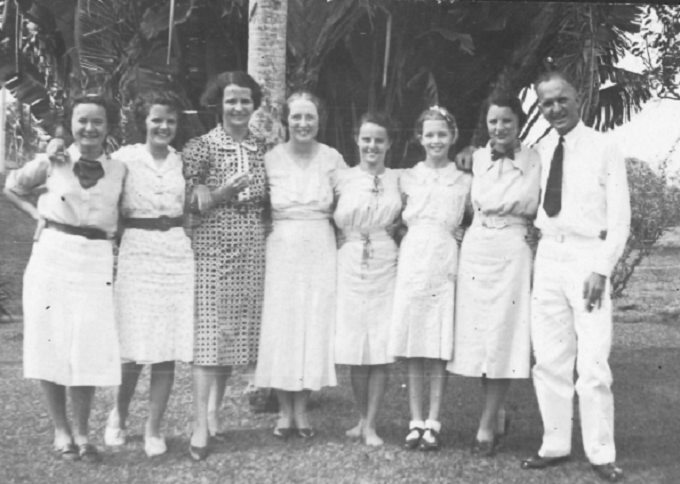 My cousin John Thomson believes this photo was taken at the Kearsley family residence in Vatuwaqa, probably in July 1943.  Seen (from L-R): Joyce Kearsley, Elima Kearsley, Minnie Abrahams, Dorrie Ambler, Nancy Kearsley, June Ambler, Betty Kearsley, and Lloyd Ambler.  June was attending secondary school in New Zealand at the time but was known to visit her father who was still working in Suva during the War.  There is an entry for June in the Kearsley visitor book on 29th July 1943.  A month later Joyce was off to live in the United States so, according to John, the photo cannot have been taken any later.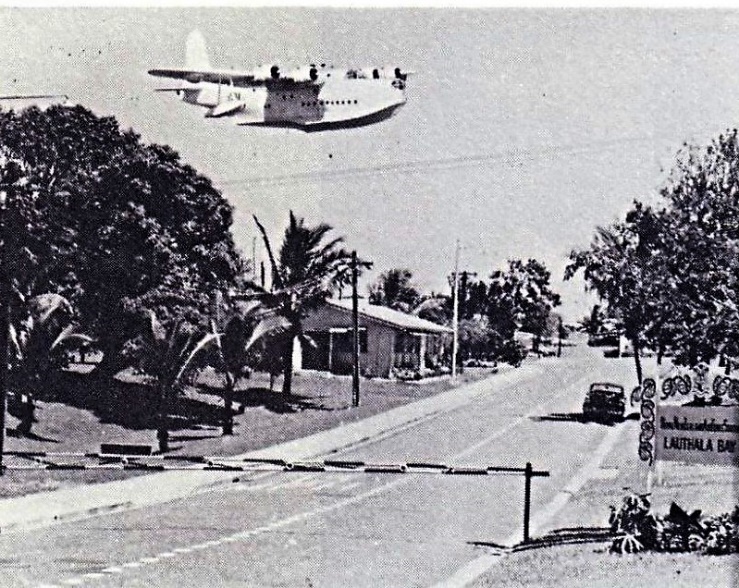 During those Laucala Bay and Suva years Nana was also working part time at the Bayly Clinic and it is here that I should add that when Nana got behind the wheel of her green Austin Standard 8, (or was it an A30?), and later her Mini Minor, all and sundry would scatter. Traffic signals delivered by Fijian policeman in their smart dark blue tunics and white sulu's mattered not, nor did "no parking" signs or restricted areas, including alongside ships berthed at King's Wharf. 
The car would be parked at the foot of the gang plank, guests collected, taken for lunch, a drive around Suva and returned to the same spot next to the ship over the protestations of the gatekeeper at the entrance to the wharf – "Mrs Abrahams you can't do that" – "Can't I?" Pedal to metal and off she would go. Many a visitor thanked me for my introduction to Nana, though declined any further experience of driving with her. "You know what Michael? She talked to me the whole time and paid no attention to the road" – nothing new here! Much to the embarrassment of everyone in the family she used to drive her Mini directly at anyone walking on the road, and with head high (half out the window) and right arm pumping she would yell "roads were not made for walking on." No thought for those who had disappeared down culverts, drains or in the cane fields!
Ah yes, Lord (by this time Earl) Mountbatten!  On his return visit to Fiji in 1961 the Pacific Island Monthly (March Edition), under the banner "Story of A Suva Telephone Call," reported as follows:
"I'm not going to say which telephone – but you will find the number among the first dozen names listed in the Suva telephone book. The caller asked for Mrs Blank. Presently Mrs blank responded. 'This is Mountbatten speaking' said a quiet cultured English voice. Do you Remember me? The lady gasped. 'Yes, yes of course I do but I cannot imagine how you remembered me'. The caller laughed – that engaging chuckle that is characteristic of the famous British leader and his even more famous nephew.
He told Mrs Blank that, although more than three decades (actually four) had passed since he visited Fiji as a young aide, with the then Prince of Wales (remember after World War I?) he had never forgotten his charming dance partner at a Suva Government House ball. Naturally, the lady was flattered.
Whatever the cause, Mountbatten's kindly action, based on a pleasant memory of Suva many years ago will never be forgotten in one Suva household."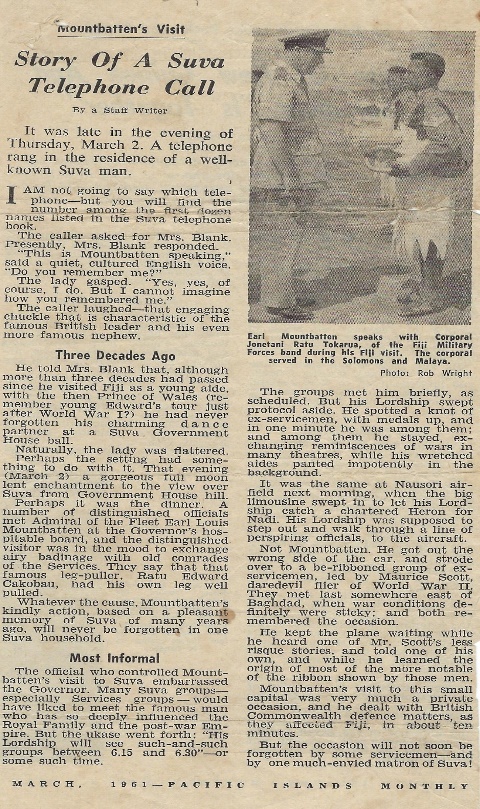 Nana was totally unaware of the families Jewish heritage and was somewhat bemused when "Cousin Percy" turned up in Suva on one of his trips between Sydney and the US for concerts, (and then onwards to UK where he lived), seeking out husband Vivian.  "Why would he be doing that Michael?"  Indeed, her curiosity was understandable as she never knew her father-in-law, John Abrahams, and being aware that he was married in The Old English Church would have not made the connection.  I was eventually able to enlighten her.  
Percival (Percy) Benedict Kahn was Pop's first cousin, the son of Annie Kahn nee Abrahams (John's sister.)  Percy was a composer and pianist of some note.  He was a boy soprano who, at the age of 15, won a scholarship to the Royal College of Music in London and his most acclaimed composition was the song "Ave Maria" with accompaniment by piano and violin.  
This song was first recorded by Enrico Caruso in 1913 with Mischa Elman on violin and the composer on the piano and remains a favourite of modern-day tenors.  Percy accompanied some of the great musicians and singers of the day including Elman, Fritz Kreisler, Caruso, Dame Nellie Melba and Richard Tauber.  He also performed in Australian Broadcasting Commission (ABC) concerts which enabled him to catch up with relatives in Sydney and Suva.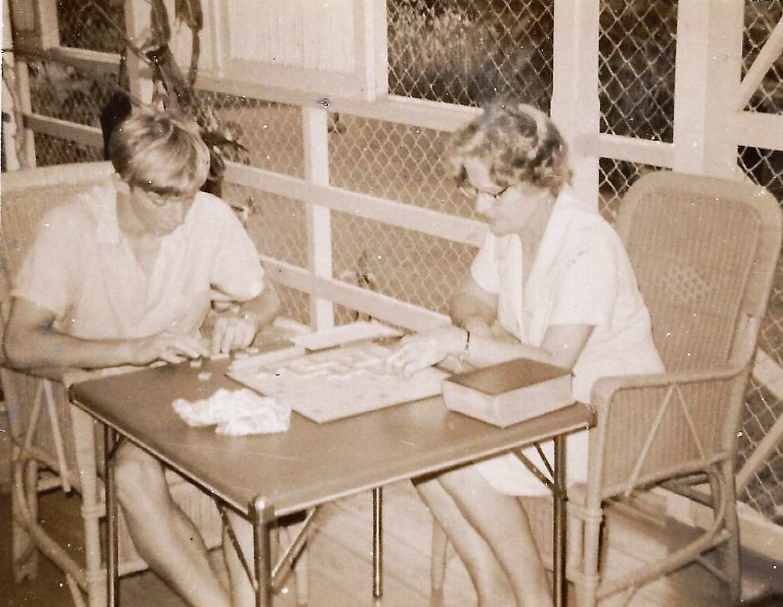 In the 60's and early 70's Merren and I were at boarding school and university in Sydney. During that time Vivian died (1965) and Nana had taken up the position of Matron at the nurses' quarters attached to the Colonial War Memorial Hospital before moving in with Mum and Dad in Raki Raki (Penang mill.) At holiday times in Fiji, Scrabble on the back veranda was mandatory. 
Nana knew every two-letter word in the dictionary, every combination that would secure a triple word score and how to skilfully discard unwanted tiles. "Andrew (Merren's husband to be), you're a vet, you should know what a 'teg' is?" "No Nana, what is it?" "It's a 16th century word for a two-year-old sheep!" Nana's competitiveness was matched by her opponents, which made for many interesting and memorable games.
She eventually decided to head for Sydney where, through the pulling of some strings, Nana secured a wonderfully comfortable independent living unit at an Anglican retirement village, not far from Dad and Mum.
In the 80's Nana was bequeathed a small amount of money which enabled her to visit us in Los Angeles and Merren, in London where Andrew worked for a time in a small animal practice.
The LA visit was a Nana classic, arriving late and when asked by the US Immigration Service how long she intended to stay she apparently made it clear that it was none of their business and that she would make up her mind "when I get there." Wherever "there" was? Whilst I had an inkling about what the fuss was about, having observed Nana's performance through the glass doors, I did ask why we were not advised of her delayed departure from Auckland to which she responded "I knew you would be here to meet me!"
Our American friends really took to Nana, who had decided for the duration of this visit she would be Wilhelmina or Wilma for short. There were many memorable functions at our home where Wilma "held court" and charmed all who came before her. I suspect she was somewhat of a curiosity, the way she carried herself and could command the attention of all. Nothing phased her, which was a wonderful way to be.
Whilst the visit got off to a great start it could have ended in disaster when all DC10 aircraft were grounded after a tragic accident at O'Hare Airport in Chicago. Not only did Nana call her nephew by marriage in Auckland, who at the time was a Senior Manager at Air New Zealand (and former pilot), she harangued the local Manager in Los Angeles (ex-Fiji) and demanded that she be flown out on time – all this being observed by my bemused wife, Rosemary. Nana was singularly unsuccessful in getting Air New Zealand back in the air again, which meant a further two weeks with us and without medical cover! Though she could not understand what the fuss was about I called Dad and asked him to extend her travel insurance immediately, regardless of the costs, as neither of us could afford US medical bills. Indeed, I recall telling Nana, that she would send her son and grandson broke if she was ever hospitalised in Los Angeles. Water off a duck's back and not surprisingly she remained incredibly healthy for the remainder of her visit and to this day we contend that germs were always too scared to land on Nana!
On the visit to the UK, Nana kept Merren and Andrew very busy searching for the bar top at the Chandos Hotel on which members of Fiji's First Contingent to WWI carved their initials with their bayonets (for the record the bar top is on permanent loan to the Defence Club in Suva); sightings of Princess Anne and Mark Phillips at their country estate and wanting to see the graves of Howard relatives, authoress Mary Web, Aunt Emma and Frances Meredith. In the case of Emma, Nana was convinced that she was to have inherited the property at 7 Coton Crescent, Shrewsbury and insisted on being driven there to put her case! The owner of the property, for all of eight weeks as it turned out, really did not know what was about to unleashed. As he went to shut the door out went Nana's foot and through the gap skilfully created by Nana's swift intervention and her right shoe, he was subjected to 10 minutes of why Emma's house was "rightfully" the property of the 82 year old standing on his doorstep.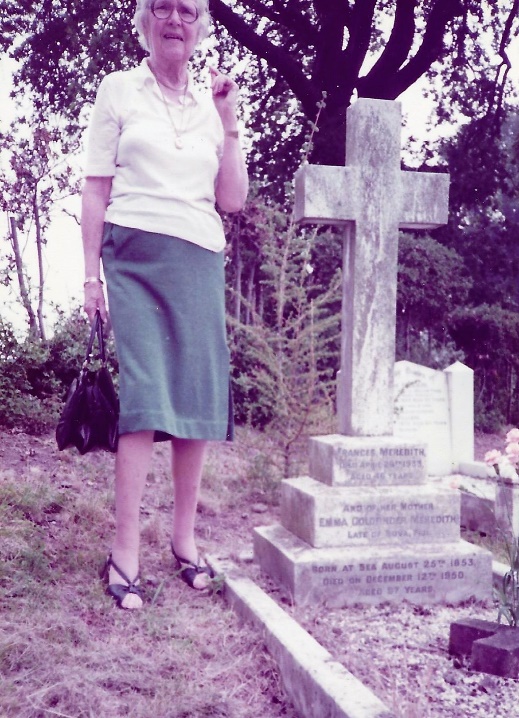 Nana led a very full and healthy life and we had worked out a long time ago that the best time to visit her was always in the late afternoon. "It has to be 6 o'clock somewhere in the world Joe (a nickname she used for Dad and, at times, me.)" "Yes, Mum or Nana, it's past 6 o'clock in Suva." "Then what are you waiting for, I'll have a brandy (or two.)"
On 13 September 1991, Dad went to take his mother for her weekly blow-dry and hair styling (tints were less frequent), when she intimated that she wanted to lie down for a few minutes. Dad was still holding her hand when an hour later someone said to him "your mother has passed away" – ever so peacefully. Way to go Nana! She had chosen a burial plot where she would get the sun in the morning and adjacent to a tarred road, so that visitors would not get their feet wet if it were to rain. Nana was 90.
What a truly remarkable woman! Yes, Nana could be brusque and lacking tact at times. Likewise, she was not noted for her political correctness and always favoured the direct approach to most things. At least you knew where you stood with her and for all this, she had a commanding presence, striking good looks and a self-confidence and resilience shaped by her early years. She was loved and feted by many, including me. No family gathering is ever complete without a "Nana Story" – as she he was truly "one of a kind". Bless you Nana.
I am again indebted to my cousins John Thomson and Virginia Nicholls, both of whom have thoroughly researched the various branches of our family, including the Amblers and Petries and I am grateful for their permission to use some of that information here.

Entry By: Michael Abrahams, Sydney, Australia.